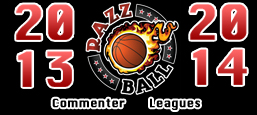 RCL nation!  I'm stepping in for Dan this week, who is some sort of weather savant and knew to migrate south for a vacation while we get polar vortexed.   Dan could probably step in and be a weatherman anywhere right now.  The RCL season is halfway through, and the elite are getting separated from the should-be-ashamed.  Like my RCL 1 team!  A quick reminder of how we're crowning the overall champ – it'll be the league winner who had the best regular season record.  I know it's not exactly the best metric for awarding the title belt, but I wanted it to be fun and have a lot of teams in it during the championship week.  And don't forget the overall winner gets their team name shaved in my head!  Your Mom Says Hi… yeah that won't go over too well…  You can track how your team is doing in our Master Standings and good luck to everyone in the second half of the season!
JB's Random Commenter League. So this is the first time I've really weighed in on how I'm doing in RCL, and this one is a stinker.  Working nights has it's perils, especially when trying to schedule a draft then a work emergency goes down and you have to head in early, so I have an autopicked team.  For shame – I know.  I tried to make some trades to help, and in a big preseason deal that brought me Goran Dragic for a hurt Russell Westbrook is actually looking good now with Dragic playing well and Westbrook hurt again.  After a brutal start I've won three in a row now and climbing out of the cellar with a decent squad.  I won 7-2 last week, albeit against 12th place Razzle Dazzle, but without my best player Kyrie.  I was the only 7 game winner, with first place Your Mom Says Hi losing 4-5 lessening his stranglehold on the league.  I might avoid having that name in my head!  I just might.
All Country Ball Club. Mountain Dew Kid was the only team to have a 7-2 win, as they try to climb back into the mix in 10th place.  Former overall first place High as Greg Kite suffered a 4-5 loss, knocking them down to third overall in the RCL standings.  2nd place Moscow Spartakers are 4.5 games out, but both have separated themselves by a good margin from the rest of the field looking for first-round byes.
JB's Random Commenter League 2. Now this team is rockin' n rollin'.  I picked this team pretty close with my rankings, and it's been a solid season moving to 54-34-2.  As with several other teams, I was able to draft Brandon Knight late, and the rest of my picks have been solid.  Getting Dirk Nowitzki at 28th overall was a steal.  Huge week from this team in week 10, going for an 8-1 win over royal flush.    2nd place Slippery Squirrels and The one who Knocks also had big weeks, notching 7 game wins.  Durant's World sits atop our standings at 56-32-2 and tied for 6th overall, but I'm only 2 games behind.  Look out!
Razzball League 3 the Ringers. Close the door, because you don't want to let all the heat out of Pops's Sin City Sinners, who rocked 潔西's Legendary Team 8-1 last week to vault to within 7.5 games of first place.  Pops is proving streaming can work, rockin' out with 39 moves to hopefully bring home the bacon.  While his REL team isn't working out, Team Tough Guy Town is owning in the RCL with a 59-29-2 record and 4th overall in the RCL standings.  Go get em, tough guy!
Razzball Hardwood Classic. All hail Foot's Flight Crew!  With a 6-3 win last week, Foot is currently leading the way in the RCL standings.  With guys like IT2, Lillard and Cousins it's been a huge ride, but his best player CP3 went down which will make Foot's run hard to sustain.  Luckily Boogie and Lillard had huge games last night.  Foot has a ridiculous 9.5 game lead, but Mayo Clinic in 2nd is trying to shoot the gap with a 7-2 game last week.  The Clinic is after ya, Foot!
The Double Bonus Fan League. In our league featuring fans from The Double Bonus, 2nd overall RCL team High Upsiders is continuing to fly high with a 7-2 win last week.  7 games ahead of the field, High's devastating corps of LeBron, Lillard, Teague, Dwight, Drummond, and MCW is a really tough team to beat.  All praise his punting FT% strategy!  Working well here!  What's crazy is he's won FT% two out of the first ten weeks.  How, I ask!?
Good luck in week 11!