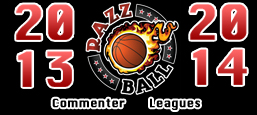 Final Four is here, finally. Not that one, Pffft. The Random Commenter League Final four. Each league is down to the semis. Bye weeks are done. Let's dance! Who's the champ gonna be? Not this fella, that's for certain. This will be this year's last article for me, so let me say that is was an honour compiling information for you guys that you could have easily looked up yourself. We laughed, we cried, we all grew up just a little bit, and I hope you enjoyed. As always, remember that the RCL champ will be whomever wins their league, along with the best season record, so the master standings are set , as the regular season is done. But for those of you still in the fight, let's see who whupped whom:
JB's Random Commenter League.  The JB's put in their individual effort to remind us all that, generally, the better ranked teams win, as both favourites in ranking, but not our hearts, Your Mom Says Hi, and Cronos' Team, will be facing the Bye week recipients. Sorry to point it out, but if the theory holds true, #1 King James, and #2 Baby Got Back, will be tough opponents indeed. Good luck everyone!
All Country Ball Club.  The Country was a tale of two extremes. On one hand, the Moscow Bears were an absolute force, winning 9-0. That's right, it's not an error. 100% dominance. That is naaasty. One the other hand, WrongSideOf30 squeaked out a win, taking his week with a 5-4 score. It will be an all Russian throw down next week, with the Bears meeting the #2 bye, Moscow Spartakers. Wrong will be going up against the regular season champ, #1 bye High as Greg Kite. Have at it, fellas.
JB's Random Commenter League 2.  The Deuce finally had some redemption for it's namesake's , as JB Gilpin – Human made it through to the semis. Well done! Not to be over-shawdowed, Carmelo Me Maybe? won his week in a steady 7-2 fashion. JB will be up against #2 bye Slippery Squirrels, While Melo will up against Durant's World, a battle of arguably the 2 best scorers in the league.
Razzball League 3 the Ringers.  The Ringers had an upset, as #6 ranked Beeeenga! beat #3 ranked Sin City Sinners, 6-3. The natural order of things was restored when Drunk on Homebrew won his week. Sin will be going up against #1 bye The New Day Co-Op, while Drunk will be up against #2 Appalacians. Should be a week to almost remember!
Razzball Hardwood Classic.  The Classic was classy, the gentlemen in this league decided to forgo a fantasy basketball match, and decide the winners through a spirited game of Jai-Alai, best 2 out of 3. The victors: Murder Castle, and Mayo Clinic. They two dandies will be meeting #1 Foot's Flight Crew, and #2 The Slim Reaper. If there is a tie, the winners will be decided by Ro-sham-bo.
The Double Bonus Fan League.  When Dikembe Says No, he means it! He took his first playoff week. Knicks Bricks mirroring real life, came together at the right time, to take their week, by a mere 5-4. The Bricks will face #1 bye Draft Dodgers, begging the statement: if he can dodge a wrench, he can dodge a brick. Presumably. Dikembe will have to warm up his wagging finger, because he will be meeting #2 bye Slickpunn.
Ok, race fans, I hope you've had fun. I'm pretty sure I have. May all your shots find nothing but net!
Seacrest, out!