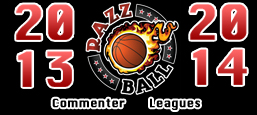 Ok Fight Fans, the white stuff is falling in many of the basketball cities: New York, Brooklyn, Chicago, Denver, Toronto, Milwaukee, Denver, Cleveland, Minnesota… which I know isn't a city, but never having been to that fine Fargo state, if the team refers itself to that moniker, it's good enough for me. But good enough isn't what you players in the Razzball Random Commenter Leagues should strive for?!! Greatness! Immortality! These are your goals. And some of you need to shake off the holiday distractions and focus on the prize:
**The master standings are now up!  Check out how you're stacking up against all RCL teams here, or hover over "Leagues" to check in with the standings updated weekly**
JB's Random Commenter League. There was a tag-team smack down this week in the JB 1. Hamilton Hobo and King James applied the boots in an unfriendly fashion to Punk Rock Gods and JB Gilpin, Pile-driving an 8-1 victory in week six. Ouch. That smarts. I know that the following is hacky, but if you lob me a meatball, I'll knock it out da park: PUNK IS DEAD! Along with my creative integrity. The overall leader is the always classy Your Mom Says Hi, with an overall record of 36-18. To shake that off I suggest Punk should go and consider writing sell-out jingles for commercials, and JB console himself in the big-and-tall store, where he find his center buying massive and unstylish shoes.
All Country Ball Club.  Now this is the Mayberry League. Everyone is so decent, it's sickening. Like this weeks double winners, High as Greg  Kite and Tuvshinbayar's Team, beating WrongSideof30 and Polskie Murarze by a score of 8-1. Very gentlemanly of you  two to succeed the last point. Nobody likes a 9-0 beat down, it's uncivilized. And making my job as easy as can be, High as Greg Kite soars above the competition in first overall, with a lighter than air score of 40-13-1.
JB's Random Commenter League 2. The Deuce! Appropriately, there are two winners in the deuce, and they are: The One Who Knocks, and Durant's World, beating Dan's Dandy Team and Royal Flush, with a tidy 6-2 in week 6. All teams in "Los Dos" are trying to catch the Slippery Squirrels, who are at the top of the pile thus far, with a score of 34-19-1.
Razzball League 3 the Ringers.  This league name reminds me of a Hollywood franchise trying to squeeze a few more shekels out of the public, by releasing a third sequel of a movie that should never have even had a follow up. I dub this league the Expendables 3! Back to kick more ass, The New Day Co-Op won convincingly over Whatup Whoadie, in a Michael Bay exploding score of 7-2. But on the horizon, in the overall lead, is Team Tough Guy Town, ready to take this franchise to a fourth movie, with league leading score of 35-18-1. Cue credits.
Razzball Hardwood Classic. There is nothing like a classic. Classic car, classic movie, classic rivalry, you name it. If it's old, I'll like it. And in classic fashion, Smooth Like Butter took week six from Hyper Saltinel Force, with a classic score of 7-2, in Classic fashion, this weeks win keeps Foot's Flight Crew on top, with an overall score of 38-15-1. Classic.
The Double Bonus Fan League. Last in the recap, but first in our hearts, Under Protest and High Upsiders won week 6 with a dominant 7-2. This weeks win move High Upsiders into the Double Bonus lead, with a score of 37-15-2.
That's it for this week. And may I finish by saying: Kobe, get your ish together, my team needs you! Like really badly, we need you. Really.