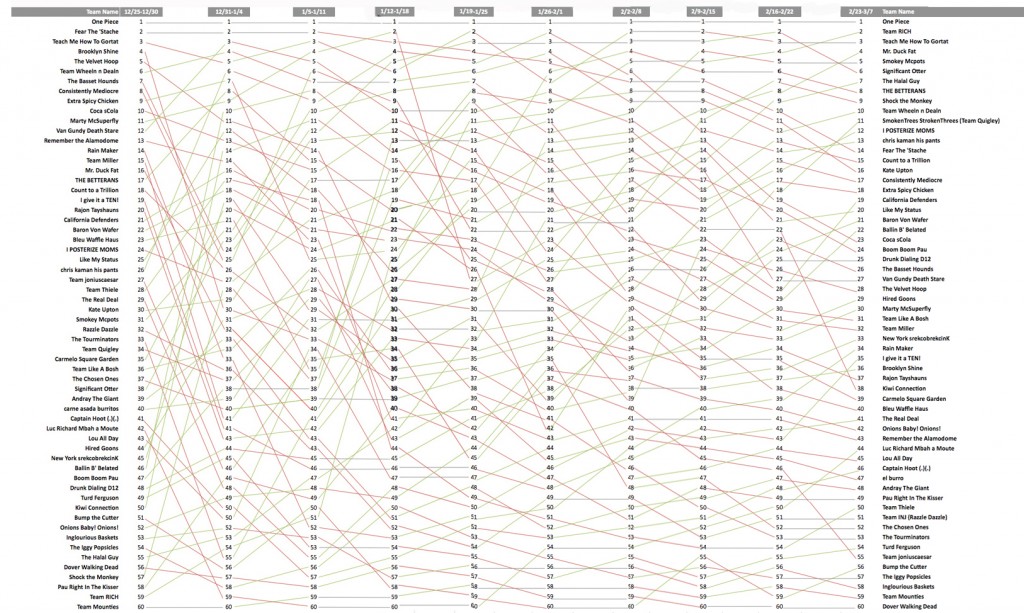 Just when you were starting to get to know Week 11, it peed all over your toilet seat, finished off your leftover orange chicken from the Jade Dragon, scratched all your Stooges records and drove westward toward the Pacific.  Life will never be quite the same. These are our Wonder Years — or at least our Oneder years, if you're into That Thing You Do.
The year has also been wondrous for SmokenTrees StrokenThrees, who has quietly climbed from 42nd place on January 25 to 11th this week. It's easily the farthest, steadiest climb of any team over the last seven weeks. He's third in the Big Ball Dance division behind the overall leader One Piece and ninth-placer Shock the Monkey. Steve Novak and Isaiah Thomas have accelerated STST recently, while shrewd grabs of Ryan Anderson and Nikola Pekovic have helped him come on up for the rising over the last few months.
While Trees 'n' Threes climbed seven spots in the last two weeks, I Give it a TEN! and California Defenders climbed the highest ladders since before the All-Star Break (8 and 9 spots respectively).
Team joniuscaesar, currently fourth place in the All-Star Dance-Off '08 division, took a nine-spot slide from 46th to 55th, while Kiwi Connection dropped from 22nd to 38th, making him almost as hateful of DeMar DeRozan as I am. If you unfocus your eyes and stare at the small version of this week's graph shown above, you can spot Kiwi immediately. While most everyone else is rising or falling only a few spots, Kiwi jumped out of the plane without a chute. Shoot! Splat.
Ah well, cats and kittens. You've got nine lives and there's always next week.
Hit up the spreadsheet if you're into crunchin' your own numbers.