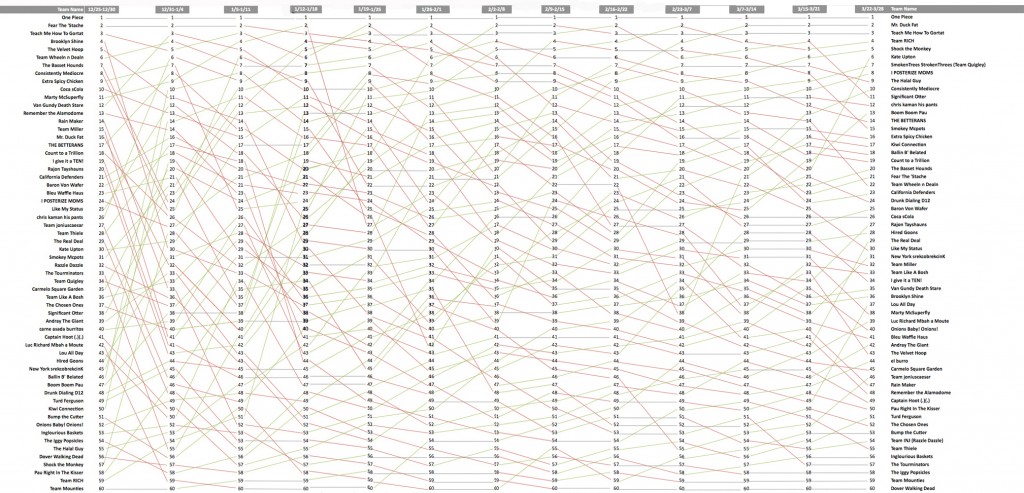 Week 14 dropped off a poopy and left without saying sorry. This is another way of saying it's almost April and the end of fantasy basketball is nigh (that's not another way of saying this).
And as the winds mercifully shift away from the poo and toward the playoffs, it's time to incorporate another facet to the RCL scoreboard. Up to this point, we've tracked the best teams according to per game averages. The glaring issue with doing this was that a team with Kevin Durant could play only him and no one else and show up first on this scoreboard. It didn't take into account Games Played and ultimately ignored ESPN's standings. Both the spreadsheet and the slope graph now reflect team totals in all eight categories in addition to team totals.
The way this worked was that each division was given a certain number of points based on where they rank. All five first-place finishers receive 58 points (the median number between 56-60), second-place teams in each division get 53 points (median of 51-55) all the way down to the five last placers, each receiving three points (median of 1-5). This essentially gives a ton of weight to team totals, while also distinguishing among the teams with solid averages. You'll notice a few divisions rise, while a few divisions fall.
As Bob said, "the first one now will later be last." He also said spreadsheet here. (No, he didn't.)