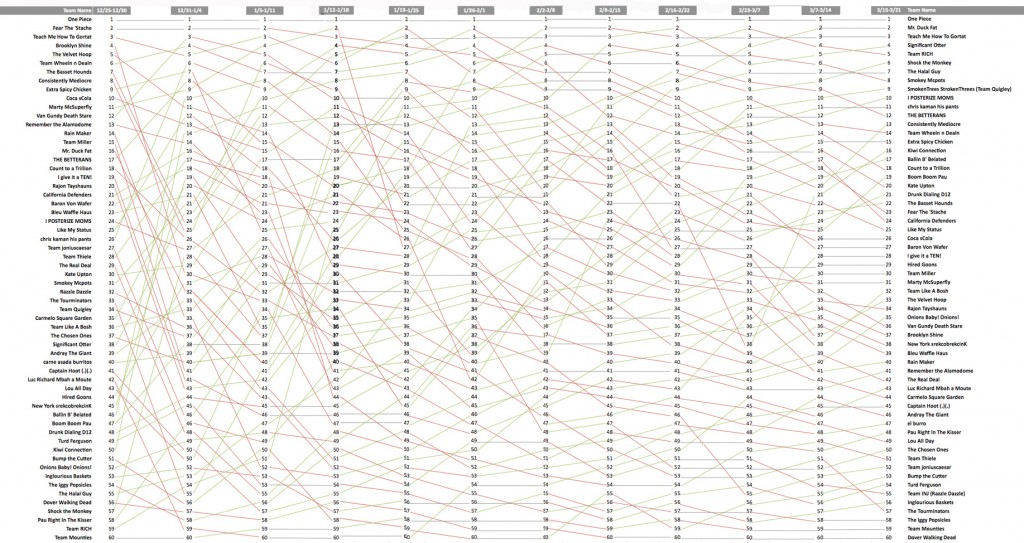 Unlucky Week 13 is gone with the wind, having left 16 teams exactly where we left them in Week 12. It happens. More teams are giving up. More teams are increasing their stat cat distance from the guy behind them. Like a professional slam dancer with three hip-replacements, less movement is inevitable.
With four weeks of regular season and playoff fantasy hoops before us, I thought I'd look aft of us to see who the masters of class are more than three month into the season.
The California Defenders lead all teams with a .498 FG%, it's the only team shooting better than .478.
Brooklyn Shine's .8112 FT% tops the league, but only by .0005 percentage points over his Big Ball Dance buddy One Piece.
Team RICH is living high on the hog behind the arc with 585 total threes, which is good for third overall in team 3ptm average. Fun fact: The top three three-point shooting teams in the league all belong in the All-Star Dance-Off '08 division. That fact was at least kind of fun, right? I mean, would you have preferred I call it "vaguely amusing detail?"
Teach Me How To Gortat is the scoringest team in the bunch as well as the team with the most assists. His dimes are prevalent enough that he's also ranks no.1 in team assist average and was the only team across the 2,000 assist threshold as of Wednesday March 21.
Boom Boom Pau tops the rebounding totals with 3,381 (ranked no. 2 in team rebounding average).
Fear the 'Stache is first in team steal totals and average.
Drunk Dialing D12's 435 blocks are good enough to stand atop the total blocks chart, but only get him ranked third in average team blocks.
Next week, I'll introduce the final league scoring system and how Razzball incorporates final division standings with the averages laid out in the spreadsheet. Here's the spreadsheet.