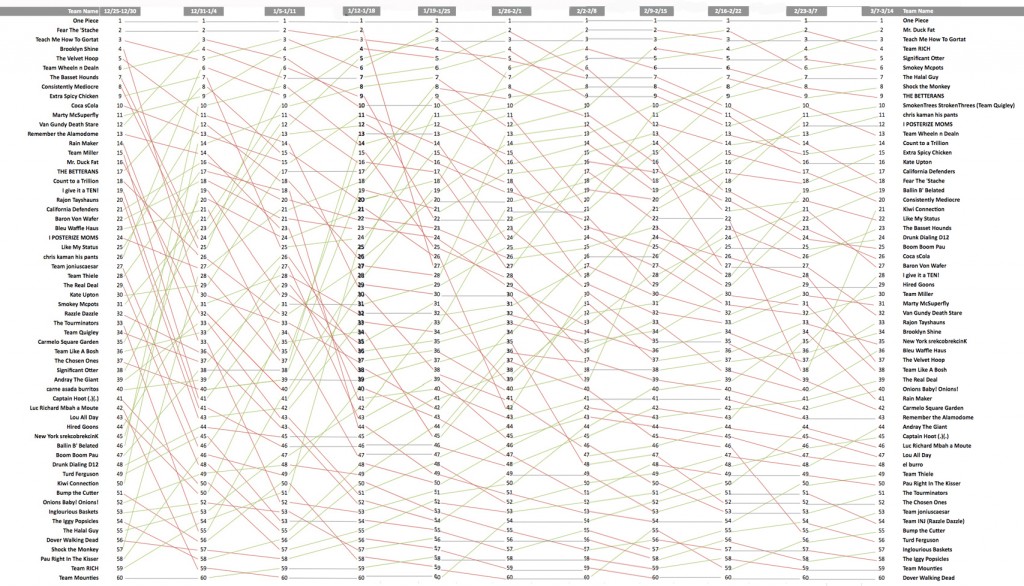 Twelve weeks down six weeks left to go. Or if you're a fractionista, you might say we're two-thirds done. If you're a percentagist, you might say we're 67 percent complete. If you're impatient, you might tell me to shut up and get on with it. Then, because I'm a literalist, I'd point out that I cannot both shut up AND get on with it. I'd only be able to do one and by doing one, I would pointedly not be doing the other. Then, if you were a normal person, you'd punch me in the throat and walk away. And if I were a rationalist, I'd understand that I got what was coming to me.
Anyway, we're another week older and deeper in debt. Not a ton of crazy movement. Team joniuscaesar has a league-wide record 549 games played so far, 51 games ahead of the runner-up. Rain Maker, with 365 games played, has played the fewest games of the 60-team league and I'm pretty sure he checked out back when Jeremy Lin was not yet a name to which people automatically attached puns.
Removing the players with the most and least games played, I averaged out the GPs across all five divisions. All-Star Dance-Off '08 came in at 484 GP so far (40 games a week). Wall's Dougie came in next averaging 461 GP (38 a week). Big Ball Dance had 450 (37.5), Chili Shimmy had 433 (36) and Dream Shake is caboosin' it averaging only 423 games so far (35).
I look forward to next season, when THE league is back to 82 games and OUR league all has the same GP settings. It'll be neato-keen.