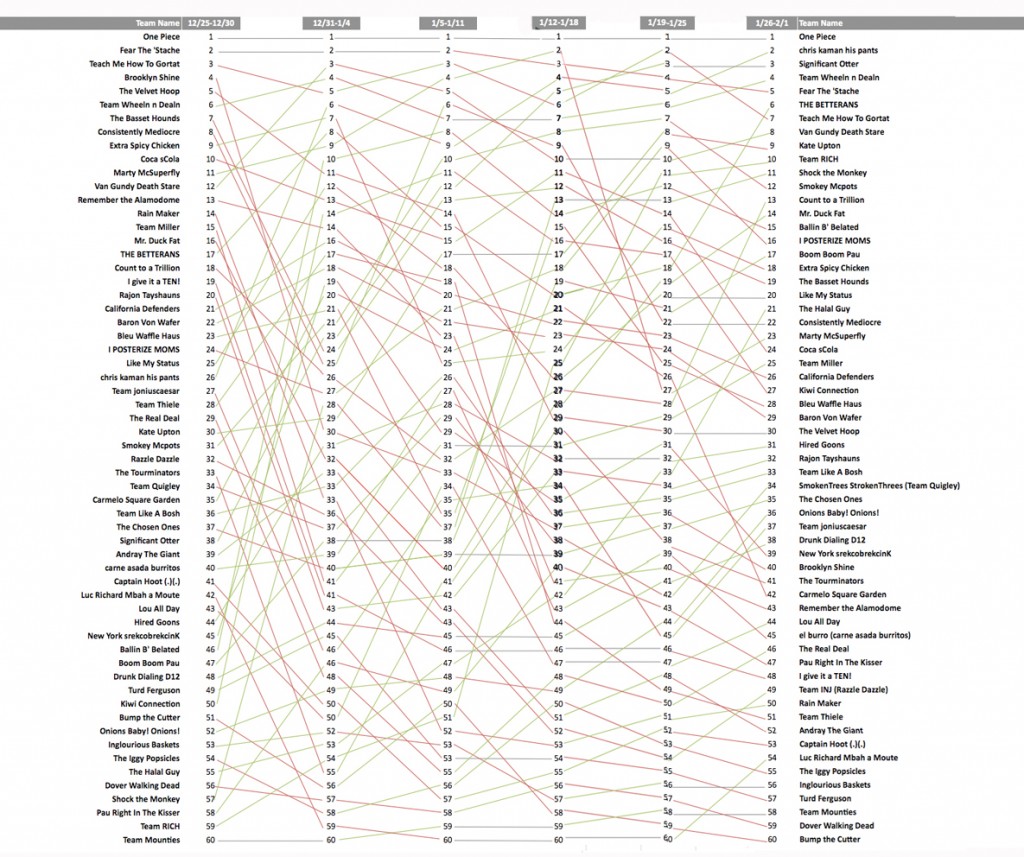 At the close of Week 6, One Piece has remained bulletproof atop the standings. If he were streaking toward the end zone, he'd be watching himself on the Jumbotron and considering whether to start high-stepping now or in another 10 yards. Because of this, I thought it might be interesting to look at how many games are left in the fantasy season and try to show the league activity through the prism of games played.
At this point in the season teams should be hovering somewhere between 200 and 210 games played (215-225 as of Thursday night) of their 660 total games available for the season. As it stood after Tuesday's games, only two teams were under this target, eight were somewhere in the 200-210 range and 50 of y'all are over, including Games Played leader Team Joniuscaesar, who's played 271 games in six weeks (45.2 games played per week). If he continues with this pace, he'll max out halfway through Week 15 (April 4-ish), leaving him with about 21-22 days left in the season. What I'm saying is, maybe pump the brakes a bit.The league-wide Games Played average as of Tuesday night's games rested at 228.9.
Unsurprisingly, all five league divisions are ahead of the pace led by All-Star Dance-Off '08, who are collectively averaging 241.5 GP. Wall's Dougie is second, averaging 239.2 GP. Next is Dream Shake (227.6), Chili Shimmy (223) and the slow 'n' steady Big Ball Dance League with 213.2.
In individual team news, both of this week's biggest dropoffs come from the Big Ball Dance Division. Carmelo Square Garden fell 16 places from 26th overall to 42nd. Coca sCola fell 10 spots from 14th to 24th. CSG had a bunch of strugglers last week who either missed a game or two or struggled enough that owners wished they had just sat out (Caron Butler, Stuckey, Rudy Gay, Shump). Coca sCola was forced to continue on without Deng, while also losing Batum and a couple bad performances from Hedo and Monta. None of that is going to help take some of the shine off of fellow Big Ball Dancer, One Piece.
Meanwhile, over in the All-Star Dance-Off '08 Division, The BETTERANS saw a nifty 12-spot rise from 18th to 6th despite also still being without Luol Deng and Nicolas Batum. The biggest difference between sCola and this team is that this team got monster minutes out of Andre Miller, saw the return of Stephen Curry, with a Bayless/Farmar kicker. Most importantly however, the BETTERANS are using the games played smartly (203) and not wasting games on underachieving players. That will help his per game averages and probably his season totals. The biggest rise of the week goes to Count to a Trillion from the Chili Shimmy League. Trillion rose 15 spots from 28th to 13th. Dude simply has a team humming on all cylinders right now. Andre Miller, Kemba, Millsap, Terry … these are some of the hottest name of the last week. It's hard to top a guy when a lot of his secondary players are playing like primary ones.
Week 6 spreadsheet here.