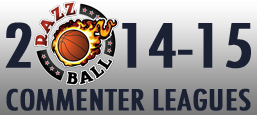 Two weeks in, and this is why you trust your veterans this Veteran's Day!  Razzball and RCL veteran Pop's Team takes over sole possession of the RCL lead with a blistering 16-2 start.  And to get there, the immaculate 9-0 victory.  *slow clap*  We'll get more into Jay's league and all the RCLs below, but on a day to give thanks, a quick shout out to all our veterans out there so we can play silly fantasy sports.
You can see how you stack up against Pop in the The 2014-15 RCL Master Standings table, and here's how the action went down across our 12 RCL Leagues:
JB's Random Commenter League – Another win, and it's 2nd place for me!  A paltry 11-7, and I still have to catch up with #Occupy DGreen, and no one knows which Green!  He's got both D Greens!  If there's Green on the field then play ball, amiright?!  Dunno if I got that phrase correct…
EmasculatingHoopsLozengesRCL – Drew says '#KC2DC!' says '#Me4RCLftw', and moves to 13-5 and continues to dominate the Emasculaters.  An epic combo of big men led by The Brow and The Big Al reside as the bouncers for Drew's nightclub.  As long as Larry Sanders isn't invited!
Slim's RCL – After the 8-0-1 start, Hinrich Maneuver couldn't keep it a complete blank sheet, but won 6-3 and still has a very impressive 14-3-1 record.  I'm still enraged Hinrich isn't on your team!  The Moscow Spartakers had the only 7-2 or better win this past week, as they attempt to reacharound The Maneuver to the top.
Hoops fanatics only league – Team Medley had the fanatical fanatics week, with an 8-0-1 beatdown over week 1's leading Reymarco Sanchez.  Nice weeks from Jimmy Buckets and Nene spelt doom for Mr. Sanchez, as the 13-4-1 Medlies now sit atop the fanatics.
Razzball League Awesome – dan's buzzer beaters and AWESOM-O notched 7-2 wins in week 2, giving them the awesome top two spots.  If they both have solid wins this week, they'll face each other in week 4 for an early playoff atmosphere matchup.
Take On The Jay(Wrong) – The team that strikes fear to the RCL field, Pop's Team is our overall leader at 16-2 with the immaculate 9-0 victory over My dog Lucy.  And Lucy was 8-1 in week 1!  While Pop is looking nasty, he's healthy with all the big producing veterans – LeBron, Kobe, Dirk, Wade, Pau… Makes sense being on Pop's Team!  Already up 8-1 this week, if Pop avoids father time, it could be his year.
JB vs. Slim – Ugh, my JB BEATS SLIM!!!!!!! has none of those vets, yet got rocked by the injury bug with Lawson, Noel, Rondo all missing games and this is my Kevin Durant team.  Eh well, it looks good for down the road!  Good win Hibbert Forever…  razzball rookie is looking like anything but, leading us with a 13-4-1 record.
Take on SethDaSportsMan – Another 7-2 win for GottaBasketballJones, and Seth's league has GottaBePlayingHimHarder!  Nice starts from his studs Wall and Kobe are leading his 14-4 squad toward RCL glory.
Kap vs. Razzball – League parity!  No teams are over 12-6 and no one worse than 6-12.  While commish Kap Razzball is 9-9.  We need someone with a blowout this week!
Razzball Snipers – Another RCL veteran, the Hannover Hotspurs joins Pop's Team atop the RCL standings with a shimmering 15-3 record after an 8-1 beatdown of If All Ellis Fails.  This monster start for Tony Wroten is a big secret to Hotspurs' success, so with MCW returning, let's see if he can keep it up!
Jedball – micoolj79's Team notched a 7-2 big win moving to 13-5 and first place in the Jedball league.  While he's got sole possession of first, everyone is more than in it as no team is below 7-11.  It's going to be a tough fight for the Jedders!
Latecomers! – Another league with a tight race early uptop, Roy's Team and Cats Like War Milk (ummm, what?) are tied for first with 12-6 records.  Roy's huge 8-1 win vaulted him into the first place tie, with a nice team effort including Hibbert's big blocks, a few big games from Jeff Green, and Kyle Lowry being a boss.
Thanks again for playing in 14-15 RCLs and good luck to your squads in Week 3!