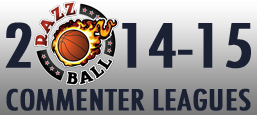 Razzball Nation!  First and foremost, I want to thank everyone for signing up and doubling the amount of RCL leagues/teams from 2013-14 to this season.  Special thanks to your RCL Commishes!  (slow internet clap…) Everyone be sure to have your A game on if you're playing against High as Greg Kite, last year's triumphant RCL Champion.  We're all comin' for ya, bro!
The 2014-15 RCL Master Standings are now up (and can be found in the "Leagues" tab in the menu), and that table will track the RCL Leaderboard.
A reminder of how we crown the overall champion – the winner is the team that wins their RCL league, then of the 12 champions has the best overall REGULAR SEASON record.  Sure it may not be the "most accurate" way to determine the most elite team, but this way it makes the playoffs an all-around blitz and anyone in the playoffs has a shot.  And as we discussed on the sign-ups, the overall champ will get to pick a food challenge for me to embarrass myself with and put on YouTube (no more horrible haircuts!) and gets a sweatsuit embroidered with their RCL team name, branded Razzball hoops.
We're through week 1 of the 2014-15 Fantasy Basketball season, and here's how each league went down:
JB's Random Commenter League – Wooo, a 6-3 start for my homies in the first RCL league!  We drafted so long ago, I think that the Thunder were actually favorites in the West… While gloating is in my nature, true praise go to 2 Gasols 1 Rubio, who takes a 7-2 record of Spanish internet video awesomeness into first place.
EmasculatingHoopsLozengesRCL – The immaculate Emasculaters!  Drew says '#KC2DC!' takes an early edge over the league with a 7-2 win, aided by The Brow and the Knight.  That should be some sort of medieval romp/comedy, but do everything the exact opposite of Your Highness.
Slim's RCL – Our only undefeated!  No team went 9-0, but Hinrich Maneuver is our RCL leader with an 8-0-1 start, led by a balanced attack of Chris Paul, Al Jefferson and Rudy Gay.  The tie was in TO, so let's be a little more careful with the ball, Hinrich!  Slim is 4-5 through week 1, so he's gonna be on the prowl for some upwards maneuvering.
Hoops fanatics only league – Reymarco Sanchez is like, "yeah, I'm 6-2-1 and atop the league, and my brother Mark is a starting QB again!"  Just never call him dirty, it means something else…
Razzball League Awesome – This league is already looking like a stars and scrubs!  Two teams going 7-2 (Big Deng Theory & dan's buzzer beaters) while our Dan A. and his AlanPARSONSProject is starting strong as well with a 5-3-1 record.  But Dan, c'mon bro!  You don't have Chandler Parsons on your team?!  Wtf is that about?!
Take On The Jay(Wrong) – We are all witness to Jay having his cherry popped, and hey, not a bad 4-5 start for Jason's Team.  We believe in you, Mr. Longfellow!  But I might believe a little bit more in our loyal dog owners, as My dog Lucy had the monster week 1, winning 8-1 behind big weeks from Eric Bledsoe and Marc Gasol.  I love Lucy!
JB vs. Slim – In the titular matchup (haha, JB said tit!), my JB BEATS SLIM!!!!!!! lived up to the name!  Beat down Slim's Champs – Slim 1 JB 0 5-4.  OK, so it wasn't a beat down, but with Kevin Durant my first pick, it's time to change your team name Slim!  Looking forward to whence we meet again.  The real problem is the pasta came al dente, with Primo Pasta's MVP laying down the LAW with an 8-1 start.  Slim's got Primo this week, so let's see if he can take down the pasta!
Take on SethDaSportsMan – Another league with two hot teams attempting a runaway, GottaBasketballJones and The King Is Back (a Cavs fan I wonder?) both start 7-2.  Slow and steady wins the race, fellahs!
Kap vs. Razzball – Our newly appointed injury expert Kap Razzball had a nice 5-4 week, as the Kap league had 5 of 6 matchups won by a narrow 5-4.  Parity!  The only distinguishing member of the Kaps was Amalbec Stoudemire with a 7-1-1 win.  I don't see Amar'e or Damon on your team!  Eh well, since you're trying to win I can't fault that…
Razzball Snipers – This league's got Bobby Lee Swagger!  RCL favorite Hannover Hotspurs continues to be underrated with a European soccer sounding name, but a 7-2 fantasy basketball game.  My spurs are so hotttttt!  Tony Wroten is playing like a beast and any team with Derrick Favors gets a tip of the cap from me.
Jedball – The Jed Heads!  Everyone is too nice to have any runaway victories, as micoolj79's Team and Adam M's Team are the frontrunning Jedballers with 6-3 records.  A lot of teams are quiet on the wire, let's get some moves going Jedball!  I like the way you moves!
Latecomers! – Better latecomers than never!  Murder Castle takes the oh so slight lead with a 6-2-1 week in a pretty even week 1 of matchups.  It's only through one day, but the Murder Castle is up 8-1 this week and proof that PG depth saves lives!  Wall, Dragic and Jrue – the trio to make the Castle fully erect and looming over the league.
That's how we stack up through week 1, again you can follow the standings on the 2014-15 Master Standings page, and good luck to RCLers in week 2!