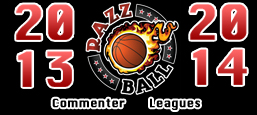 It's Week 2, and things are just warming up. The leagues are starting to show some separation. Some with pure dominance, others with smoke and mirrors. Let us begin:
JB's Random Commenter League.  The league leader, Baby got Back, was overtaken by Handsome Lads, who also won his week, going 8-1, and sits in first with 15-3. Baby got Back also sits at 15-3, so I'm sensing a rivalry taking shape… JB Gilpin, clearly dissatisfied with his team, made 2 trades that involved numerous players on his roster. All for naught, though, as he still lost his week, posting a 3-6 week, and currently sits 10th of 12. Our fearless editor will, no doubt, totally redeem himself in the coming weeks. We hope.
All Country Ball Club. We should all aspire to be As High as Greg Kite, who won his week with a dominant week 2, going 8-1, and sits high at number 1 overall with a lighter than air record of 14-3-1. It appears there are no panic trades so far, as 2 weeks have gone by without a transaction. Solid. And Just because it's dope, I make an honourable mention of team name, Heinrich Maneuver.  That's how you bring the creative double entendre name, folks!
JB's Random Commenter League 2. Number 2 Commenter League, but Number 1 in our hearts, we are affirmed of a simple truth. Royal Flush beats a Douche, going 6-3 in week 2, and sits in first overall with a record of 12-6. That is, Royal Flush took down a fella who could be a fantastic guy, who maybe even gives to charity, and donates blood to orphanages, but since he elected to go with a symbol/emoji of a face flipping the double bird for his team name, he can not be named, and hither to will be called Monsieur LeDouche.
Razzball League 3 the Ringers. The Ringers league is a tight race, with only 4 points separating 1st and 7th. Currently The Akron Chosen Ones are in the lead, with an overall score of 13-5, but Larry Moses and Team Tough Guy Town also have the same record. Week one winner, Beeeenga, in a bold move, gave up on young big man, Jonas Valanciunas, in a trade that netted him George Hill. In a vacuum, I believe that JV was the better of the two talents, but Beeeenga was woefully light on PG, and had to give to get, I gather.
Razzball Hardwood Classic. One day, soon, I will be able to announce that Pippen Ain't Easy won his week. But not this week. So I award him an Honourary "slick name" award. That talent is being wasted on the bench, son! As for the actual winner, it came in the form of Foot's Flight Crew, going 7-2 this week to take the overall lead, 15-3.
The Double Bonus Fan League. The Draft Dodgers went a respectable 6-2, to take an overall lead of 14-3-1. Dikembe Says No deserves honourable mention as well, that team name made me laugh. Perhaps due to taking my advice to see what shakes out before blowing up their teams, there have been no trades so far.
Well, that's all you need to know from the world of Razzball Random Commenter Leagues. May I suggest that a little smack talk takes place in the comments below, to generate some friendly rivalry? Should you partake, keep it clean and clever. No need to post: "you Suck, JB!" dozens of times. His records speak for themselves [editor's note – I can put smack talk in the post itself, Danny Boy!  You suck! You SUCK! twice seemed appropriate for you, I'm not a monster…].