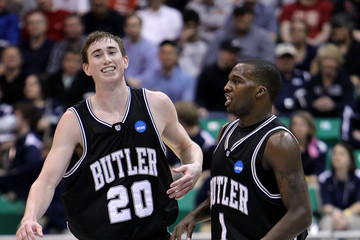 Shelvin Mack has finally been reunited with Gordon Hayward, and the Jazz definitely feel so good about it.  (If you don't remember their heroic run with Butler to the championship game against Duke, then I feel very sorry for you.)  Mack immediately becomes a must own after leapfrogging the rest of the dismal PG depth.  Shelvin has always been a versatile guard, but he really lacked a true playmaker's skill-set during his early years.  Fortunately, he really adapted to that point guard role, during his time with the Hawks.  Don't get too carried away with projections though, he's likely to average points in the low teens, 4 or 5 assists, and probably over a 3.  Odds are, he won't produce a lot of defensive stats, but on the plus side, he won't turn the ball over much.  (Ignore the 6 TO outlier last game, since he's been fairly consistent career wise.)  He is likely to be impacted by the return of Alec Burks, so that's another thing to keep an eye on.  Overall though, he needs to be owned for now, and we'll deal with Burks when he gets back.
Wire Picks:
Vince Carter? – SG/SF – 2% – While scrolling through the player list, I noticed that Carter has actually been very productive through the last 3.  He's probably worth a flier while Tony Allen is out.  Hairston is totally ineffective.  Worst case, he's a deeper league streamer.
Lance Stephenson – SG/SF – 12% – Same reasoning as Vince, although I do think that Lance has a bit more upside.  He's playing to revive his career, plus he fits in well with the Grizzlies' gritty mentality.  It wouldn't be too surprising if he achieved some relevance, considering the absence of Gasol.
Matt Barnes – SG/SF – 38%- For the love of all things Razzy, please pick him up already!!!!! That ownership percentage is ludicrous for a consistent top 100 value this season.
Brandon Jennings – PG – 43% – Maybe I'm just a sucker for punishment, but I've always love B-Jennings.  He's clearly one of the best scorers on the team, and there's no reason to think he won't pass Elfrid on the depth chart.  Granted, it's Skiles, so who knows. (#SKILESSSSSSSSSSS) Regardless, Jennings is still very talented, and he should get a chance to show what he's got down the stretch.
Jared Dudley – SG/SF – 19% – The Wizards are winning and Dudley is outplaying Markieff.  I don't see either of these things changing in the immediate future, so it's safe to grab him until Kieff replaces him in the starting unit.
*Thragnof Special*
Doug McDermott – If you want 3s and literally nothing else.  I don't like him, but I here some people are into that type of thing…
I'd also like to give a quick shout-out to Damian Lillard for the spectacular run he's been having lately.  Dame is one of my favorite players in the league.  He's an incredible talent, and he never gets the credit he deserves because he doesn't talk much and he plays in a small market.  He stays humble, keeps focused and lets his game do the talking.  He may not have the talent around him to contend yet, but the kid has the heart of a champion.  If he isn't an all-star next year, there's something very wrong.  I value stats, but mentality is the main thing I use to evaluate players.  Lillard has the same killer instinct and fire of guys like Kobe and Westbrook.  I don't mind the guys that take a lighter approach to the game, but when the game is on the line,  I want that intensity on my side.