Welcome back to RazzWired!  Week 1 is finally in the books, so it's time to look at who you can grab off the wire!
Before we begin, lets get some housekeeping out of the way.  Throughout the season, this column will only be looking at players owned in less than 50% of leagues.  These recommendations are also tailored to the 9-cat RCL format.  That being said, let's dive in!
First up, we have a repeat offender, from last year's RazzWired series.  The one, the only, Matty B!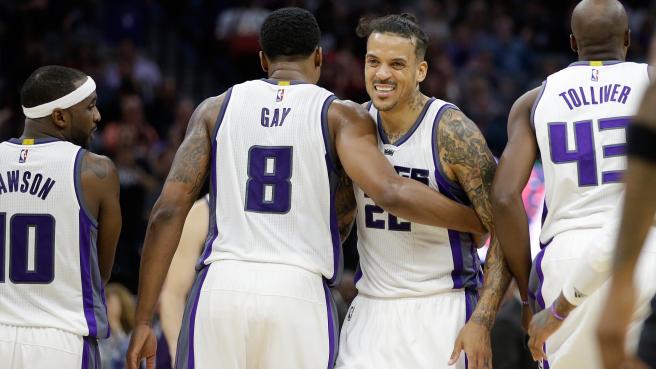 Across the board production:
Matt Barnes – SG/SF – 34% –  Yes, the haircut is atrocious, but the man stuffs the statsheet!  On top of his already solid production, there is a high probability that Gay gets traded, leaving even more usage rate to my man, Matty B!  Grab him as a potential rest of season guy.
Joe Johnson – SG/SF – 51% – Yeah, he's over the 50% mark, but I have a feeling he's available in many leagues.  He's a value for the next couple weeks, so feel free to stream!
JJ Barea – PG/SG – 32% – The diminutive guard is getting solid run for the Mavs.  Seth Curry isn't living up to the hype, so Barea is a good back of the bench option.  Plus, if D-Will goes down, JJ's value would take an enormous leap.
Specialists:
Three Ball
Patty Mills – PG – 32% – He's been getting solid run, and if Parker ever gets rested or injured, his value would spike.  Oh, and Mills has 13 treys through 4 games so far.  Definitely worth a look!
Blocks
Dewayne Dedmon – C – 13% – He definitely has a role on the Spurs, but he isn't going to put up huge numbers.  However, he's averaging 7 points, 7.3 boards, and 2 blocks per game through the first 4.  Plus, the Spurs starting bigs tend to sit a lot.
Steals
Andre Roberson – SG/SF – 13% – He's getting a ton of minutes, and he's putting up numbers.  6 points, 7.7 boards, 2 assists, 2.7 steals, and 1 block per game through the first 3.  Throw in the occasional trey, and he's a very solid option for across the board production.
Deep League Delight (Sub 10% ownership):
CJ Miles – SG/SF – 4% – Rodney Stuckey went down, so there may be a few more minutes for Miles.  Regardless, he's a decent thragnof play, with a few steals thrown in.  Definitely should be owned in over 4 percent of leagues.