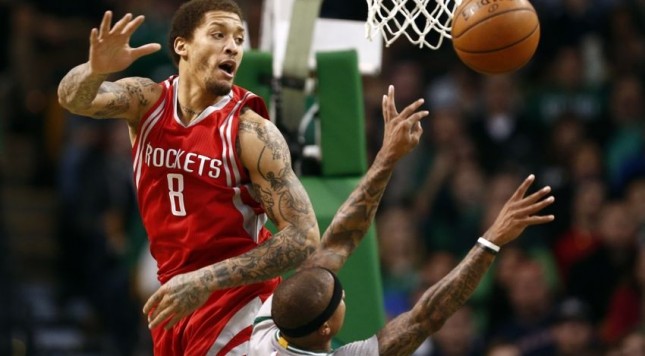 (Yes, this is one of the only Beasley pics in a Rockets uniform)
Welcome back to the league!  There has never really been any question that Beasley has talent…  Hopefully, he's matured during his time away.  At any rate, he's dominating on a Houston team that has no real PF depth, and no playmakers outside of Harden.  Luckily for Houston, Beasley is a point forward that can provide playmaking and scoring off the bench.  I'm not ready to say he's must-own by any stretch, but the talent is there, the playing time is there, and it's hard to see how he won't be productive.
Here are your playoff pickups!
Michael Beasley – SF/PF – 13% – (See above)
Josh Richardson – SG/SF – 18% – I have no idea how long this hot streak will last, but this kid has been dominating the stat sheet for the past week.  Definitely give him a look as a streamer, and he may end up sticking.  There's also some solid keeper value here for all of you dynasty players.
Patrick Patterson and Bismack Biyombo – PF/C and C – Specialist for treys and points, and specialist for blocks.  Not much else to say… Both will get solid run with JV down.
Darrell Arthur – PF/C – 9% – This is a deeper league add, or possibly a streamer if injuries continue to plague the Denver front-court.  He hits some threes and puts up some solid stats across the board.  Ignore him when Denver is at full health though.
Must Owns –
At this point in the season, most pickups are due to injuries, so here are some of the value changes recently:
Toronto Raptors: JV is down.  Mentioned above.
Memphis Grizzlies: One of the sadder situations in the league… Matt Barnes is the only must-own that I can see… Stephenson and Tony Allen are solid when healthy, and Green can be productive, but he's still inconsistent.  Not much pickup news on this front.
Fun Fact: There are currently the same amount of injured and healthy players on the Grizz… (9 apiece)
Boston Celtics:  Jae Crowder is set to miss at least a couple weeks… There isn't a clear pickup, but Turner, Smart, and Bradley should all benefit
That wraps it up for this week!  Back to baseball prep… I will admit that I started scouring the wrong waiver wire before writing this… I'm sure all of you came to the site through the baseball side, but if you haven't checked it out yet, make sure to do that!  The baseball podcasts are absolute gold.  Just for the record, my baseball sleepers are Carlos Rodon and Rougned Odor.. Oh, and of course Delino Deshields!
Ok! I'm done with the baseball stuff.  Hit me up with any add/drop questions you have during the playoffs.  This is when the cuts start to get rough…
Have a great day everyone, and see ya next week!