For those of you who didn't watch the Sixers vs Lakers game on Tuesday, you really missed out on something special.  It was Kobe Bryant's final game in Philly (where he played high school ball), and the atmosphere was absolutely electric.  Kobe led off the game by draining 3 treys in his first four shots, with fans cheering every time he touched the ball.  Unfortunately, the adrenaline could only take his aging body so far, and the inefficient Kobe of this year, soon took over.  There were flashes of former glory throughout the game, but it's clear that his brilliant career is coming to an end.  "There's so much beauty in the pain of this thing," Bryant said of his struggles on the floor.  Thankfully, he is playing the season out, and giving his fans a last chance to say goodbye.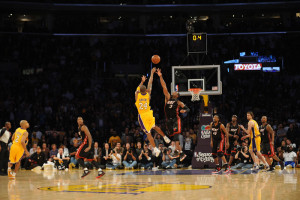 Kobe has given us some incredible moments over the years, and like him or hate him, you have to respect him.  He is one of the greatest competitors in NBA history, and he plays with as much intensity and heart as anyone that I can remember.  Bryant always put 110% into the game, and that constant strain is likely what wore his body out.  However, it's also what makes him one of the greatest to ever play the game.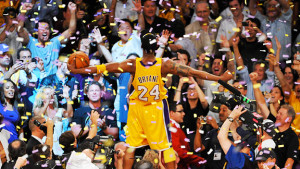 It's going to feel very odd watching a Laker team without Kobe Bryant.  I suppose all stars come and go, but Bryant just seemed to defy all odds up until this year.  It's even stranger to see Kobe starting to show up on some waiver wires.  As for me, I own him in a couple leagues, and will be holding him for the duration of the season.  Just for the principle of the thing.
Kobe is among the last of the old guard, with veterans and retired players like Pierce, Allen, Garnett, Duncan, Nowitzki, Nash, and Shaq.  New players like Curry, Harden, Westbrook, Leonard, Durant, Davis, and George, have risen to take their place.  It's a pretty incredible cycle if you think about it.
Ok, enough of the nostalgia, lets get into the waiver wire for this week!
T.J. Warren – SF – 37% – I hate Warren as a player, but if you need points and a few boards, with solid percentages, I'd give him a look.  He really doesn't provide great peripherals, but he's a decent option for the back of your bench, while his minutes are up.
Isaiah Canaan – PG – 25% –  Bizarro Warren will wreck your percentages and pile up a whole lot of threes… Not sure if you want that on your team, but he has been on a three-ball tear lately, so I figured I should let you know.  Averaging 3.5 treys per game for over a week now.
Mirza Teletovic – SF/PF – 8% – With the injury to Chandler, Mirza has been getting around 20 minutes a game, and averaging 3.3 treys, during that time period.  Not sure how long it will last, but the out of position stats are awfully nice.  So if you need that extra boost in 3s, give him a look!  For now, he's a deeper league option, or for an owner who's desperate for some shooting.
Omri Casspi – SF – 14% – The Kings have been committed to getting the versatile forward into the rotation more, and it's starting to look like a good move.  Casspi provides nice across the board production, while shooting solid percentages, and not turning the ball over.  Not many options on the wire that are more solid.
Clint Capela – PF/C – 41% – Slim's greatest triumph can now be yours in 59% of leagues!  As long as you don't mind losing FT% every week.  The overall stat production from Capela, is pretty compelling.  A solid amount of steals, boards, and blocks, almost a Noel type stat line.  He is currently in the starting lineup, and is a must own, if you can swallow the FT%.
To answer the question ahead of time, no, I'm not dropping T-Jones for Capela yet.  They both should be owned though.
Deal or Steal
This weeks edition of Deal or Steal features a trade from the REL, that went down a few days ago.  I technically didn't ask permission to analyze the trade, but hey, JB can kick me out if he doesn't like it! The trade went down between Team JB Gilpin (Creative name JB!) and team Niko-Cola (formerly Breaking Batum).
(To clarify, what each side is giving, is listed under their names)
For those of you who don't know, the REL is a 20 team, dynasty league, with $200 budget for keepers and auction combined.
This trade makes a lot of sense for both sides, since JB will not be able to keep Ibaka next year, and Niko – Cola was looking for a bigger salary piece to build around.  This also replaced the back end of JB's bench with players that are getting minutes, and provides upside in Lamb as a future keeper.  However, while the thought process made sense, the execution did not.  Noah is clearly a drop after this year, and the other two or borderline, so we have to base value on this year, and in that case, the Ibaka side clearly wins. This has to do with Noah's clear lack of playing time, and permanent dtd tag.  A smarter move would have been to simply trade Ibaka for 3 veteran players that are producing this year, and go all out to win it.
This trade gives some potential for the future, but blurs the line between rebuilding and winning.  Winning takes a commitment, one way or the other.  So, when trading in your own leagues, don't be afraid to take chances.  In the words of the wise Ricky Bobby: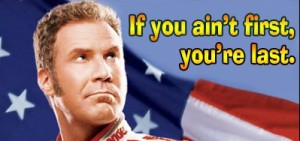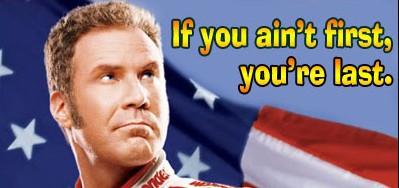 Final Note: I will be out of town next week, so there will be no article, next Thursday.  I will be updating my Twitter account some, and of course, answering questions there, and here as well.  So be sure to hit me up at  @RazzWired
Have an awesome week Razzballers!