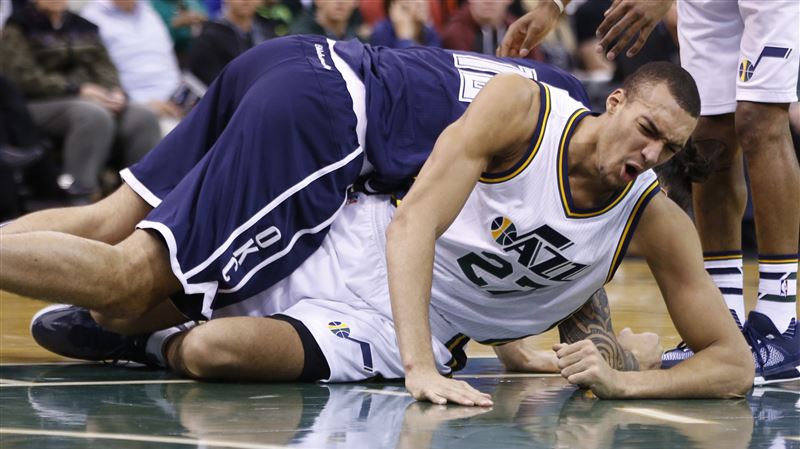 The injuries are starting to pile up as fantasy-relevant players are dropping left and right.
Here are the major injuries lingering around the NBA, some suggestions for which replacements to target, and whether you should Stash, Drop, Add, or use an I.R. spot (if your league allows it):
Want the best tools and projections to help dominate your league? Check out the Stocktonator, the byproduct of Rudy and machine making love. Click HERE for a FREE 7-day trial.
Rudy Gobert – Knee – Mid-December – Stash duh!
At the end of last week, Gobert went down with a bone bruise in his right knee and is expected to miss 4-6 weeks. The main beneficiary will be the man with the perfect porn star name, Derrick Favors.
Favors said he is excited to have a bigger role. In fact, he seemed to be a little too excited. We may have a Tonya Harding/Nancy Kerrigan situation going on here. Do we know where Jeff Gillooly was on the night of November 10th? (If you are under 35, then you will need to use Google to understand this reference).
Thabo Sefolosha will also get more minutes, so if your team needs steals…STAGNOF!
D'Angelo Russell – Knee – Indefinitely – Stash D'Uh!
This is the second time this season that Russell is missing games with a knee issue and it turns out that it is serious enough for Russell to get it 'scoped. This will sideline the point guard indefinitely and owners just need to hold tight until a better timeline is released. This is bad news since originally D'Angelo was D'Ay-to-D'Ay. Now owners need to try to grab Spencer D'Inwiddie off waivers.
Seems like karma for breaking the bro-code has arrived.
Nicolas Batum – Elbow – He's Back Baby – Should have stashed duh!
Batum was back Wednesday against Cleveland and played a whopping 32 minutes and stuffed the stat sheet. The team decided to start him after Batum reported that he tested his elbow vigorously Tuesday night and he was really "satisfied" with how it responded. He should quickly get back to form and needs to be owned everywhere. Jeremy Lamb will go back to the bench, but could still maintain value in most leagues.
Gary Harris – Shoulder – Questionable for Friday – Stash duh!
Does anyone else think that "Gary Harris" sounds like a name the FBI would give to someone in witness protection? Assuming the mob doesn't track him down before Friday, it is likely he will play after getting a week off to rest his sore shoulder. If he does miss time, then Will Barton and Jamal Murray will have great games.
Stephen Curry – Thigh – He's Fine – Stash duh!
Curry was able to play Thursday against the Celtics after suffering a glorified Charley horse. Ok, now I am wondering why it is called a Charley horse (Google searching): named for Chicago White Sox pitcher Charley "Old Hoss" Radbourne who suffered a leg cramp during a game in the 1880s. The trainers treated his cramps with leeches and had his teammates all put their cigarettes out on the bottoms of his feet.
Chris Paul – Knee – He's Back – Stash duh!
Coach D'Antoni had Paul start the game on Thursday against the Suns and he was limited to 20 minutes. D'Antoni said he would also put a 20 minute limit restriction on his own pre-game séance trying to make contact with his old mustache.
Isaiah Thomas – Hip – Targeting January – Stash duh!
Still out.
Patrick Beverley – Knee – Day-to-Day – Stash I guess
Beverley said he is feeling much better after getting fluid drained from his knee and sitting out the last three games. Beverley will be travelling with the team on their upcoming four-game road trip and should be back soon. In a related story, Billy Bob Thornton was spotted with a vile of Beverley's knee fluid hanging around his neck.
Danilo Gallinari – Glute – Day-to-Day – Stash duh!
The Rooster is still out with his injured glute and is listed as questionable for Friday's game against Cleveland. If you drafted Gallo, then you should have been prepared for quite a few missed games. And if you poured a bucket of water over your head, then you should have been prepared to get wet. Wes Johnson will keep getting minutes, but is still really only a cheap daily fantasy option.
Michael Conley – Achilles – 2 Weeks – Stash duh!
Conley is going to sit out at least two weeks while he tries to get his Achilles right. Tyreke "Waiver Wire All-Star" Evans should continue to play like an All-Star, you know, right up until he gets hurt too. Mario Chalmers could be worth a pick-up in deeper leagues for point guard desperate teams.
Gorgui Dieng – Finger – Day-to-Day – Stash I guess, but wouldn't blame you for dropping
Looks like Dieng will miss his third straight game on Wednesday with a sprained right index finger. I am sure he is rethinking that tribute to Dikembe Mutumbo.
Jabari Parker – Knee – Targeting February – Stash only if you have an I.R. spot
Still out.
Carmelo Anthony – Back/Old – Day-to-Day – Stash duh!
Anthony was able to play Wednesday even with a sore back, AKA for being old. This injury could cause him to miss a few games here and there. He hurt his back trying to chase some stinkin' kids off his lawn.
Steven Adams – Calf – Day-to-Day – Stash duh!
Adams was seen going through 1-on-1 drills Wednesday afternoon, which would seem to indicate he is close to a return. However, after digging deep into this story, I discovered that "1-on-1" is the Australian slang for self-love. Since Adams was "seen" doing this, the story went from hopeful to Louis C.K.
Kawhi Leonard – Quad – Sometime Between Tomorrow and Next Season – Stash duh!