The All-Star Break is here!  With skills competish, Mike & Mike in the evening, and everyone's favorite – the Slam Dunk Contest.  It's exactly what everyone needs during the grind of the regular season, even for us fans who are only nursing such injuries like Larry Drew-ophobia, general malaise, and fantasy bewilderment.  I have all of those symptoms!  Plus we all get four straight nights of not worrying about our fantasy rosters, nights off to spend with ladies (Valnetine's Day just happens to be during the All-Star Break, who planned this?  Does Jared own the NBA?!), nights off to go out drinking without constantly checking box scores on the iPhone, and nights off to spend working on some Fantasy Baseball rankings…  Oh, and nights off to dig out our cars, sheesh this weather!  So with all that in mind enjoy the All-Star Break, get on twitter and have fun faux-titling the Dunk Contest throwdowns, and I'll be back on Wednesday next week as we approach the fantasy playoffs.  Here's what I saw last night in the few NBA games and a few injury updates:
Kendall Marshall – Ah to be young…  You might be the only guy available if you're the only young one!  Steve Blake played the 2 and Steve Nash and Jordan Farmar started their ASBs a few games ago.  Of the four I guess we're going back to Marshall with another big dimebag game.  Fantasy is reactionary! 14/7/17 with two treys, aka, a fat person going through the K&W line. I can't help it if the Lakers keep changing their PG Flavor of the week!
Steve Blake – Speaking of Steve Blake, have you seen how he steps into a shot?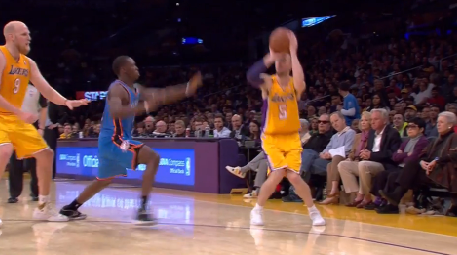 Yikes that must hurt the danglers more than the elbow!  I guess that's the new pain management philosophy… 13/6/2/2/0 with three treys.  Aka, a really REALLY obese person going through the K&W line.
Kevin Garnett – Rainbow line!  Even if the rainbow is 200 years old… 4/7/3/3/2 and second rainbow in the past 5 games.  Don't misinterpret me, I don't like KG at all, but hey, two rainbows in 5 is worth some deep league play.
Eric Bledsoe – Expected to return this season, woooooo!  Wait, that is an optimistic note?  I mean, I guess he could be ruled out for the year, but I was warning everyone that the original timetables weren't going to hold true.  Had a lot of stash Bledsoe questions for the playoffs, I think he's only worth the investment if you're cruising in with the 1 seed.  No reason to lose seeding getting a 0 from him with a very uncertain return date or effectiveness level.
Andray Blatche – Ouch!  8/1/1/2/0 as his stat lines are what's going Slim.  Hey oh!  Tristan Thompson gonna win me some pride back!
Carlos Boozer – Returned to the line-up for 15/10/0/0/0.  Now was that really Tristan Thompson?!  Taj Gibson went back to the bench for 16/5/2/0/2 and proves he will maintain solid value even as a the main big of the bench.
Joakim Noah – At this point, not coming close to a triple-double is a bad game… 14/13/7 with a pair of blocks.  Very fantasy studly with no Derrick Rose.  Only time you'll ever hear Noah's name and studly in the same sentence…
Jimmy Butler – Rainbow line!  And just so much better than KG… Duh!  14/5/4/3/2… and 1 TO!  His stat line is like a countdown to the All-Star break!  Shot 6-8, 2-2 from the line, very nice way to wrap up your pre-ASB stats.
Kevin Durant – Been playing pretty decent lately.  Even though he's hardly owned, he's a must-add right now.
Chris Kaman – The elite center production continues!  The hair follicle production… Eh, a different story.  19/10/6 with a block.  Must-own in all leagues.
Shawne Williams – Gets cut, comes back, plays 35+ minutes a game his third and fourth game back.  The Lakers front office is like, "Why can't we quit you!"  15/9/0/1/2 with three treys isn't exactly a Brokeback Mountain of stats, but needs to be scooped up in leagues deeper than 12 it's-a-lookin'.
Jeremy Lamb – Racked up 4 steals.  But also fouled out.  Trying to play more like Lions than Lambs!
Larry Sanders – Had eye surgery.  And no, not the laser kind, the fix a broken bone kind.  Two surgeries already this year for the Colonel.  Get the triage going!
Ryan Anderson – To be re-evaluated at the end of the month.  Let's hope that re-evaluation isn't on Feb. 29…  We'd miss him for 2+ years!
I hope everyone has a fantastic weekend and enjoys the All-Star Festivities. We'll back with daily updates when NBA regular season action returns!