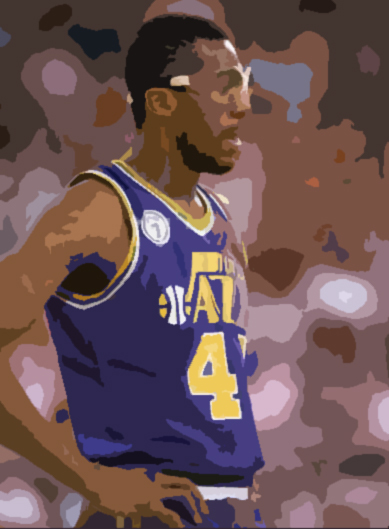 With fewer than three weeks until the start of the NBA's 41st season, we're previewing all 25 teams. Whatchu say? Twenty-five teams? Yup. We're looking at every franchise in addition to shining a light on the new Eastern Conference expansion Charlotte Hornets and Western Conference expansion Miami Heat. And if Charlotte's more East than Miami, I'll apparently be previewing the new United States map. From now until the start of the season, we're bringing you the 1988 Fantasy Team Previews, which will focus on each team in order to paint a clearer fantasy picture. Razzball's got all the ins-and-outs of the season covered. Who's new to each team, who's old (Kareem!), and how are you possibly going to compete with whoever takes Jordan with the first pick of your draft? Unless the first pick in your draft belongs to you, in which case, turn off your IBM PS/2, kick up your feet and put your fantasy roster on cruise control. Next up – The Utah Jazz (history makers!).
Gained – Jose Ortiz, Eric Leckner, Jim Les, Mike Brown
Lost – Kelly Tripucka, Melvin Turpin, Rickey Green, Eddie Hughes
Probable position depth –
PG – John Stockton, Jim Les
SG – Darrell Griffith, Bobby Hansen, Bart Kofoed
SF – Marc Iavaroni, Scott Roth
PF – Karl Malone, Thurl Bailey, Mike Brown
C –  Mark Eaton, Eric Leckner, Jose Ortiz
Surprising Team Fact From Last Season – Frank Layden's 108.5 point per game was the lowest scoring average of any playoff team in the Western Conference. If there were a stat to quantify and rate a team's defense, I'm sure the Jazz would be first on that list. Still, a team with Malone, Bailey and Stockton should be a better offensive team. If coach Layden can't get more out of his offense than this, I can't imagine he'll be this team's coach much longer.
Number of Top 20 Fantasy Players   (par 0-1) – 2, Stockton, Malone
Number of Top 50 Fantasy Players   (par 1-2) – 0,
Number of Top 75 Fantasy Players   (par 2-3) – 3, Bailey
Number of Top 100 Fantasy Players (par 3-4) – 4, Eaton
Number of Top 200 Fantasy Players (par 6-7) – 5, Griffith
3 Concerns Heading Into the Season
1. Marc Iavaroni: the worst starter of this season or the worst starter in Jazz history?
As unsure as I am about who the 5/4/1 career wunderkind (or whatever the Italian word for the German word for child prodigy is) blackmailed in order to last six seasons in the NBA, I'm even more unsure how that same guy is starting on a playoff team. If your league had 14 teams and each of those teams had a 12-man roster, I'd almost certainly draft every other starter on every other team before I even consider Iavaroni. "Bambino prodigio!"
2. Can't Thurl Bailey just play the swing spot?
One of the game's best Sixth Men stands 6'11" weighing 215 lbs., which is a body type that doesn't much make for a very good swingman. Then again, not being a good swingman hasn't stopped Iavaroni from playing the position … Aw, SNAP!
3. What exactly is Mark Eatin', anyway?
Babies. Fella's led the league in blocks four of the last five years. He can't shoot a lick, but his rebounding is solid and anyone leading the league in a counting stat deserves a top 100 pick. I'm more sure of that than Dukakis winning next month's election. Come on, the United States is never going to go for getting led by a guy with such an easy name to make fun of.

Rookie Review! – Jazz get Ortiz in America/ Okay by me, in America / So long as he, in America / Averages his 22.3 in America! Ay-ay-ay! (Truthfully, Utah has a glut of big men and I don't know if Ortiz has the toughness, quickness or general skill to appear like anything more than your average Joe. And I don't mean to give away the ending, but Ortiz looks to be Utah's best incoming rookie). Speak of the devil, Eric Leckner (no.17) is not the devil. What he is, however, is another lumbering white guy for the Mailman, Bailey and Eaton not to get off the court for. Grab him if your league awards points for high fives given from the bench during a time out. Then there's Jim Les, the other white rookie whom the Hawks took two years ago with the 70th pick in the draft and pawned off on Utah. It looks like another long season for Stockton's shorts.
Fantasy Disappointment in '11 – Karl Malone. He averaged 28/12 in his third season, which was a huge jump, but nowhere near as huge as his leap from 6.6 free throw attempts per game in 1986 to 9.6 tries from the line last year. He's a powerhouse, but what are the odds that a guy throwing elbows around like he does, getting mauled as much as he will stays healthy? If he plays 72 games this season, I'd consider yourself lucky. And even if he manages to stay healthy, he has Thurl Bailey behind him. I think this is the year Stockton shows us a little three-point shooting and takes on the heavy scoring load. More on that in about 1/3 of an inch …

Biggest Fantasy Contributor in '11 – John Stockton. Stockton is all alone in that backcourt. There's a chance Dr. Dunkenstein comes alive, but there's a bigger chance that he doesn't. Bart Kofoed? Bobby Hansen? these are not guys likely to be a part of any championship teams – ever.  But I believe Johnny Boy wants to prove me wrong and I believe he'll bust his booty trying to make it happen.
Fantasy Sleeper – Darrell Griffith. Look, Doc Dunkenstein hasn't been the same since he missed all of the '86 season, and he missed a hefty chunk of last year too, but he's only 30 years old. In Kareem years, he's only halfway through his career. Do like those new Nike ads tell you, and "just do it," D.G. (yeah, I don't really know what that slogan means either.)