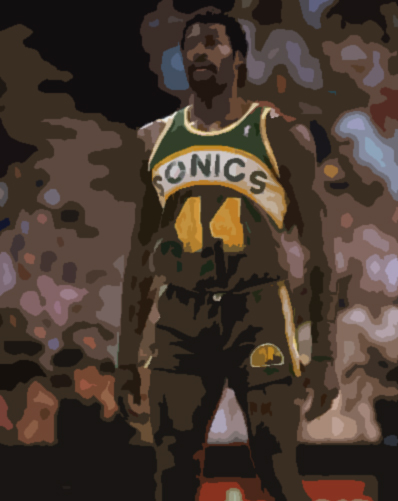 With fewer than three weeks until the start of the NBA's 41st season, we're previewing all 25 teams. Whatchu say? Twenty-five teams? Yup. We're looking at every franchise in addition to shining a light on the new Eastern Conference expansion Charlotte Hornets and Western Conference expansion Miami Heat. And if Charlotte's more East than Miami, I'll apparently be previewing the new United States map. From now until the start of the season, we're bringing you the 1988 Fantasy Team Previews, which will focus on each team in order to paint a clearer fantasy picture. Razzball's got all the ins-and-outs of the season covered. Who's new to each team, who's old (Kareem!), and how are you possibly going to compete with whoever takes Jordan with the first pick of your draft? Unless the first pick in your draft belongs to you, in which case, turn off your IBM PS/2, kick up your feet and put your fantasy roster on cruise control. Next up – The Seattle Supersonics (Heed Olden: Hoop it up!).
Gained – Michael Cage, John Lucas
Lost – Tom Chambers, Clemon Johnson, Danny Young
Probable position depth –
PG – Nate McMillan, Sedale Threatt, Avery Johnson
SG – Xavier McDaniel, John Lucas
SF – Dale Ellis, Jerry Reynolds
PF – Michael Cage, Derrick McKey, Russ Schoene
C –  Alton Lister, Olden Polynice
Surprising Team Fact From Last Season – The Sonics led the league in personal fouls and,unsurprisingly, opponent free throws. Adding Cage and Lucas only barely increases the slap-happy number of fouls Tom Chambers levied onto the team.

Number of Top 20 Fantasy Players   (par 0-1) – 1, Ellis
Number of Top 50 Fantasy Players   (par 1-2) – 3, McDaniel, McMillan
Number of Top 75 Fantasy Players   (par 2-3) – 4, Michael Cage
Number of Top 100 Fantasy Players (par 3-4) – 0
Number of Top 200 Fantasy Players (par 6-7) – 7, Lister, Polynice, McKey
3 Concerns Heading Into the Season
1. Can the Sonics recover from losing Chambers with the acquisition of Shaft? [SHUT YO MOUTH!] Just talkin' 'bout Michael Cage!
Who is that man / Who'd take a rise from the three-point land?/ Tom! / Can you dig it? Look, I know that joke is almost 20 years old, but it's still funny. You watch. People another 20 years from now will still appreciate it. I'm sure. T.C. is among the most athletic forwards this game has ever seen, and the Sonics aren't quite replacing that with Cage's 15 ppg. What they are replacing is a slightly better defender, with slightly younger legs, willing to get a little more bruised down in the block. Not to mention getting a player who'll play more minutes than Chambers because he's not in so much damn foul trouble.

2. McMillan underwhelms me. Will this team ever have a quality PG?
There are just some teams that just seem destined to play one type of game throughout their history. The Celtics will always be defensive dynamos. The Warriors will always play shoot-first individual basketball and there just won't ever be a truly premiere Seattle point guard. McMillan will provide an elite number of steals and assists, but he can't shoot. At all. You wouldn't ever see the Celtics or Lakers running around with point guards with terrible shots providing little offense, would you? McMillan is a fine second point guard, but if you're resting your entire fantasy roster around this guy, your fantasy roster is in trouble.

3. Could there have been a worse first-round draft pick than Olden Polynice last season?
No. I'm not really sure what the Sonics are doing with this team. Frankly, I'm convinced half the active roster could manage this team better than the executives. Heck, throw McMillan, or Lucas or, oh I dunno, Avery Johnson out there to call the shots. Couldn't do much worse, right? What's the worst that could happen, they draft 4/4/0 Polynice again!?

Rookie Review! – Free agent rookie Avery Johnson is Seattle's only acquisition new to the league. I don't like his height or any of his skills, but seeing as how Sedale is certainly no – ahem – threatt for any of McMillan's minutes, there's an outside chance this little guy breaks in, surprises everyone, shows that he can actually shoot the ball, and steals 15-25 minutes a game. I wouldn't bet on it though.
Fantasy Disappointment in '11 – Derrick McKey. Some people expect a huge leap this season, but dude's young development is totally gonna get Shafted.
Biggest Fantasy Contributor in '11 –Dale Ellis. 26/5/3 with a flattop fade that isn't likely to ever go out of style. The only problem here is, you'll almost certainly forget you drafted this guy immediately after doing so. Ellis is like that new McFerrin jam Don't Worry Be Happy: both undesirable, yet completely unavoidable.
Fantasy Sleeper – Olden Polynice. Polynice was ineffective last year, sure. But there's still time for him. He might not be a bust. This is the NBA. Anything can happen. Mark Eaton, Danny Ainge and Craig Ehlo were all chosen in the second round of their respective drafts and they're all important parts of their teams' offense now. Surely, someone like Ehlo will be remembered more for his sturdy play and excellent defense than any embarrassing incidents or defensive missteps, right? Why not a top 10 pick? I'd take a chance sometime after the first dozen rounds of your draft.