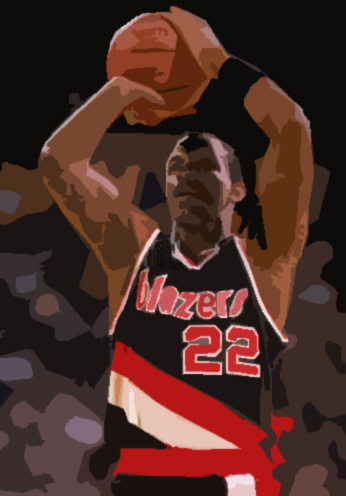 With fewer than three weeks until the start of the NBA's 41st season, we're previewing all 25 teams. Whatchu say? Twenty-five teams? Yup. We're looking at every franchise in addition to shining a light on the new Eastern Conference expansion Charlotte Hornets and Western Conference expansion Miami Heat. And if Charlotte's more East than Miami, I'll apparently be previewing the new United States map. From now until the start of the season, we're bringing you the 1988-89 Fantasy Team Previews, which will focus on each team in order to paint a clearer fantasy picture. Razzball's got all the ins-and-outs of the season covered. Who's new to each team, who's old (Kareem!), and how are you possibly going to compete with whoever takes Jordan with the first pick of your draft? Unless the first pick in your draft belongs to you, in which case, turn off your IBM PS/2, kick up your feet and put your fantasy roster on cruise control. Next up – The Portland Trail Blazers (I miss him already).
Gained – Adrian Branch, Danny Young
Lost – Maurice Lucas, Mike Holton, Kevin Gamble
Probable position depth –
PG – Terry Porter, Jerry Sichting
SG – Clyde Drexler, Craig Neal, Brook Steppe
SF – Mark Bryant, Adrian Branch, Kiki Vandeweghe
PF – Jerome Kersey, Steve Johnson, Richard Anderson
C – Kevin Duckworth, Caldwell Jones, Sam Bowie, Rolando Ferreira
Surprising Team Fact From Last Season – New owner, computer mogul and philanthropist Paul Allen, purchased the Blazers from Larry Weinberg for $70 million earlier this year. Eighteen years ago, Weinberg, Herman Sarkowsky and Robert Schmertz paid $3.7 million to secure the then-expansion team.

Number of Top 20 Fantasy Players   (par 0-1) – 1, Drexler
Number of Top 50 Fantasy Players   (par 1-2) – 2, Porter
Number of Top 75 Fantasy Players   (par 2-3) – 3, Kersey
Number of Top 100 Fantasy Players (par 3-4) – 0,
Number of Top 200 Fantasy Players (par 6-7) – 6, Duckworth, Johnson, Vandeweghe
3 Concerns Heading Into the Season
1. If I was trying to come ensure a last place finish in my league, do I draft Bowie or Ferreira as my starting center?
Neither. Just crush the tooth with the cyanide and be done with it already. Seriously, you add Pops Jones to that mix and you have over 20 feet of terribly ineffective centers. Bowie is the one you're going to want to draft the most because you'll hope he's just a slow learner. You'll hope this is the year Bowie "gets" it. And although he'll produce more than Ferreira, you'd have to be a lad insane to pick Bowie. Nothing is hunky-dory with this guy (I know Sam emphasizes the "Boo" sound, I did too when I saw the "The Glass Spider" tour). Oh, and I haven't mentioned the worst of it yet. The worst of it is that Bowie's being paid $1.08 million this year to average 9/5/2. That's $880k more than Terry Porter.
2. Will Vandeweghe be aweghe all season, or will the injured forward make a fantasy impact at some point in the season?
He's supposed to be out until at least Christmas and when he returns he's still supposed to lack defensive ability or the willingness to do anything besides bailout threes and drives through the lane. I'd hope that people forget about him until after the 13th round and target him as a sleeper pick.

3. Take me through the roadmap of how Clyde Drexler can improve on his 27/7/6 line from last season.
Brooke Steppe totaled 244 mp/103 pts and Neal managed fewer than 250 points in his final year with Georgia Tech. Drexler averaged 39.3 mpg last season and he could easily clear 40 in '88. There. It was a short road.

Rookie Review! – Mark Bryant (no.21 overall), Rolando Ferreira (no. 26 overall), Craig Neal (no. 71 overall). Bryant is the only one of Portland's rookie trio worth considering. He has a decent outside shot and is as good a bet as Branch to take the starter's minutes at the three while Vandeweghe is laid aweghe. The other two players? Honestly, I'm pretty sure Weinberg's crew drafted them as a prank to the new owners. Senior Week!

Fantasy Disappointment in '11 – Kevin Duckworth. I more or less think it will be business as usual for Portland's top three. They haven't made any significant improvements and have lost Mo Lucas for good and Kiki Vandeweghe for a third of the season. This should be where Duck waddles to prominence. He'll be 24 this season, entering his third year. He should be comfortable, ready. He leaped from 5/3/0 as a rookie to 16/7/1 last season in just 29 mpg. He'll average 34-36 and improve mightily, right? He should make another jump to 21/10/2 by this rationale. But I just don't see it. I don't think he's a double-double guy. He's not athletic enough. He doesn't block, doesn't steal, he got outrebounded by a guy 12 years his senior on a per-minute basis. He's a big body, but it's an unathletic body. I don't think he'll necessarily regress, but a lot of people are expecting him to make a leap I just don't see the guy making, mostly because the guy doesn't leap all that well. That's the problem.
Biggest Fantasy Contributor in '11 – Clyde Drexler. If you have to ask … well, you shouldn't have to ask.
Fantasy Sleeper – Kiki Vandeweghe. If you want to argue a better sleeper pick than Kiki, go ahead. But I have three rules when drafting fantasy players from Portland: 1) This is not Sam Bowie's year. It will never be Sam Bowie's year. 2) Never own a Blazer who doesn't start. Your team will never recover. 3) … Unless you're passed the 13th round and Kiki Vandeweghe is still available.