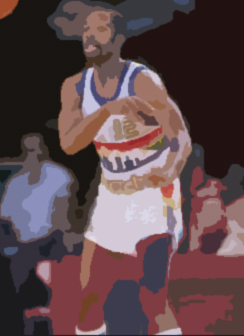 With fewer than three weeks until the start of the NBA's 41st season, we're previewing all 25 teams. Whatchu say? Twenty-five teams? Yup. We're looking at every franchise in addition to shining a light on the new Eastern Conference expansion Charlotte Hornets and Western Conference expansion Miami Heat. And if Charlotte's more East than Miami, I'll apparently be previewing the new United States map. From now until the start of the season, we're bringing you the 1988-89 Fantasy Team Previews, which will focus on each team in order to paint a clearer fantasy picture. Razzball's got all the ins-and-outs of the season covered. Who's new to each team, who's old (Kareem!), and how are you possibly going to compete with whoever takes Jordan with the first pick of your draft? Unless the first pick in your draft belongs to you, in which case, turn off your IBM PS/2, kick up your feet and put your fantasy roster on cruise control. Next up – The Denver Nuggets (where the stars are gonna take us to Rainbow Bright's Walter Davis' big, shining light … which was not intended to be a cocaine reference, but if it plays, roll with it).
Gained – Walter Davis, Elston Turner, Jerome Lane, Eddie Hughes
Lost – T.R. Dunn, Mike Evans, Maurice Martin, Michael Brooks
Probable position depth –
PG – Fat Lever, Eddie Hughes
SG – Michael Adams, Walter Davis, Bill Hanzlik
SF – Alex English, Elston Turner, Jay Vincent, Jerome Lane
PF – Wayne Cooper, Calvin Natt, Wayne Englestad
C –  Danny Schayes, Blair Rasmussen
Surprising Team Fact From Last Season – The Nuggs never turned the ball over, picked opponent pockets like a pack of Calcutta gypsies and averaged more possessions per game than any other team, but still couldn't get out of their own way last year. They attempted the most shots in the league but only made the 16th highest percentage of them, whereas they had the best free throw percentage, but got to the line less than all but four other teams.

Number of Top 20 Fantasy Players   (par 0-1) – 1, Lever
Number of Top 50 Fantasy Players   (par 1-2) – 2, English
Number of Top 75 Fantasy Players   (par 2-3) – 4, Adams, Davis
Number of Top 100 Fantasy Players (par 3-4) – 5, Schayes
Number of Top 200 Fantasy Players (par 6-7) – 7, Vincent, Natt
3 Concerns Heading Into the Season
1. This team got outrebounded more than any other last season? Will that change?
Nah. When the second-best rebounder on your team is a 6'3″ PG, your team just isn't going to be a force on the boards. In fact, with Greyhound Davis set play a huge chunk of minutes, his pair of rebounds per game suggest Denver will rebound less in '88 than they did in '87.

2. With Greyhound Davis pulling into the station, are Adams and English in for weaker seasons?
More English than Adams, but that has more to do with Alex English being older than Lotus software. He'll be 35 this season, and between speed and weary bones, my guess is Denver brought in the equally aged Davis as old man back-up. Like when you're bummed because your grandfather died, but only for a couples days because your grandmother is still around.
3. Will Natt/Turner provide enough of a rebellion to put a hurt on the English?
Okay, so I've clearly tipped my hand here that I think Alex English is going down this season. He's only missed five games in his last eight seasons; smart money says he breaks down eventually and smarter money says it will be this year. That doesn't make sense. Maybe not, but neither did
Rookie Review! – I always like when athletes have names that suggest they were destined to do what they're doing and a basketball player named Jerome Lane fits the bill as well as anyone. The problem is, the 23rd overall pick gives the Nuggets more of what they don't need: an undersized player with a lot of O and no D. There just won't be room for Lane, even if two guys go down.
Fantasy Disappointment in '11 – Alex English. He's old. You watch. The Blade is gonna be duller than Dukakis in '88-89.
Biggest Fantasy Contributor in '11 – Fat Lever. He averaged 19/8/8, with nearly three steals a game last season and if English has the disappointing season I think he will, even if Adams and Davis pick up most of the slack, I think we'll see something like a 22/9/7 season from the guy, which would put him in in the general vicinity of a Magic Johnson-type PG value.
Fantasy Sleeper – Calvin Natt. As power forwards go, he's small, he's slow and he's been injured for the vast majority of the last  two seasons. But before those two seasons, Natt was an 18/7/2 guy who took opponents by surprise. Why not a comeback? The opportunity's there. He's only 32, which makes him younger than Cooper, the only guy likely to earn more minutes than him at the four. If he's on the board 130 players into your draft, I'd consider him.