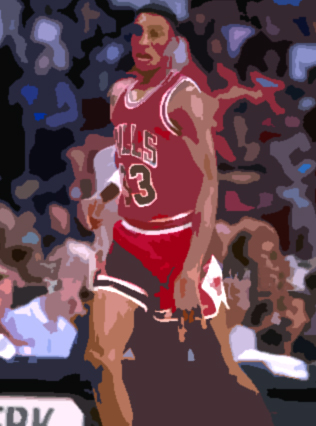 With under a week until the start of the NBA's 41st season, we're previewing all 25 teams. Whatchu say? Twenty-five teams? Yup. We're looking at every franchise in addition to shining a light on the new Eastern Conference expansion Charlotte Hornets and Western Conference expansion Miami Heat. And if Charlotte's more East than Miami, I'll apparently be previewing the new United States map. From now until the start of the season, we're bringing you the 1988-89 Fantasy Team Previews, which will focus on each team in order to paint a clearer fantasy picture. Razzball's got all the ins-and-outs of the season covered. Who's new to each team, who's old (Kareem!), and how are you possibly going to compete with whoever takes Jordan with the first pick of your draft? Unless the first pick in your draft belongs to you, in which case, turn off your IBM PS/2, kick up your feet and put your fantasy roster on cruise control. Next up – The Chicago Bulls ( Home of the dunk champ, scoring champ, defensive player of the year, MVP … and absolutely nothing else).
Gained – Bill Cartwright, Will Perdue, Jack Haley, David Wood
Lost – Charles Oakley, Rory Sparrow, Elston Turner, Granville Waiters
Probable position depth –
PG – Sam Vincent, John Paxson
SG – Michael Jordan, Anthony Jones
SF – Horace Grant, Scottie Pippen, Ed Nealy, David Wood
PF – Brad Sellers, Jack Haley, Dave Corzine
C – Bill Cartwright, Will Perdue
Surprising Team Fact From Last Season – The Bulls' slow, grinding defense resulted in the team ranking in the top six in every opponent category except turnovers, blocks and assists (they were ranked eighth in blocks, and 11th in assists). No other team halted opponent offenses like the Bulls. The Pistons and Jazz were extremely effective, but neither team used more of the clock, held the ball longer, rushed opponents into more bad shots than the Bulls. Shame there's only one guy on this team who can put the biscuit in the basket. 

Number of Top 20 Fantasy Players   (par 0-1) – 1, Jordan
Number of Top 50 Fantasy Players   (par 1-2) – 0
Number of Top 75 Fantasy Players   (par 2-3) – 0
Number of Top 100 Fantasy Players (par 3-4) – 0
Number of Top 200 Fantasy Players (par 6-7) – 6, Vincent, Sellers, Perdue, Grant, Pippen
3 Concerns Heading Into the Season
1. Are Cartwright and Perdue an answer to the loss of Charles Oakley?
In a word: no. For the last two seasons Oak has grabbed more rebounds than anyone else in the league. If you combined Cartwright's last two seasons with New York and Perdue's last two seasons in college, their sum total combined rebounds falls 702 boards short of Oakley's output over that same time frame. Oakley could have stopped muscling up back in January and still had more than these two guys combined. So, no. The Bulls are going to greatly miss Charles Oakley. Also, without Oakley around, I'm not sure anyone will be left with the courage to talk to Michael Jordan.

2. Will Jordan average 40 mpg/40 ppg? Will anyone else on this team stop him from doing so?
I worry that Jordan is going to be like that scene in "Who Framed Roger Rabbit?" (in theaters now!) where Judge Doom is in that gin joint, suspecting Roger is hidden somewhere within, tapping Shave & Haircut on the walls because 'toons can't resist it. He's tapping, tapping, tapping and Roger is in the hidden room going bananas trying to resist the urge to explode into the final refrain of the song. Tap, tap, tap. Roger's silently going bonkers and you just know any second he's going to explode, when suddenly … he explodes through the wall, crashes everything and, relieved, screams, "twoooo biiiits!" Then Judge Doom grabs him by the neck and everything goes to Hell. After the drubbing Jordan took this offseason for being a ballhog with no shot at a meaningful playoff victory, I expect him to try to get guys involved more, pass more, defer more to guys like Sellers, sophomores Horace Grant and Scottie Pippen. But none of those three guys showed anything that would resemble a lineup that can win a championship. Sellers, Grant and Pippen combined for 25/12/5 last season. I'm sure Grant will make a slight improvement, as I'm hoping Sellers will as well. Pippen? I didn't get a great vibe from him as a rookie, but anything is possible. 

3. Sam Vincent averaged 13/4/8 last season. Can he average 16/4/9?
Vincent is actually the guy I'm most confident will be Jordan's number two right away. I think Perdue will eventually be a huge piece in this team's puzzle, but Vincent will be the immediate beneficiary of a new team-oriented Jordan. The rebounds and assists will stay about the same place they did last season, but if he gets three or four more shots a game, it'll be enough to boost his scoring by 2-3 points. I wouldn't go reaching for Vincent, as he's not a top 10 PG, but he'll be better, especially with only John Paxson behind him, who hasn't ever shown more than a solid outside jumper and probably won't play any real role for this franchise.

Rookie Review! – Will Perdue was picked 11th overall after averaging 17.8 ppg/9.4 rbd/2.0 ast, with 2.2 bpg in his final two seasons at Vanderbilt. And frankly, he could average half that and still be putting up Cartwright numbers. He won't start right away, but the Bulls need to replace the rebounding they lost by giving Oakley away and Perdue has a much bigger body. I like the guy as both a sleeper and an eventual second-fiddle to Jordan. Jack Haley was picked 79th overall. Considering I was picked 76th overall and I can't take more than three dribbled without punting the ball off my L.A. Gears, yeah, I'm pretty sure you should skip drafting Jack Haley.

Fantasy Disappointment in '88 – Bill Cartwright. 11/5/1. He was the direct tradeoff for Oak, but it won't result in a direct trade-off in fantasy lines. He's 7-foot-1, averages fewer than eight rebounds and one block over his career and I'm pretty sure Michael Jordan hates him already – not only would I not put him on my fantasy team, I'm only giving Mr. Bill a few more weeks to live. Ohno!
Biggest Fantasy Contributor in '88 – Really?
Fantasy Sleeper – Will Perdue. I'm huge on this kid already. If you told me this guy ends up with more championship rings than Larry Bird, I wouldn't call you crazy. So, yeah, I'd grab him. especially in keeper leagues. I think it'll be a slow start, but well worth the wait. If Brad Sellers can improve on last season's 10/3/2 output, we could have a nice 1-2-3 punch with Perdue, Sellers and Jordan. The crotchety old sportswriters over at the Trib and Sun-Times can call 'em PB & J. Maybe I'm getting ahead of myself …