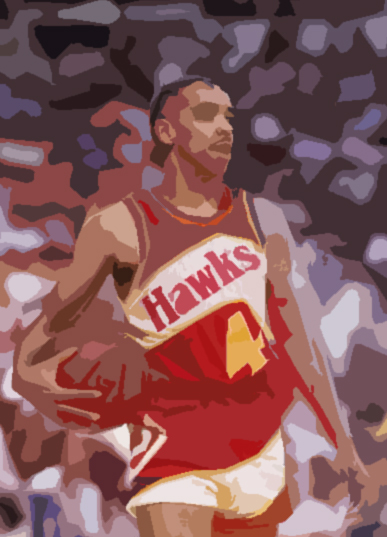 With under a week until the start of the NBA's 41st season, we're previewing all 25 teams. Whatchu say? Twenty-five teams? Yup. We're looking at every franchise in addition to shining a light on the new Eastern Conference expansion Charlotte Hornets and Western Conference expansion Miami Heat. And if Charlotte's more East than Miami, I'll apparently be previewing the new United States map. From now until the start of the season, we're bringing you the 1988-89 Fantasy Team Previews, which will focus on each team in order to paint a clearer fantasy picture. Razzball's got all the ins-and-outs of the season covered. Who's new to each team, who's old (Kareem!), and how are you possibly going to compete with whoever takes Jordan with the first pick of your draft? Unless the first pick in your draft belongs to you, in which case, turn off your IBM PS/2, kick up your feet and put your fantasy roster on cruise control. Next up – The Atlanta Hawks (Get ready for a ton more piggyback rides, Spud!).
Gained – Moses Malone, Reggie Theus, Dudley Bradley, Duane Ferrell
Lost – Randy Wittman, Tree Rollins, Leon Wood, Ennis Whatley, Scott Hastings, Chris Washburn
Probable position depth –
PG – Doc Rivers, John Battle, Spud Webb
SG – Reggie Theus, Dudley Bradley
SF – Dominique Wilkins, Duane Ferrell
PF – Cliff Levingston, Antoine Carr, Ray Tolbert, Kevin Willis
C – Moses Malone, Jon Koncak, Jorge Gonzalez
Surprising Team Fact From Last Season – The Hawks were tied with the Bulls for the seventh-best record in the league, yet were ranked outside the top seven in every category except personal fouls, turnovers and blocks.
Number of Top 20 Fantasy Players   (par 0-1) – 1, Wilkins
Number of Top 50 Fantasy Players   (par 1-2) – 2, Malone
Number of Top 75 Fantasy Players   (par 2-3) – 4, Theus, Rivers
Number of Top 100 Fantasy Players (par 3-4) – 0,
Number of Top 200 Fantasy Players (par 6-7) – 5, Levingston
3 Concerns Heading Into the Season
1. Is 'Nique still a top 10 pick with Malone and Theus on board?
Coming into this season, there are only two storylines following the Hawks: 1) Wilkins is overrated and 2) Wilkins is going to drown playing next to Malone and Theus. I tend to agree with both assessments. That's not to say I don't think Wilkins is the best player on this team, but this team got two solid players and solid players don't usually disappear. I'm more worried about Theus butting up against Wilkins than Malone. Malone's a banger, a scrapper; he'll create his own offense on missed jumpers. But Theus needs the ball and can play the two or the three. 'Nique needs the ball and can play the two or the three. Theus will pass, but it always seems a begrudging transaction. I had Wilkins ranked somewhere between 8-13 on most draft boards and each day we get closer to the regular season, I've pushed him closer to the 11-16 range.
2. Have we seen Doc Rivers' best yet?
Yup. Theus averaged more than eight assists in each of his last four seasons. Doc's averaged more than nine in the last three. There's no way those two guys each play 32 minutes each game and maintain 17 assists between them. Doc ended with 14/5/9 last season, I'd prepare for 13/4/6 from Rivers and 17/4/6 form Theus: God of the Sky Despite the Fact That Theus Does not Rhyme With Zeus and Therefore Makes Little Sense.
3. Better late round grab: Cliff Levingston or Antoine Carr?
Until you prove they're not the same person, I'm going with Cliff, if for no other reason than because I'm sure I can work in a dozen or so Huxtable jokes.
Rookie Review! – Duane Ferrell was signed as an undrafted free agent rookie and is expected to backup Dominique Wilkins and his 39 minutes per game. Backing up in this case, I assume, means giving up his seat on the bench to Wilkins during timeouts.
Fantasy Disappointment in '88 – Dominique Wilkins. I already explained this. In short, I blame Reggie Theus first, Moses Malone second and the All-Star Weekend Dunk Contest third.
Biggest Fantasy Contributor in '88 – Dominique Wilkins. … That being said, 31/6/3 is more exciting than Yo! MTV Raps (which I have not started watching yet, but am told it will make me about 42 percent cooler whenever I start).
Fantasy Sleeper – Spud Webb. Among the two famous Spuds, Webb is the less famous, but his fame is slightly more warranted (only slightly). Grab him late and ditch him off to the sucker in your league the first time he gets on the 10 o'clock news for dunking. Unless, of course, you're the sucker in your league, in which case it makes perfect sense why you picked Spud Webb in the draft.