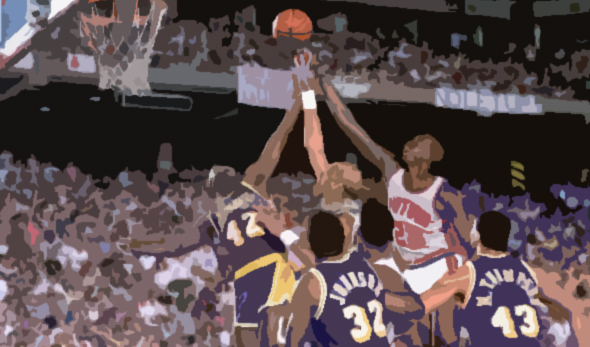 The NBA's 42nd season is all up in our collective faces; bigger and badder than ever – literally. The league has two more teams and those two teams look to give the Kings and Spurs a run for their total lack of money. No Bull. Get Jazzed. Go Buck wild, Sun … something, something Celtic. Ah, whooey. In no particular order (except for the one they're in) here are the 10 biggest storylines entering tonight's Season Opener:
1. The Hawks get a little claustrophobic because the American Southeast just got a little more crowded. The Hornets are a thing and the Heat are a thing; the Charlotte fans in attendance were asked to wear tuxedos, while the Miami faithful were also asked to dress nicer than they normally would on a weekend by wearing a Heat tank top or, really, just any shirt). Kelly Tripucka is the only name I'd recommend owning on any fantasy roster. I probably won't be saying that in April, mostly because I'll be fired long before then.
2. The Lakers go from "Great" to, "No, seriously, great!" The two-time NBA champion Lakers  try to make it three in a row, Kareem tries to make it through one more set of 82 games before retiring, Pat Riley tries to improve his solid bench by adding Orlando Woolridge and I begin my six month attempt to get everyone to call Woolridge "Baloo." That was attempt number 1. Get used to it. It's like in 4th grade when I asked everyone to call me Gozer. It didn't stick, but I'm confident Baloo will. Don't be stuck up about it. Give it a shot.
3. Can Michael Jordan get a team to the Eastern Conference Finals? The Bulls are 1-4 in playoff series since his Airness joined the team and people are starting to whisper that Jordan, like George Gervin, is all scoring and no winning. They whisper this because they're scared to death of Michael Jordan hearing them. The league's reigning MVP and DPoY will go for his third consecutive scoring title (Gervin was the last to do it eight nine years ago), but he's going to have to do it without bosom buddy, Charles Oakley. 
4. We all start calling Tom Chambers, "Gas." If he played for Miami, I'd have gone with "Heat" Chambers, but he plays for Phoenix, so we're going with "Gas." So far this preseason games, Phoenix coach Cotton Fitzsimmons has asked his new star forward to occasionally pass the ball and put his hands up on defense no fewer than three times a game. Chambers has politely said no each time and Fitzsimmons countered each rebuff by going back to sleep. The Sonics (and fantasy owners who didn't keep Chambers) are soooo going to miss Tom Chambers.
5. The Clippers found a way to make themselves worse. I already mentioned Seattle getting rid of Chambers, but I figured I'd save the fact that they replaced him with last year's defensive-minded, rebounds-per-game leader, Michael Cage. Bully for the Sonics, who'll be bullying up on the Clippers a couple times this season for sure. The Clippers are worse! What's happening!?! How is it happening!?! The room is spinning! I feel faint. Someone grab my Ecto-Cooler juice box before I spill it on the rug.

6. New faces, new paces for the Atlanta Hawks. Moses is in and Theus is in and mares eat oats and does eat oats and little lambs eat ivy. Dominique Wilkins, Moses Malone and Reggie Theus averaged almost 73 points per game last season. Rivers'll eat ivy too, wouldn't you?

7. The JBC is broadcasting from New Jersey now. Joe Barry Carroll needs a new nickname. You can't have a guy who spent 6 and 1/3 seasons on the Warriors averaging 20/8.5 nickname-less, especially when that guy is looking to rebound from an off year in such a fine, fine state. I guess, he's near a fine, fine state. He'll be playing in New Jersey. I can only assume he'll buy a place across the river. At any rate, I'm offering up "Fuzz;" preferably "Fuzz Barry Carroll." Fuzz was fuzzy last year after he was traded. (He wasn't fuzzy, was he?) I expect him to bounce back.

8. We see if Greyhound is too old to keep a-runnin'. Walter Davis will be scoring for someone other than Phoenix for this first time in his 12-year career. And if this were 25 years ago, I'd have the Angels or Shirelles make that into a top 40 hit. You traded me away 'cause my scoring has been lacking/Hey-na, hey-na / I'm on the Mavs!/ But I'm Sweet D, so get ready for a shellacking/ Hey-na, hey-na / I'm on the Mavs!

9. Olajuwon + Thorpe = title?  Otis Thorpe's 21/10/3 is on its way to Houston. Right now. The Rockets sent Akeem to the Houston Intercontinental Airport with flowers and some of those new Prozac pills in case Thorpe is one of the few people on Earth with the capacity to miss the city of Sacramento.

10. Either the Celtics' collective knees, ankles and feet hold out on them … or they don't. Boston's new coach Jimmy Rodgers has hinted that he'll use his bench more than previous coach K.C. Jones did. So the question remains, have Bird, McHale, Parish, Johnson and Ainge seen their last dominating days or is playing them less the way to keep them working; like blowing on the Super Mario Bros./Dunk Hunt cartridge to get all the dust out?