Bol Bol has the coolest name in the NBA.  He is 7-foot-2 and having a breakout season in year four of his career.  He can also do this:
He's an actual unicorn, but that's not my main point.  I had forgotten Bol Bol was even playing Bol in the league until this season!  I'd given up on him, and clearly was wrong to do so.
With the NBA for some reason deciding they want to draft teenagers and make them a part of the league, development has to be viewed differently.  Obviously, some kids like Ja Morant come in and are obvious supernovas of basketball talent, but others take years, and even multiple teams to make their mark.  Just this year, Wendell Carter Jr. and Lauri Markkanen are infuriating Bulls fans with their breakouts in their mid 20s.  I went back to the drafts since 2018 and picked one late developer to keep an eye on, similar to Bol Bol.  Who will be the next guys to surprisingly break out?
2017:  Dennis Smith, Jr.
Smith has been a revelation this season in a minor way for the Hornets.  As the ninth pick in the 2017 NBA Draft, Smith had a lot of obvious holes as a playmaker, defender, and shooter.  He also made me happy by accepting a cash payout to NC State, hilariously making their fans try to find accusations against the far superior and full of integrity Duke Blue Devils.  Things went so bad for Smith that he bulked up in an effort to make an NFL roster.
With the myriad injuries to the Hornets backcourt, ol' Dennis showed some of that incredible athleticism that led him to do this IN A GAME.
He's been a solid double-digit scorer who chips in 5 dimes and a steal as well.  I know, not the best of all time or anything, but this draft was FIVE years ago!  Smith's comeback has been fun to follow this season.  He's broken back into the NBA and I could see the Hornets handing him more minutes as the year goes on in an attempt to get ping pong balls.
The lesson I've learned here is that as long as athleticism remains, guys can improve their shot.  Guys can mature and put more effort in.  Some of these youngsters are immature when they come into the league.  With that maturity comes a more mature game.  Smith seems to have made that jump at age 25 and will continue to carve out a place in the league.
2018: Jaren Jackson, Jr.
My lesson with a guy like Jackson has to do with the body filling out.  No, I'm not going to talk about puberty.  I get enough of that in my day job.  Jackson Jr. looks huge this year.  I don't know how I missed this, but he is now built like a grown up.  I had a picture of the guy all gangly, arms and legs, coming out of Michigan State where he hardly sniffed the court when it mattered.  Weights help, kids!
At this point, Jackson is averaging almost 20 PPG and 3 blocks.  That's better than me in staff-student basketball games before I retired!  I think those numbers will increase even more as he gets more comfortable with his repaired knee.  Even more exciting, the guy is getting built like Giannis and is going to be an absolute beast.
The Kelder Life Lesson here is to try to project what future bulk can do for a player.  Jackson has a huge future to me and, if I did dynasty leagues (I hate them so, so much!), I would be paying top dollar for him.  I think former LaCrosse Catbird Jaren Jackson's son has an incredibly bright future as a Giannis type player (if he can ever stop fouling).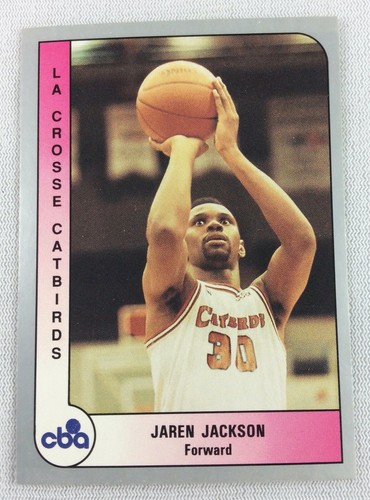 I'm from LaCrosse, Wisconsin originally and loved the CBA in my backyard as a side note.  This is a real team and JJ the first won some rings on the Spurs!
2019:  RJ Barrett (secondary guy Cam Reddish, also instructive on Nassir Little)
RJ Barrett was an elite high school recruit and set foot on Duke's campus knowing he would only be there for one year.  Barrett also, for some reason, thought he was the best player on a college team that also had Zion Williamson.  Barrett had never failed until he tried to take last second shots.
Barrett has had to learn a new way to play in the NBA.  He was a ball dominant isolation guy while coming up, but does not have the requisite skill set to do that type of play in the League.  That's a huge undertaking for a 19 year old to make.  Can you imagine being the best at something your whole life, then getting to a level that means you have to adapt everything you've learned to do?  And doing it in front of New York?  RJ has some adapting to do.
I personally see RJ, Cam Reddish, and Nassir Little as guys who have the elite athleticism, but flaws in their games.  They need to change their mindsets to become defensive guys first, and take what offense is there.  None of these guys will ever be the featured player on their teams.  They need to figure out their roles and the minutes and improvement will come.
Kelder's Life Lesson:  Not everyone is able to come in and find their role right away.  Some guys need to fail at what they want to do and find an area they are successful in.
If I had to pick these three, I'd say RJ is a pretty safe bet to find a role for the next 10 years.  Little is a dog already.  Cam Reddish, I never liked him even at Duke, he's just a little too pretty for my taste.  But maybe his failures so far will spur him on to adapt his game to find a consistent role like he seems to be starting to do in New York.
2020:  Patrick Williams
I know, I've called him Passive Pat too.  I've watched him float around and do nothing pretending to be Tony Snell and not contributing a single stat.  I've wondered why the Bulls picked him at fourth overall in that draft over Tyrese Haliburton, Desmond Bane, and Tyrese Maxey.  I've also watched every Bulls game so far and he's starting to win me over.  Not all the way, but starting.
The problem with Williams isn't him as a player.  The problem is Zach LaVine, DeMar DeRozan, and Nikola Vucevic, who I call Vooooooochhhhhhieeeeee.  LaVine and DeRozan see the game like this.
 Can I shoot now?
Can I drive now?
Can I make a fancy move and drive?
Can I make a fancy move and shoot?
Aw man, that stinks!  I'll pass to a guy in the corner
Can you see how this would affect the development of a guy who just turned 21?  There are 87 shots taken per game on average for the Bulls.  DeRozan gets at least 20.  LaVine gets at least 20.  Vooooooochhhiiieeee gets 15.  For those who don't like math, that leaves 22 shots for the entire rest of the team.  With the Bulls having a ten man rotation, that's an average of around 2 shots per player.  Can you see why Williams' scoring numbers won't be very high?
It's too soon to give up on Williams.  He has shown an ability to shoot threes (46% this year) and loves him that mid-range jumper to the tune of 48% accuracy overall.  He's learning to be more aggressive on the boards, crashing more often.  The minutes for Patrick will be earned on the defensive side of the ball, which is improving nightly and with experience.  He is for sure a guy to watch in the future after the Bulls inevitably sell off their high volume scorers.
Kelder's Life Lesson:  Team context matters as players develop their skills.  Williams and guys like him are worth monitoring and could break out at any time.
2021:  Josh Primo
Just kidding, y'all.  Kai Jones, Trey Murphy, and Jalen Johnson are all good fits for this.  Let's look at Jalen Johnson:
The guy quit on Duke!  I want him to only have mild success in the G League.
Kelder, what's your point?
Well after 1,000 words I ran out of steam here, didn't I?  I guess my point is that in this NBA, where teenagers are granted millions of dollars and a high stress public occupation, we need to be patient when they come into the league.  An NBA player's prime usually starts at age 25, six years into most of these guys' careers.  Hopefully, you got some fancy info nuggets out of this, and it made you think about how patient to be with some of these guys who don't perform immediately.