You might as well set up a Civil War style triage on the Thunder bench, because somebody has the team set of Thunder voodoo dolls and isn't wasting any time!  Adding to this virtually unprecedented injury wave to hit an NBA team through only week one of the season, Perry Jones knocked knees for the second game in a row; this time in a ton of pain and had to exit.  They say a picture is worth a thousand words, so check out the Thunder depth chart on Rotoworld, where the red S means sidelined: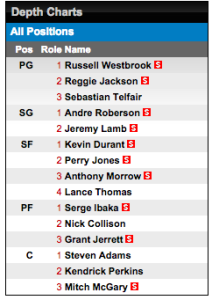 Oklahoma City Red S-es!  And while a "knee contusion" usually wouldn't worry me too much, George Hill had the same deal and he's going to be out until late-November is sounds…
On the plus side, Serge Ibaka is absolutely en fuego out there.  25/11/2/0/1 and forced to take contested jumpers the whole night, but hit 11-14 including three treys.  And played 46 minutes out of desperation!  The blocks will come, so if you got Serge late round 1 (like we had him) or round 2, you've got something of your own surging in your pants.
On the negative side, Reggie Jackson is playing with some ill-advised reckless abandon.  I mean, give the kid some props for playing through numerous injuries last night, but he ended up with his butt on the hardwood more often then Paris Hilton.  Had a fantastic slash of 13/4/14 but hurt his wrist limiting him to 4-14 FG (0-6 3PTM).  Plus the ankle still looks gimpy.  I know the upside is immense the next month, but I might try to sell RJax high after watching this game.  It was like watching Denard Robinson at Michigan.  I'm not a huge college football fan, but my dad went there and I watch parts of most games, and Shoelace is still the most dynamic player I've ever seen in Maize & Blue.  But he seemed to leave early almost every game, getting battered and beaten up.
The Thunder need to do everything and anything to get healthy, with three straight off days until Friday.  My recommendations include – every player eating a live octopus chasing it with raw eggs, hiring the Wolverine (Jackman, not Denard) for some mutant healing blood, and calling Mrs. Cleo to figure out which guy will be hurt on Friday and benching him.  Here's what else went down last night in fantasy action:
Lance Thomas – Makes me hungry for crackers.  You know those imitation cheese sandwich ones?!  You're never really sure how much you're going to like em until you eat that first one, then you're balls deep and done with the pack two minutes later.  Gotta be some angel dust sprinkled on those.  Wow, way off track, 14/5/1/1/0 for Thomas, shooting 6-11 in 33 minutes of "we have no else".  He's not an especially great NBA talent, so if Jones is out Friday, I'm not too huge on a Thomas stream.  Maybe on DraftKings Friday night as a value play though!
Sebastian Telfair – Obviously when your team has thinned out faster than Michael Fassbender in Hunger, it's a sign you should get crazy out there, and commit Flagrant 2.  Man, no one likes Tyler Hansbrough!  I'm a Chapel Hill fan for hoops (I know, college allegiances are everywhere – my half bro went there while I was growing up!) and while I'm not a huge Psycho-T fan, I don't get why he always seems to get hit in the face.  Telfair for 11/4/3/2/0 with a trey and could've played a lot more than 27 minutes if he didn't hit Hanzenbro in the face.  After getting tossed, Bassy was sassy with a little bit of a potty mouth.  Rinse that out with salt water!  I doubt a suspension will follow, because even if Adam Silver waves his long dick of the law, suspending a Thunder player would be well, hilariously cruel.
Jonas Valanciunas – Apparently non-stop injuries even permeate to OKC oppos.  Had a hand injury but came back, then got walloped on the nose by Steven Adams and had to leave after only 13 minutes.  It's not broken, and he's traveling to Boston for tonight's game, but I dunno if he'll play.  If he does, bring out the mask!  The Masked Luminescent Lithuanian!
Amir Johnson – Didn't play last night and is out again today with a bummy ankle.  Patrick Patterson makes for an interesting stream vs. the Celtics as he's assured some big PT and nearly rainbowed last night for 14/8/2/2/1 with a crazy efficient 5-9 FG (2-2 3PTM 2-2 FT).  I already picked him up to finish out the week on both my RCLs as the Raps have 3 games left this week.  Pit Pat – "Take it from me, I love you!"  I guess Hansbrough would see a little uptick in minutes as well, but meh.
Brandon Knight – The Bucks lost 16 in a row on the road, but with Brandon Knight unleashed, this team is unstoppable!  Oh wait, it was against the beer battered Pacers… 23/7/2/2/0 shooting 10-16 (2-3 3PTM 1-1 FT).  The dimes are trending down, but it's not making my half mast go down.
Giannis Antetokounmpo – The stat line doesn't do his 17 minutes justice.  Hit some big shots as the Pacers were mounting a comeback, and ended up with a 11/3/1/0/0 line and a trey.  I understand the frustration, but I'm keeping him stashed.
John Henson – 9 minutes of ughghghghhghhhhh. Blooooh, blooooohhhhhh, barffffffffffffffffff.
Ersan Ilyasova – Moved into the starting line-up, and looked like a six foot turkey.  2-11 5/3/1/1/0 missing wide open shots including his last three-pointer, which was nearly an airball from straightaway 3-point land with a wide open look.  Why Ersan gets a 26 minute start and Henson 9 off the pine is Larry Drew-worthy.
O.J. Mayo – 9/3/5/3/0 is fine and all, but had some costly TO late that almost cost the Bucks the game.  Still a mirage.
Chris Copeland – Man, Slim and I should be Vegas oddmakers!  I think we set the over/under on 4 3PTM on 8 attempts on the Podcast yesterday.  Citizen Copeland went 4-9 from deep!  19/5/0/0/0 shooting 6-15 overall.  That's some true ThrAGNOF!
Roy Hibbert – 16 blocks through 4 games and not looking terrible… This could end up one of the bad JB calls!
Donald Sloan – Rodney Stuckey surprisingly played last night (at least, surprising to me off a foot re-injury) and ended up playing down the stretch.  But the gimpy Stuckboy only went 9/1/3/0/0 shooting 3-11 in 18 minutes.  Erstwhile, Sloan for a paltry 5/2/6/0/0 in his worst game, but still got 31 minutes.  He easily could've had 10 assists this game though, as he was diming to wide open shooters who were clanking brick houses.
Dwight Howard – 26/10, he's back, he's a monster!  No blocks, 5 TO, and 6-11 FT.  He hath secretly killed you again.  Superdamn.
James Harden – He's pretty good, I guess…  25/9/10/1/2 with 10-10 FT.  A little antsy to see Kevin Durant back, as I had KD in H2H ranked over the Beard and a little queasy.  A little rattled!
Dr. Pap – Kostas Papanikolaou for 8/7/5/0/2, but shot 3-10 (2-8 3PTM) and Terrence Jones sat out with a booboo on his thigh.  And the Pap played 37 minutes!  A decent role player, but not adding him even in 14ers most likely.
Patrick Beverley – Meh, 15/4/1 and no steals, but good to see him back for 30 minutes.
Luol Deng – More like Luol Dung.  11/1/0/1/0 with 3 TO.  Doing nothing but scoring, and not even doing that well… Another week or two of this, and I'm fine cutting him everywhere.
Paul Pierce – Rainbow alert!  17/5/3/2/2 in 28 minutes hitting three treys and shooting a very efficient 5-10 FG/4-5 FT.  First two blocks of the season though, and well, he old!
Amar'e Stoudemire – Started and played 28 minutes for 6/12/2/2/0 marking back-to-back double digit rebounding affairs.  I guess if you need some streaming boards!  Although if you own Amar'e and Pierce on the same team, your team will do this to you:
Austin Rivers – I said on the pod yesterday he could have a good one against a terrible Hornets second unit!  12/5/3/1/1 shooting 5-9 (2-2 FT) and no TO in a surprise 32 minutes.  On the radar for the deepers as Eric Gordon was 0-6 in his 28 starting, horrible, no good, very bad minutes.
Tyreke Evans – Keepin' it rollin'!  16/10/5, but while he's looking solid, he's actually overvalued right now.  3 steals through 4 games and only 1 block (albeit that's a part of his game), shooting a huge volume at under 40%, 10-16 at the stripe in a small sample (but he's literally been at 77% FT shooting the past 4 years, so should improve), and 4 TO in each of the last 3.  If someone is shopping him to you, don't overpay!
Kemba Walker – See Henson, John above.  11/2/3/1/0 shooting 4-13 and the buy low window couldn't be wider.  If that makes any sense… But I'm not going to give anything too sexy to get Kimbo Slice.
Lance Stephenson – 2/7/4 with 5 TOs and no other stats shooting 1-6.  Man, he's looked awwwwwwwwwful.  As have the Hornets at 1-3, with the only win that historic opening night comeback W against the Bucks.  Charlotte sports teams really on a down slope right now.
Elfrid Payton – The stereotypical Elfrid on the Shelfrid outing!  9/6/7/3/1 in a near rainbow, only 2 TO which maybe is a bit against type, but 3-14 FG and 3-7 FT.  On the team where I own Elfrid, when I finally get the courage to look at my ratios, I have the theme to Psycho playing in my head.
Channing Frye – By far his best game as an Orlandian, going 9/7/3/1/2 in a near-rainbow hitting three treys.  Still, not exactly a breakout and had been quiet his first two.  I'm glad I stayed away.
Derrick Rose – A late scratch.  I'm glad I stayed away.
Aaron Brooks – You know, looked really good out there in 30 bench minutes sans-Rose.  13/2/8/0/3, and yes you read that right, 3 blocks and no steals.  I've always been a Brooks fan – if Rose has a serious injury this year, which just made all Bull-fan readers forever curse my name for jinxing it, I'd say Brooks is a must-own.  Could be this year's D.J. Augustin.
Kevin Love – 22/10/2 is nice and all with 5 treys, but no steals, no blocks, and it's a little Ryan Anderson-y.  Gus Ayonin'!
Tristan Thompson – I think a good comp for his output is Enes Kanter.  Neither can do anything but scoreboard, and they thrive against second units.  22 bench minutes for 10/8/0/1/0 shooting 4-12.
Kyrie Irving – The labradoodle of the night award!  3-17 for a horrific 9/1/5/1/0 line.  Cavs had their first blowout loss against an obviously great Blazers team, so not much you can do about it except maybe punt FG% this week!
Damian Lillard – 27/6/7/1/1 on an awesome night.  Shot 6-13 (5-10 3PTM 10-10 FT) and great to see his slow-ish start wasn't an omen.  Feeling great having him above the milieu of other round 2/3 PG like Dragic and Kyrie!  Even if that was the consensus…
Kobe Bryant – We need to go a "Guess the Lakers record" contest.  Ya know, why not?!  Especially since the next Lakers weekday game isn't until next week… I'll go… 29-53.  And I'll try to remember to go back to this post in the final wrap up of the year to crown the winner.  Kobe tried to carry this pathetic team for a huge 39/9/1/1/1 game.  Making today's Guess the Kobe stat line winner, owen!  "Go big, or go home!" said owen… I would think… Although even with his uber-ballsy guess of 42/8/4, JashFath was really close with 34/7/2.  Owen currently holds our Lakers expert award, wield with true honor good sir!
Jordan Hill – Glad I was as high on Jordan Hill as he seems to be in all his pictures!  Got that dank herb!  15/15/2/1/3 .  Really should be starting next to…
Ed Davis – …who got the John Henson treatment last night.  Only 18:29 of run for 4/9/0/2/3.  Looks really good defensively, including a Mutumbo-quality-nono on a driving Dragic.  Goran is going to try and block that one from his memory!  Get out of the way ref!
Goran Dragic – While the stat line wasn't huge, it was still his best on the year for 16/7/4.  It's crazy – only 1 steal through 4 (he was 1.4 per last year), yet he's 14-15 at the FT line after a subpar 76% FT shooting season in 13-14.  At the eye level, other than that block linked above, he looked really good.  I'm till in the buy low market.
Gerald Green – Was hotter than Satan's taint last night.  26/3/1/0/0 in another true ThrAGNOFfy performance with the two treys.  Despite scoring more than frat guys at the tri-sig house, only got 23 minutes.  Very meh to me.
Morris Brothers – Even with P.J. Tucker back, Marcus led the Suns in minutes for a solid 12/6/4 game.  Kieff was the true teddy bear though, going 23/10/5/1/0 shooting 9-18 with a trey.  The buzz killed our sleepers!  Luckily my first RCL had the draft very early in the preseason so I can cuddle with my Kieffy in that league.  I am a little scared for Marcus though, as Tucker hit the game-clinching three in the final minute even though he was 0-4 before then.  Ice in his veins!  Bud Ice.
Be sure to set your line-ups on a busy Wednesday night of NBA action and we'll catch ya tomorrow morning!