Now, I never went to a boarding school… I was stuck in the public schooling circuit, and just could never rebound.  I was like Andrea Bargnani or Brook Lopez down there.  Domineering over some little men, but the boards just never came my way… Enter J.J. Hickson, who despite being a tad undersized has always been a solid boarder, and racked up 19 last night for an 18/19 night.  Near Goromotaro!  Just one putback slammah-jammah and he's seeing 20/20.  A little laser eye surgery.  I liked Hickson a lot when JaVale McGee went down, and he's proved he needs to be owned virtually everywhere like I said 8 days ago.  In the five games since, Hickson has at least 8 boards, double-figures in four of five, and a block every night.   Even if Shaqtin-a-McGee is able to get back within his original time frame, McGee just isn't able to play the big starter's minutes and Hickson is going to maintain this value either starting at the 5 or playing out his minutes as an early sub.  If you're hurtin' for boards, be sure the recent grad from the boarding school isn't sitting on your wire.  Here's what else I saw last night in fantasy hoops:
Tony Wroten – Watched my first Sixers game last night, and Wroten looks really good.  Shot 8-17 for a fantastic 19/3/3/5 line, but did shoot only 3-9 from the stripe.  He's DeAndre Jordan as a PG!  He was bad last night and had a 1-5 in the Sixers' second game, but past those two games he's been fine at the line.  Deploy as you would until Michael Carter-Williams gets back from the foot injury.
Mason Plumlee – After by far his best game as a pro without Kevin Garnett or Brook Lopez, had a quiet 17 minutes 4/4/0/1/0 ball.  KG did come back (and took 19 shots in 25 minutes!), but still no Lopez.  Just not enough room on this team.
Reggie Evans – Started at center, and grabbed 9 boards in 28 minutes.  He'll get plenty of run as Lopez still has no timetable to come back from the sprained ankle.  He's a poor man's Hickson.  A good streaming boost of boards this week.
Shaun Livingston – The best player on the Nets right now?  Sad… but you could argue for it!  He looked great in the preseason and I mentioned yesterday that he's a must-own for this stretch without Deron Williams if you have a stream spot.  23/2/2/1 last night, you'd expect a few more dimes but you love the 8-14 FG and 7-7 FT.  Shot much better than his teammates and was the Nets leading scorer.
Mo Williams – I've never been the biggest MoWil guy for fantasy, but he's been solid lately, going 12/5/6/3/2 for a shocking rainbow line.  Who is letting MoWil block them, [GOB voice] come on!  I'm gonna let the guy in the $500 Blazers jersey block me twice, come on!  After not topping 25:37 in the first 5 Blazers games, has played 29:55 or more in the last 5.  The Blazers have won 7 straight, so you gotta buy the PT and the multi-cat production.
Nicolas Batum – I was lower on him than most heading into the year, but he's a solid buy low right now.  Only 7/6/1/1/0 last night with 4 TOs giving him his second brutal line in the past 4.  If anyone panics from that, worth a discount if you can swing it.
Jimmy Butler – Reportedly hurt his toe, but was able to get back in there.  Only 14/5/0/2/0, so he's streamable in shallower leagues – but Butler owners can feel a little better if you saw there mere 22:12 and were worried.
Derrick Rose – Can't hit the broad side of a barn.  Another terrible shooting day going 4-13 last night.  The "at least he's playing" argument is losing its luster.  Shooting percentage down to 34%.  Ricky Rubio called him after the game giving him jumper tips.
Kemba Walker – Actually, no one is colder than Kemba right now, going 3-14 last night and shooting 25% since dinging his shoulder over the past 7.  And that's in 110 shots.  Nice shooting, soldier!  I bet that guy from Happy Gilmore is heckling him.  "The basket's that way, and you went that way, hahahahaha!  Jackass."
Jeffery Taylor – Racked up a career-high 20 points shooting a team-high 18 shots.  Played 34 minutes and hit a couple of treys.  Michael Kidd-Gilchrist didn't look good in his 26 minutes, shooting 2-7 with 4 TOs.  Deep league owners, keep an eye on Taylor.
Charlie Day – Shot terrible.  Every time a shot goes up I say to myself, "The NightMan Cometh and the NightMan Taketh away".  Ok, so that doesn't really make any sense, but wanted to tie that commenter name in there!  4-14, as Josh McRoberts' shot is flatter that Kristen Stewart.  My analysis on him will always be "he's either awful all-around, or awful offensively and can rock a multi-cat."  That's me quoting me!  11/6/5/0/2 which you'll definitely take in deep formats.
Wilson Chandler – Make a shot!  This is what it was like for me watching this game.
Ty Lawson – Beast mode.
Jordan Hamilton – Welcome to da bench.  Droppable almost everywhere.
Kenneth Faried – The Manimal was roadkill in this one.  5/6 with a block, only shooting 2-4.  Not much of a takeaway here, Hickson is just gobbling em up like the sarlacc.
Russell Westbrook – Could very well end up being one of the biggest x-factors on championship fantasy squads this year given the deflated draft day price tag.  Huge 30/12/7 night.
Reggie Jackson – Played 24 minutes for 14/7/2.  Pretty good, sure, but it's comparable to his best lines of the year.  Sad… But true!  Not a guy that needs to be owned in shallower leagues, said it a while back.
Steven Adams – The country of New Zealand will fly at half mast today (well, their day is already night and mostly over by now – jet lag when the season's over for him must be a bitch!) for the death of Adams' fantasy value.  Only 6 minutes last night logging a dime and a swat, and has really fallen off the table after the breakout 6 games ago.  Nick Collison got 20 minutes in this game.  Yikes.  At least he's not behind Hasheem Thabeet for minutes as he got a DNP – Coach's Decision!  If Thabeet had gotten more minutes, then you've lost all pride.
Evan Turner – Looked really good, but I was still shocked when I saw his final line of 26/9/7.  I was wrong on Turner!  Shot 10-22, continues to be hot and being more than a low % scorer.  Missssss Turner!  I always think of Pirates when I see his name.
James Anderson – Didn't shoot too well at 5-13, but I was impressed with how he looked and actually racked up a solid multi-cat 14/7/3/3/1.  Obviously the 36 Pts was a fluke a few back, but he's been decent with the multi-cat since then including a rainbow line in there with the obvious big-offense potential.  Worth a look now in deeper 12-teamers.
Jae Crowder – At one point was leading the NBA in FG%!  No joke.  Was way off last night shooting 1-8.  Pass.
Samuel Dalembert – Crowder technically started at center with the Haitian Sensation off the bench.  Odd.  Sammy D with the 14 boards and 3 blocks though!  Boards-n-Blocks delight!
Shawn Marion – An assist short of a rainbow line himself, going 20/7/1/2/2.  His shot is so funky, still baffles me to this day.  Love it!  Second to Monta Ellis in minutes for the Mavs last night and looks like he's got at least this season of fantasy goodness still in the tank.
Shane Larkin – Made his NBA debut and looked good!  That kills all the Gal Mekel love I had… Larkin played 9 minutes to Mekel's 7, and went 2/0/3/3/0.  Looked like a guy that can be a really elite thievery guy (of course, minutes permitting).  Worth a steals stream in deeper leagues for a guy off the radar late in weeks.  I think he showed he can be the go-to backup PG.
DeJuan Blair – Racked up 4 fouls in 8 minutes.  Rougher than sitting through Irreversible.  I bet not a soul gets that reference… Still think he can be a poor man's 2012-13 Reggie Evans.
Diante Garrett – Look out REL!  My new acquisition played 22 minutes (a lot in the second half while still a blowout) for a +17 in a game where Enes Kanter was a -33 on the floor.  What the hey!?  Garrett went 8/3/5 and with Alec Burks struggling in another game and John Lucas III being, well his typical Lucas-ness, Garrett might get some run until Trey Burke is back.
Gordon Hayward – I like Derrick Favors a lot as well and he'll give you blocks, but these two are pretty much your only constants on that terrible Jazz team.  But it was shocking the Jazz had 10 TOs as a team last night and Gordon's Fisherman had 6 of em.  Still had a good game of 18/6/3/3/0 but Gus Ayonin'!
Marc Gasol – The Grizzlies finally figured out he's the focus of the offense, with another triple-double flirt of 23/9/8.  Shot only 8-22, but 8+ assists now in the past 3, and wouldn't you know it, all Grizz wins.  I should be an NBA coach!  I've been saying the key to that team is Marc-y Marc having the offense flow through him.
Z-Bo – 26/15/2/2/0.  Maybe Randolph going 20/10 the past three has helped out too…
Kosta Koufos – Get him to the Greek!!! Look out for the rainbow line, or "ουράνιο τόξο γραμμή" as Google translate tells me, with KK going 10/9/2/2/4 in only 19 minutes.  Put the pistachios on the baklava!  Ed Davis with the dreaded DNPCD.  Koufos is reminding us of his deeper league consideration – remember last year he was solid in not huge minutes on the Nugs.  If Ed Davis isn't gonna be on the floor, give me, give me, give me some mo' [of Koufos].
Quincy Pondexter – Played 30 minutes, but just like his foray into acting, wasn't a box office success.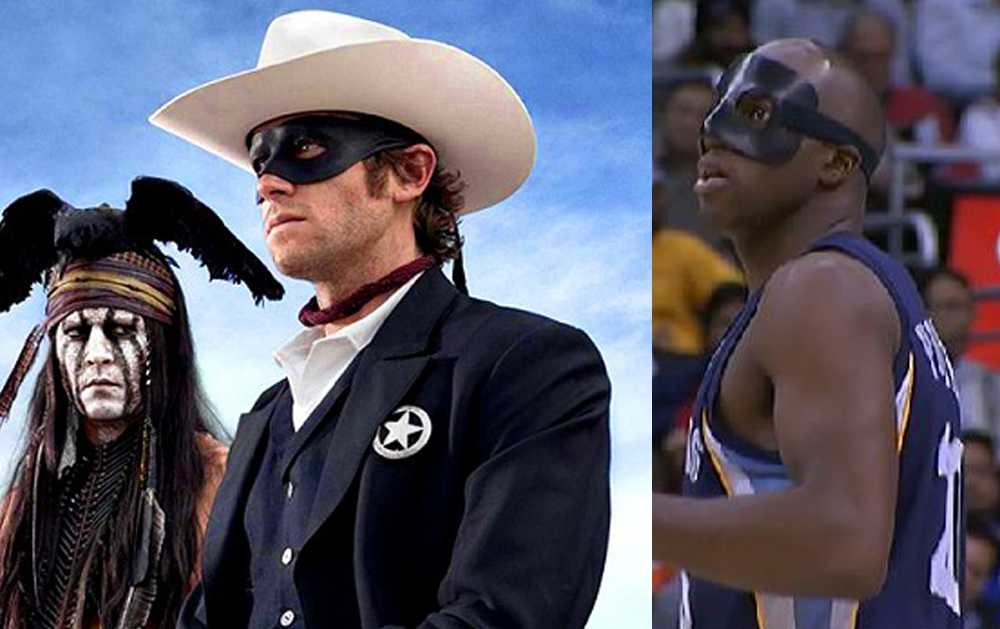 DeAndre Jordan – Getting to be the same thing every night, 8/16 with three blocks, he's filling out that potential!  And played another 43 minutes…  Doc heart DJ!
Chris Paul – A board away from a trip-dub as he tied Magic Johnson for the most 10+/10+ Pt/Ast games to start a year.  Plus with Steve Blake diming, everyone in LA is handing out non-stop dimebags!  Bring back Pooh Richardson!
Next Game: I'm not doing a game until tomorrow, and I'll be getting Utah @ NO.  Hopeful to see big run drom Diante Garrett and a huge game from Anthony Davis, but that's all that really excited me.  Well, if Ryan Anderson hits another 6 threes, that'd be fun to watch too!  Hope your teams got you off to a good start and looking forward to your thoughts below!