Don't let anyone tell you that champions aren't made in the final rounds of fantasy basketball drafts. They are. If anyone tells you that, send 'em my way. I'll be sure to sternly hold my index finger in front of their face as soon as they start talking. It's the shush finger and people hate the shush finger. But the shush finger works. I don't know why someone hasn't figured out how to skip past the first 10 rounds of fantasy drafting and jump right in to the end, but it's probably for the same reason no one has figured out a better reaction to the shush finger than to haphazardly grab at it. Don't try to grab the shush finger. It's much quicker than you shoulder-bicep-forearm-wrist-hand network of body parts. You'll whiff, look silly and your point about how fantasy drafts are won in the first five rounds won't appear any less silly.
All that said, drafting from the dregs ain't easy and you'll need a game plan. Something that sifts through the darkness and yanks out the light. I enjoy a little Usage Rate, the stat that measures the percentage of possessions (meaning field goal attempts, free throws, turnovers, assists – anything in which his play directly affected the outcome of the possession) used by a player while he's on the floor. Plainly, USG% can tell you a) how involved a player is when he's on the floor (see: Roddy Beaubois), b) how the offense runs through that player (see: Tyler Hansbrough), c) how aggressive that player is (see: Nate Robinson), d) how the coaching staff uses him (see: Tyrus Thomas) and c) you already read c and clearly stopped paying attention at b.
Minutes are the most reliable way to predict the kind of output a player will provide, but not always. Ben Wallace averaged 28.6 minutes a game last season, but only had a 10 USG%. Why? Mostly because the offense avoided putting the ball in his hands as if he was the awkward kid just trying to finish gym class without getting the glasses knocked off his head. Then there's J.R. Smith, who averaged 27.7 minutes per game but pulled in the 14th highest USG% with 26.9. Why, pt.2 ? Because J.R. Smith is a ball hog who attempted a lot of field goals last year.
The top 10 in USG% last year looks like a who's who of fantasy studs, but we're not interested in them because they'll all be gone in the first 10 rounds. We're interested in the players that didn't play much last season (12-24 mpg, minimum 21 games) but proved to get an abnormal amount of touches when they were on the floor.
To the list!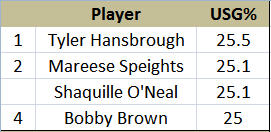 Don't get caught drafting blindly from this list in late rounds. Mareese Speights, for example, is high here, but his playing time will likely decrease this season now that Spencer Hawes is in place to backup Elton Brand.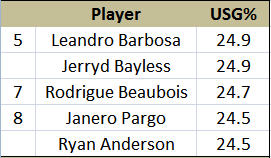 Just as Speights' stock may be falling, if Rodrigue Beaubois found himself in a starting position at some point this season, his stock would be a-risin'. His 24.7 USG% suggests that the Mavericks' staff aren't afraid to wind him up and let him go and his teammates don't deny him touches. His stock would rise faster than, say, Sam Young's.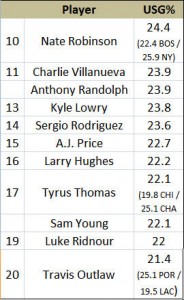 In the case of Travis Outlaw, we see two very different players. He was a rising force on the Blazers and an slightly below average entity on the Clips. Now that he's on the Nets? Well, both the Nets and Blazers were among the bottom six in pace last season and Outlaw has a better shot at starting than he did on either team in '09-10. If he can do a little more driving and shot a little less from the outside, he'll return to his 2008-09 (13/4) potency.
USG%  is a good compendium to gauge whose rising stocks have the ability to rise the farthest. Not all the guys listed above have rising stocks. Generally however, this is a list of players who have shown that if given the opportunity, they can be prime USG meets.