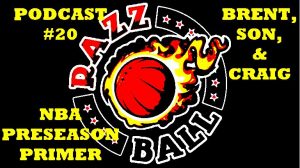 The Razzball Fantasy Basketball Podcast #20 – NBA Preseason Primer is up on YouTube for your viewing and listening pleasure. Son, Craig, and I go over what we have seen so far in the NBA Preseason and discuss how it could impact fantasy basketball.
Subscribe to the Razzball Fantasy Basketball channel and click the notification bell to make sure you do not miss an update. Also, please leave your comments, questions, and likes on the video because all of that helps the channel to grow and we love talking fantasy hoops.
We just wanted to say thank you to all of our readers and supporters, we work hard to bring you the best fantasy basketball content around, and this channel is just another way to spread the word.