In honor of the NCAA tourney, I thought we should take a glimpse into the future and start overrating–I mean properly rating–next season's incoming draft class. Now, I've watched my share of Zion, but it's honestly been tough for me to get as excited about this draft class as I was for the last two. I look forward to the hype increasing on some of these guys over the next few weeks because it feels like they (and we) really need it. But even underwhelming drafts produce all-stars and fantasy goodness, so let's see what these guys have to offer.
I present to you, rather irresponsibly and without analysis, the per-40 minute stats (thanks to sports-reference.com) of nbadraft.net's top college prospects along with some other notable college players (I'm not searching for and formatting stats for international players this year since they're not as highly regarded). Also, keep in mind that there's not a whole lot of agreement so far among talent evaluators beyond the first few players. For example, The Ringer Draft Guide's top 15 includes players that aren't even in nbadraft.net's two-round mock draft. So, there's still a ton of guesswork at this point. What's with the per-40? Well, that's what was easiest to find in order to normalize everyone's stats per minute. I guess we pretend that this is what happens if these players dominate the NBA in a similar fashion to the way they dominate the NCAA (if they even do that) AND also if they play near-league-leading minutes one day. Some, especially the raw 19-year-olds, will fare better per-minute/per-possession once they reach and develop in the NBA. The real goal I had here was to simply get to know what types of stat sets we might be looking at as ceilings for next year's rookies. I highlighted a handful of top performers in each category to make it a tad easier to find the positive outliers.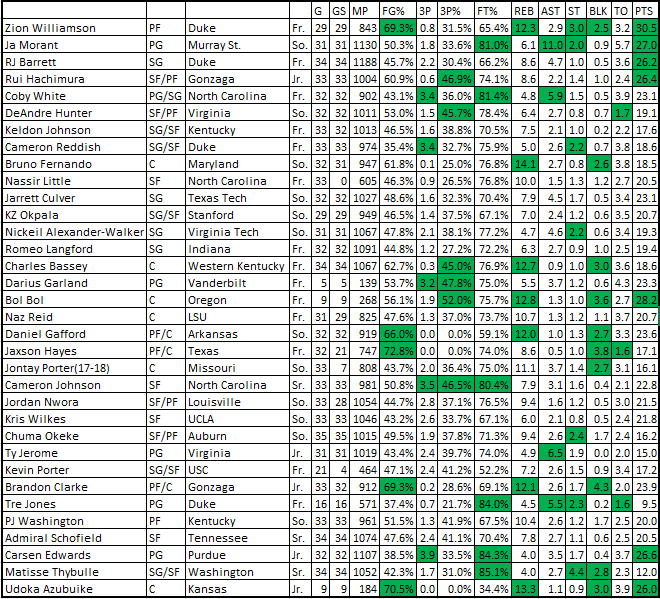 This week's classic fantasy line:
I've got to do it. In order to see things clearly once more, I think we need to take a look at Jimmer Fredette's per-40 during his Player of the Year senior season.