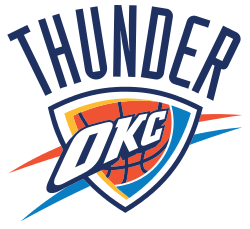 I live in LA, so rain is not a common occurence. According to the Google machine, LA averages 36 days of year with measurable precipitation. Last night, though, we experienced thunder and lightning. That's akin to most people seeing Haley's Comet. The way lightning lights up the sky is kind of cool. Just don't think about the 300 kilovolts it delivers when it touches the Earth. Thunder by itself is scary, as it rumbles, stumbles, and bumbles. In unison with lightning? A smorgsabord of emotions that make the most diesel of men shiver and quiver. That is your Oklahoma City Thunder. Russell Westbrook and Paul George are amazing basketball players individually, but when the two combine forces….Thunderstruck.
2017 record: 48-34
Key acquisitions:
Key losses:
Outlook
Russell Westbrook was drafted in 2008, the year the Seattle SuperSonics became the Oklahoma City Thunder. The team finished with a 23-59 record. Since then…50, 55, 47, 60, 59, 45, 55, 47, and 48 win seasons. To be fair, most of those teams were stacked, but Russ was a vital piece for many of them. In his 10-year NBA career, Westbrook has played at least 80 games in seven of those seasons. He's never averaged fewer than 30 minutes a game in any season and has a 32.7 career usage rate. Now, he's recovering from offseason arthroscopic knee surgery. In 2013, Westbrook underwent two knee surgeries and received PRP injections in 2017. There's a lot of wear and tear on that body and he's no spring chicken. Vegas has the win total at 48.5 for the Thunder. Paul George is a fantastic player and there is talent on the squad, but without Westbrook at full strength, that win total could be difficult to reach. From a fantasy perspective, if Russ were to miss time, then George could get a massive boost. If Russ is healthy, then everything should be OKC.
Point Guard
Russell Westbrook, Dennis Schroder, and Raymond Felton. Well, I didn't leave myself much to say about Westbrook huh? He's AVERAGED a triple-dub in consecutive seasons! The percentages are decent, not great, and he doesn't contribute much in blocks. The big bugaboo is the high turnover number. I've knocked him down this year because I envision him missing some games and playing fewer minutes. Schroder was brought over in the Carmelo Anthony trade. The efficiency isn't great, the turnovers are plentiful, and he won't contribute many threeecolas, but he will dish out his share of dimes and has the ability to get buckets. Very inconsistent player. He should get some run early on, as the Thunder are dealing with injuries, but should be relegated to a backup role once the team gets healthy. Felton is the vet that has one foot in the local YMCA.
Shooting Guard
Andre Roberson, Terrance Ferguson, Alex Abrines, and Hamidou Diallo. Roberson is out for at least two months after suffering a setback in his recovery from knee surgery. It's a blow for the Thunder from a real life perspective because he is their best perimeter defender. When he was on the floor, "Oklahoma City boasted a 96.4 defensive rating – nearly five points better than league-leading Boston (101.5) – compared to 107.6 without him." (NBA.com) From a fantasy perspective, Roberson approached Top 100 numbers two years ago, as he contributes in steals, blocks and boards, but there is no usage and offensive production to speak of. Ferguson is the second-year player taken with the 21st overall pick in last year's draft. He is super athletic but raw, both offensively and physically. He's put on some pounds this season and has a year of experience under his belt, so he could carve out a year early one due to all the injuries. The D stats will be there and he can shoot the threeecola, but don't expect a high usage rate or many assists. Abrines is the 3-and-D player without the D. A career 38% shooter from behind the arc.
Small Forward
Paul George and Timothe Luwawu-Cabarrot. George is so good and is really the perfect complement to Westbrook. The turnovers are a little high, but 1.9 steals and 3.04 threeecolas! Package that with 20+ points, 5.9 rebounds, and 3.4 assists and that's X-Rated. As mentioned in the Outlook, if Westbrook misses time, then PG-13 should see a massive usage bump. I'm not sure what to make of Luwawu-Cabarrot. Don't go chasing waterfalls? He has good size at 6′ 6″, can handle to rock on the perimeter, run PnR action, and play good on-ball defense. The stroke from outside looks smooth as well. Yet, the awareness on D is lacking at times and the numbers show that he's a career 32% shooting from downtown. He's only 23 years old, so it's too early to give up on him. Someone to keep an eye on if he can get some minutes and carve out a role.
Power Forward
Jerami Grant and Patrick Patterson. I like Grant a lot this year, especially at his draft price. He should start and get close to 28 minutes per game. Points, rebounds, blocks, and a threeecola here and there. He's very athletic and has the handles to abuse bigger men on the perimeter. In addition, defenses have to respect his J, forcing hard close outs, which allow Grant to blow by them. Excels in transition as well, which meshes well with Westbrook. Patterson is someone I was high on last season, as I thought his ability to stretch the floor would mesh well on the Thunder. Unfortunately, he suffered an injury and could never get going. He probably won't get enough minutes to be fantasy relevant.
Center
Steven Adams and Nerlens Noel. Adams provides that physical element for the Thunder and is a double-dub machine. Last season, he was tied for 19th with 28 double-dubs on the season. The 1.1 steals and 1 block are nice as well. The FG% is excellent, but like most big men, the FT% is atrocious. Noel is a boards and D guy. His athleticism should fit well with Westbrook in transition. I think he's a sneaky guy late in drafts if you need certain big man stats, but it's tough to project him for anything more than 16 minutes per game.