Value is subjective. Take Barnett Newman's Onement VI painting below.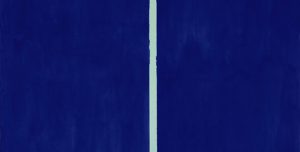 I see a blue canvas with a white stripe down the middle. Other people? Well, check out this  quote from The Guardian: "A single white line divides a flat expanse of blue; it seems to rip open the universe, a crack in space and time." Well then. Ok. Kind of dramatic and sounds like bullshit to me, but that's just my perspective. The painting sold for $43.8 million, so what the F do I know? If someone likes something and has F U money to throw around, then that's cool because at the end of the day, if Onement VI is worth $43.8 million to them, then Onement VI is worth $43.8 million. End of story. For fantasy basketball, though, it's not so simple. We all value players differently, as we have unique perspectives and construct rosters in divergent ways. If a team decides to punt the free throw category, then Andre Drummond's value is elevated from their contemporaries. With that said, we can ascertain some semblance of value for a fantasy basketball player due to their past history and projected future production. Julius Randle is one player who has jumped out to me because the spread in my projected value versus perceived value seems to be super wide.
Currently, Randle has an ADP of 46 according to FantasyPros. I have him projected as the #93 player.
I get the allure of Randle. He's 6′ 9″ 250 pounds, punishes defenders down low, grabs boards, and dishes out dimes. He has 6 career trip-dubs. And more recently, he has expanded the range on his J out to downtown. He averaged close to 1 tres per game last season after never converting more than 0.2 per game.
He provides no D stats, though, and the free throw shooing is poor, like low-70 percent range. Is he Blake Griffin 2.0 from a fantasy perspective? Griffin provides more tres and dimes, but they are of the same mold.
Now, Randle is only 24 years old, so there could be untapped ceiling. The improvement in tres is an encouraging sign that there may be more. With that said, the situation in New York is far from ideal. First, the Knicks acquired a bevy of power forwards over the summer. I'm all for zigging when everyone else is zagging, but man, it's tough to understand the vision. As a result, how many minutes will he play? I have him down for 28, but many others project him for 30+. That's well within the range of outcomes, but then what are the Knicks going to do with all the other big men they signed?
Going to a crappy team sounds good on paper for Randle, as he can soak up usage and be the man. Unfortunately, R. J. Barrett is The Man in NYC. At least for now, and he's going to have the ball in his hands. A lot. Then there's Dennis Smith Jr., who isn't a spot-up shooter. Randle will have opportunites to shine at times, but the offense isn't running through him.
Paying a top 50 price for someone with as many holes in his fantasy game as Randle is a mistake. Unless you have tons of F U money.