I'm such a degen that I signed up for the first NFBKC Draft Champions league as soon as it came out back in late July. What can I say? I'm a pookie for the drafts. Anyways, it's a 12- team, 8-cat league with a $150 buy-in and implements KDS and TRR. KDS stands for Kentucky Derby Style, which allows owners to rank their draft order preference. TRR is Third Round Reversal, so during the draft, the first two rounds proceed as a normal snake draft, but in the third round, the 12th team picks first. The starting lineup consists of 4 guards, 4 forwards, 2 centers, and 2 flex spots. There are no trades or waiver pickups, so what you draft is what you roll with for the entire season.
For this piece, I'll provide the draft board and give you my thoughts on why I chose the player I did in each round. During the draft, I utilized a spreadsheet that tracked everyone's picks and showed I how fared in each category based on my projections, which I will post in the middle. Finally, I recommend that you look at teams 2, 3, 5, 7, and 12, as all have won at least 3 contests in the past at the NFBKC.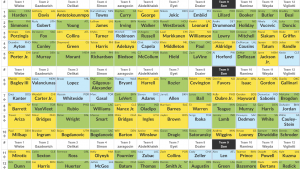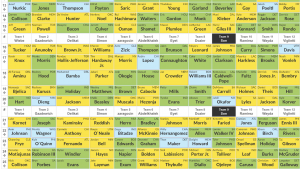 Round 1 – Damian Lillard
When I received the dreaded news that I was picking 9th, my heart sank. I hate that spot this year and was about to curl up and lie in a fetal position on the bathroom floor for all of eternity, but then the angels sang, and the rays of light peeked through the window….Damian Lillard fell to me! Hallelujah! Praise Allah, Jesus, Mary, Peter, the Holy Spirit, Buddha, Tom Cruise, etc…Point guard falls off quickly, so to get a player who will provide tres, dimes, excellent free throw percentage, points, and is expected to play a ton of minutes and games, rejuvenated me. Think Pulp Fiction. Anyways, Lillard provides a solid foundation from with to work on, which took my focus to figuring out which big man to pair with him….
Round 2 – Andre Drummond
I was hoping that Nikola Vucevic would make it to me. That all-around production, especially from the center position, is golden. It's all good, though, because I was lucky to get Dame in the first. With Vucevic off the board, the choice was between Drummond and Rudy Gobert. It was a tough one, as I'm high on the Jazz and Gobert this season, but the difference in rebounds and steals were too much to ignore. I feel good coming out of the first two rounds with Lillard and Drummond as my foundation.
Round 3 – Kyle Lowry
I really wanted Donovan Mitchell here, and with Team 10 taking Devin Booker and Jrue Holiday with his first two picks, I thought it was as good as done. But then…..stabbed in the heart. I'm okay with Lowry, though. With he and Dame, the free throw percentage destruction from Drummond is mitigated. In addition, I've got a solid foundation in dimes. There's some injury risk, but the upside of increased usage with Kawhi Leonard gone balances it out.
Round 4/5 – LaMarcus Aldridge/Al Horford
The bigs were the highest on my board at this time. I have Horford rated higher on my sheet, but he was buried in the draft room, so I went with Aldridge first figuring that Horford would be there in the 5th. I like the solid percentages, points, boards, and blocks. Plus, Horford provides those dimes, which are juicy from the center position. There is some concern that Horford won't play as much or that being on such a stacked starting lineup may impact his counting stats, but I'm not overly concerned. He is a vital component to the success of the team, and there is upside when Embiid sits.
Round 6 – Derrick Favors
There was a guard run in round 5, which sucks because I was interested in Zach LaVine, Buddy Hield, C. J. McCollum, Jamal Murray, and especially Shai Gilgeous-Alexander. Oh wells. Them the breaks. At this point, I was light on points, so I was seriously considering Terry Rozier. Thank goodness common sense got a hold of me, and I pivoted away to Derrick Favors. The Pelicans are going to play at a fast pace, which is always good for fantasy. There should be plenty of counting stats to be had. Favors provides boards, blocks, good field goal percentage, and will even chip in some steals. The free throw shooting isn't great, but not terrible either. After 6 rounds, I'm good with big man stats.
Round 7 – Kelly Oubre Jr.
So, I'm light on tres and steals at this point of the draft. That's what usually happens when you pound away at big men. Regardless, I was ecstatic to scoop up Oubre here. He provides tres, steals, blocks, and boards. There is upside in points as well. He's really grown on me the more the offseason has progressed.
Round 8 – Jeff Teague
I was sad to see Fred VanVleet get drafted, as I wanted the cuff to Lowry and think he gets increased usage this year. Whatever. As Bruce Lee said, "be like water making its way through cracks." Since I pounded big men (phrasing?) earlier, it was time to go back to the guards and scoop up the dimes, as I was falling behind. I was happy to get Teague here in the 8th, as he should provide plenty of dimes, steals, tres, and shoot well from the line. He's getting up there in age and missed 40 games due to injury last season, but he's been a top 50 player in the past. I like the discount.
Round 9 – Jeremy Lamb
I've fallen way behind in points, so that was my main focus here. I really wanted Gary Harris, but he went two picks after I selected Teague.
Round 10 – Andrew Wiggins
Ha! I still feel dirty about this pick. For my loyal readers, you know how much I despise Wiggins, but I was behind in points, and in round 10, the price felt right to take the plunge. Supposedly, Ryan Saunders is trying to get Wiggins to drive more to the basket and stop taking long two-pointers. If he can do that, the efficiency will increase, as should the free throw attempts. In addition, while there may have been better scorers available to draft, the potential for all-around production made me swallow the vomit.
Round 11 – Alex Len
I wanted to grab a center here. At this point, I have Drummond, Horford, and Aldridge who I can slide into my C spots. Since we need to start two, and Len is one of my favorite late-round centers, I wanted to lock up the position and not take any chances. I love the environment in Atlanta, as they are going to play fast. Also, with Trae Young and John Collins, Len should have plenty of room to operate and get a ton of open looks….even from downtown. The boards are light for a big man, but he will contribute in blocks. There's also upside that he plays more than the 24 I have him projected for.
Round 12 – Danny Green
I need tres and steals. Can't ask for a better fit here.
This is where most teams should have their starting lineups. As a result, I stopped tracking my team in relation to others. Here's the sheet:
https://docs.google.com/spreadsheets/d/1Rz4fNCY33B1mAjuv06awUeSObaYNqHFgTFqwLpTDtY8/edit#gid=517770215
Sorry, I tried to embed the sheet, but then you wouldn't have been able to sort the stats. Anyways, go to the OVERALL tab and sort.
Keep in mind that these are based on my per/minute projections.
This is how I stack up:
| | | | | | | | |
| --- | --- | --- | --- | --- | --- | --- | --- |
| aFG% | aFT% | 3PTM | PTS | REB | AST | ST | BLK |
| 7th | 8th | 7th | 1st | 1st | 7th | 4th | 1st |
I'd be good if it plays out like that.
Now, back to your regularly scheduled programming…..
Round 13 – Patrick Beverley
I'm still hunting 3-and-D players. Don't mind the dimes as well.
Round 14 – Maxi Kleber
The Mavericks are light in the front court, especially since I think Kristaps Porzingis misses a bunch of games. I have Kleber projected for 26 minutes. He provides good percentages, some tres, boards, and a nice amount of blocks.
Round 15 – Harry Giles III
An upside pick at center. The Kings have brought him along slowly, and will continue to do so, but at some point they have to unleash the beast.
Round 16 – James Johnson
Had to Yin my Giles Yang pick. JJ should get plenty of run for the Heat and provide a little something something in every cat.
Round 17 – Jordan Clarkson
Needed some scoring from the guard position. My Andrew Wiggins-esque pick of the second half of the draft.
Round 18 – Kentavious Caldwell-Pope
3-and-D. The Lakers rotation has yet to be determined, so there's a chance KCP doesn't amount to much, but I'll follow the money and go down the road of Klutch.
Round 19 – DeMarre Carroll
When you get to the end of a draft, not all picks can be lottery tickets. Often times, the most valuable pick is for a player that just gets on the court. I have Carroll projected to play 28 minutes and he should provide some tres, points, and boards. He's not sexy, but he's breathing. Sometimes that's enough.
Round 20 – Jahlil Okafor
I wanted one more center on the roster. Okafor may not get much run, but the environment is a juicy one and he should be able to produce in the 16 minutes I have him down for. He's also a cuff to my Favors pick.
Round 21 – Kenneth Faried
I'm embarassed to say that I got auto-picked. Not sure what happened, as I'm usually diligent in making picks in a timely fashion.
Round 22 – Lonnie Walker V
I do have Walker down for 24 minutes, but realize that it's well within the range of outcomes that he spends the majority of time down in the G-League. He's just so athletic, good on defense, and exhibited his offensive prowess during the Summer League, that I'm hoping the Spurs think he can be a solid contributer.
Round 23 – Tyler Johnson
Ricky Rubio and Devin Booker have the guard spots locked up in Phoenix, but the depth chart behind both are slim. Johnson should be able to soak up some of those minutes. Plus, needed a guard.
Round 24 – Anthony Tolliver
A big man who can shoot tres and may get over 20 minutes of run. Yes, and please. In the 24th round, you're looking for anyone with a pulse.
Round 25 – Semi Ojeleye
Flick your eyes back up to the Tolliver blurb. Now Jedi mind trick those sentences and move them here.