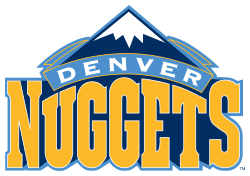 After a disappointing end to the 2017 season, the Nuggets should be in the Western Conference playoff hunt again. This should be a fun team to watch, as there is a ton of young talent who will be playing in an uptempo offense. They drafted a highly touted rookie in Michael Porter Jr., who comes with major injury concerns, and added Isaiah Thomas, one of the best scorers in the league who also carries a ton of injury risk. So there will be a lot of question marks going into the season, making it difficult to predict how they will finish in the Wild Wild West. However you slice it, this team is flush with fantasy players who I will want on my team.
2017-2018 record 46-36
Key Acquisitions:
Isaiah Thomas
Michael Porter Jr.
Key Losses:
Wilson Chandler
Kenneth Faried
Outlook:
The West doesn't get any easier. Actually, it gets more difficult with the Lakers becoming an instant playoff team with LeBron, leaving one less slot for teams who didn't make the playoffs last year like the Nuggets. The addition of Isaiah Thomas definitely strengthens their roster on paper, but as we saw in Cleveland, he has to be in the right role for his teams to be successful. Michael Porter Jr. still has no timetable for a return to the court. I wouldn't be surprised if they ended up with the exact same record as last year when it's all said and done.
Point Guard
It's unclear how much the arrival of Isaiah Thomas will effect the minutes of Jamal Murray, but I'm not too worried and would draft Murray with confidence. He really improved last season and I expect more of the same this year. Murray put on 15 pound in the offseason to better finish in the paint, which is a good idea since he is one of the best free throw shooters in the league (90.5% last season). Isaiah Thomas had hip surgery in the offseason and was given a recovery timetable of four months. Six months later, and it sounds like he's still not 100% healthy. I would have some concerns about drafting him, but at his price it could be an upside gamble worth taking. The Nuggets seem like a nice landing spot for him where he can fit right in. In real life, the Nuggets could have one of the best PG duos in the league.
Shooting Guard
Gary Harris is the man at this position. He logged 34+ minutes per game last year and that probably won't change much. Will Barton could slide down or Jamal Murray could slide up if they want to go small with Isaiah Thomas, but Harris looks to be a fantasy stud once again. Big minutes+great ratios= fantasy gold.
Small Forward
Will Barton had a breakout year last year and I like him again this season. However, Paul Millsap missed half the season and I could see Barton's numbers regressing a touch with less scoring to go around. He improved his free throw shooting and, if he keeps it over 80%, he should be a mid-round asset. Michael Porter Jr. looms large if he ever gets healthy, and that's a big if. Even if he does return at some point, he'll have an uphill battle for minutes if the Nuggets are in the playoff hunt. Juancho Hernangomez will take about 12 minutes a game, but barring an injury, he can be ignored for fantasy purposes. If Barton were to go down, he could be a streamer. Torrey Craig is another guy who could be interesting if someone goes down, but he probably won't get enough minutes to be relevant when the Nuggets are healthy. Jarred Vanderbilt, their second round pick, is coming off of foot surgery and is another big unknown.
Power Forward
Paul Millsap is looking to bounce back from an injury plagued '17-'18 season in which he only played 38 games. He will be 34 in February, which is my main concern with drafting him. He could come at a bit of a bargain if drafters fade him due to his age, but there could be value in drafting proven guys over "sexier" rookies. The Nuggets know they have a true professional in Millsap, and if he stays healthy, I would look for him to bounce back nicely from last year's disappointment. The other PF to look at in Denver is Trey Lyles. He's not super exciting, but his numbers are decent and he makes threes out of the PF spot, which is always nice. There is some buzz around him in the Nuggets camp, but there's only so much stock you can put into that. He's really more of a watchlist guy than someone I'd be looking to draft.
Center 
Nikola Jokic is one of the most entertaining players to watch in the league and is also one of the most underrated superstars for fantasy. He's a bonafide first-rounder with elite assist numbers coming from the center spot. He shot 85% from the charity stripe last year and 50% from the field. His only weakness is the 2.8 TOs, which is very high for a center, but you're not getting 6 assists from any other big man in the league. Don't forget about the 1.5 3-pointers. He's a stud, enough said. Backing him up will be Mason Plumlee. He's basically a blocks and FG% streamer who will crush your free throws…