With no real basketball on this weekend, now is as good of a time as any to sit back, relax, fall asleep, wake up all pissy that you fell asleep mid-afternoon, woke up when it was dark and now you don't know whether you're comin' or goin', decide that Razzball is as good of a way as any to re-center your brain and look at some player comparisons of like-skilled fantasy options.
We compiled the Game Scores of each of the following 10 players, including any games missed due to injury, and set them right on top of one another. Some players are incredibly streaky, some match-up closer than you might think and others are Kevin Love. Kevin Love's just awesome.Game Score is a stat that approximates a player's productivity for a single game. All the normal fantasy categories in addition to TOVs and PFs are included, while minutes per game are not. Generally, 12-15 is average, LeBron's 51-point game earned him a 46.7 GmSc, this year's league high.
Take a gander and I'd be happy to entertain matchups that haven't been drawn up here, so suggest them in the comments.
Click any of the graphs to enlarge them.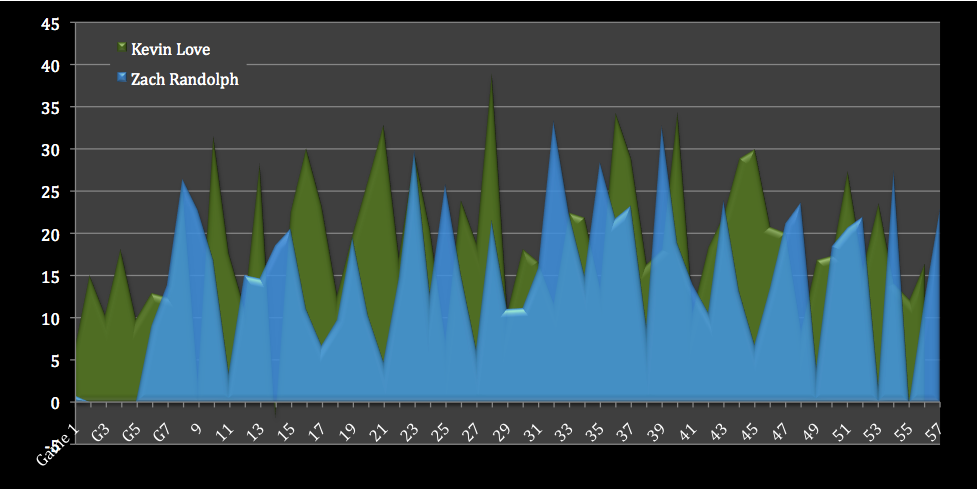 First up, two of the three most prolific rebounders in the game: Kevin Love and Zach Randolph. The first thing you'll notice is the weak start both players had to the season. Love, due to playing 30 minutes only once in his first seven games and Randolph due to injuring himself five games into the season. You'll also notice that, although Randolph has had a great season, his weaker free throw shooting and lack of long-range jumpers (and Rudy Gay), halt Z-Bo from besting Love from week-to-week.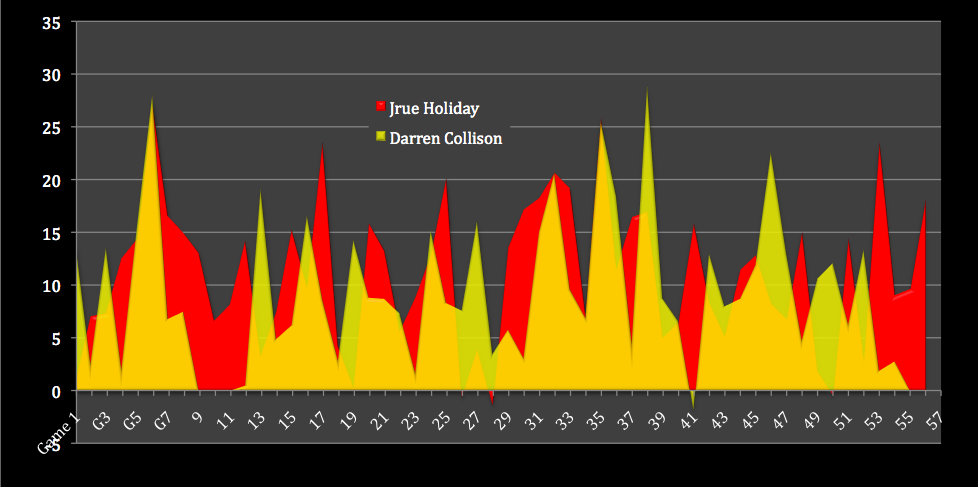 Jrue Holiday vs. Darren Collison.
What struck me is how overrated Frank Vogel's impact on his young PG has been after 10 games. There was a definite spike around Game 46, as he had the fourth-best game of his season. After that? Back to normal, then ended with some of the worst performances of his season. Holiday, however, has played better and more consistent than Collison in his last 15 games. Despite spending only 13 games above the 15 Game Score line, that's still two more than DarCo.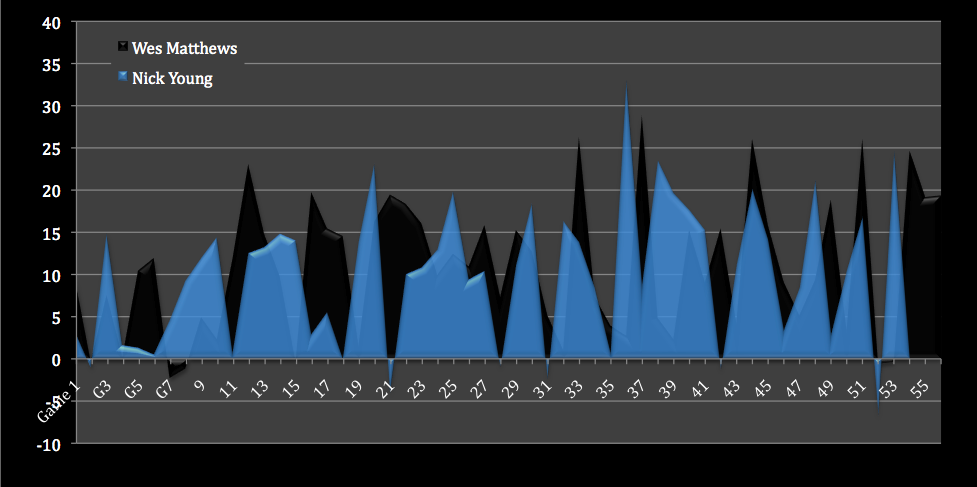 Wesley Matthews vs. Nick Young
Without looking closely, it's clear these two can't be counted on to go eight games without completely pooping the bed for a game. Young went from a 23+ GmSc in his 19th game and buzz-sawed down to a negative game score two games later. Two solid games, one bad one. Rinse. Repeat. Matthews showing a glimpse of consistency in November and December, Young showing a bit of it in January. Young a bit more, Matthews a bit better.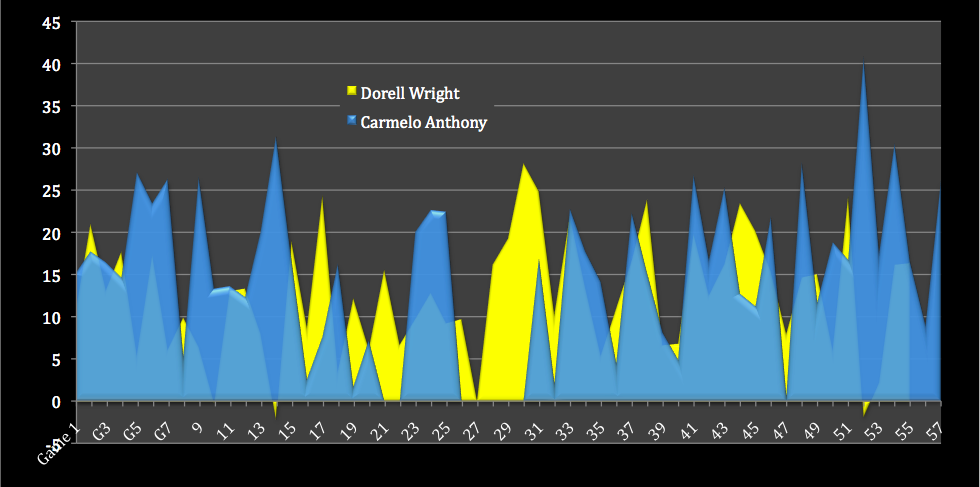 Dorell Wright vs. Carmelo Anthony
Wright is among the biggest bargains of the season, while Anthony was widely chosen with one of the first 15 picks in this year's draft. By that rationale, the fact that this graph isn't completely awash in baby blue is great for anyone who took the plunge on the Golden State SF. That said, besides a 6-game stint in early December and two weeks after that when Anthony went down with an injury, Wright really hasn't matched Anthony with the consistency that hype sometimes suggest he had. Wright's producing like a top 50 player, no doubt. But 'Melo's scoring and efficiency proves that top 15 is just about right for him.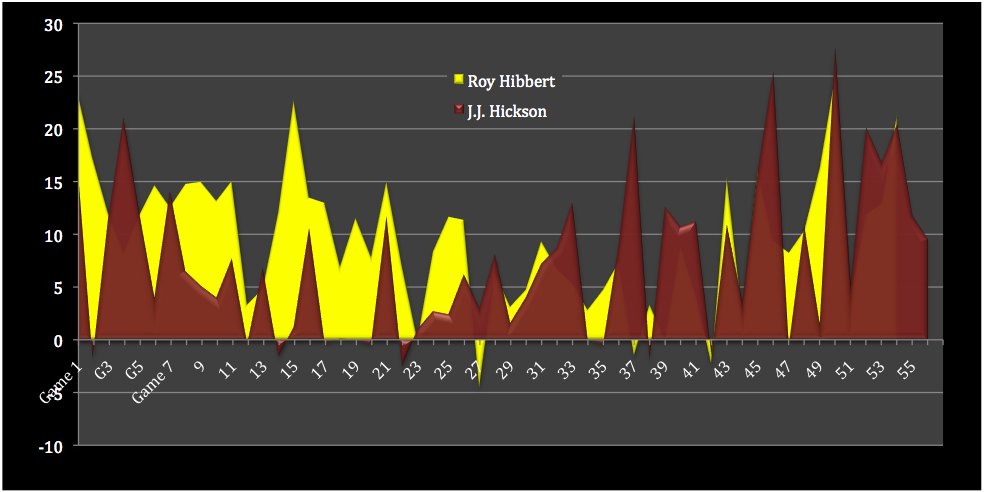 Roy Hibbert vs. J.J. Hickson
Oh, how I long for the first six weeks of Roy Hibbert's season. Both players have had similar rises and falls, both hitting a stride in the last 10-20. This matchup, more than any other (even Rose vs. Westbrook) should end in a real barn-burner. Both seem  to understand something that eluded them in December and January.