Hey there Razzball community. It's been a short while since I've surfaced, and for no excuse other than life hitting from all directions. Busy work life and home life equals no life, if you know what I mean. I'm back this week and I hope to be back for the foreseeable future, but when life hands you lemons, you need to scale back from the hobbies you love. Is that the right saying? Probably not. The fact remains, I love writing for Razzball, I love writing sports, and I especially love the satisfaction of nailing a call. If I could do this for living, I would, but for now, I get to express myself on this platform as an outlet, the best hobby in the world. Yes, I am ranting, and writing allows you do just that, which is to speak your mind. I believe everyone should write. Write down thoughts, prayers, feelings, and passions, whatever it may be. Writing doesn't need to be hard, and neither does fantasy basketball, which is what brings us here today. On Christmas Day, the Los Angeles Lakers, led by LeBron James, torched the powerhouse Warriors. Something that most people didn't realize prior to that game was the man playing the center position. For most of the season, the story from the front court has been the resurgence of JaVale McGee, a supreme athlete known for his appearances on Shaqtin' a Fool. Well, he's been a great addition to the Lakers so far this season, averaging 11.8 points, 6.7 rebounds, and 2.8 blocks per game in 23.6 minutes per contest. McGee has missed five straight games dealing with pneumonia, and will likely miss Thursday's tilt with the Kings. Tyson Chandler stepped in with back-to-back uninspiring games with 2 blocks a piece and nothing else to write home about, but in the third game missing McGee, a former and future star emerged. Kostas hit on him this morning but it would be a shame if I didn't dig a little deeper and explain why Ivica Zubac is here for the long haul (in my opinion).
Zubac was supposed to be the center of the future for the Lakers before he was basically shut out from meaningful playing time in 2017. In 2016, from March 9th to March 28th over a ten game stretch Zubac showed us flashes of fantasy gold. At 19 years old he averaged 12.3 points, 5.7 rebounds, and 1 block per game on 58% shooting from the field in 22.6 minutes per game. Per-36 minutes that comes to 19.6 points, 9 rebounds, and 1.6 blocks per game over that ten game window. Look it up.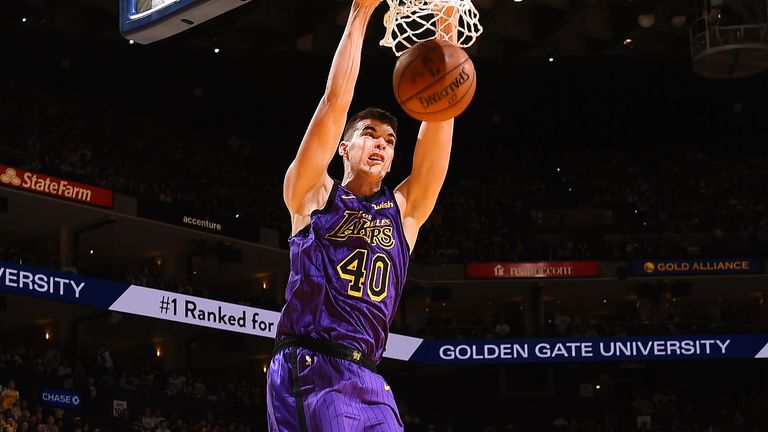 Next thing you know, Zubac disappeared. In 2017, there was no such excitement. The team seemingly let him develop; spending time between the G-League and the NBA, biding his time, but the lore and fairytale of the 2016 performances lingered in the back of the minds of the fantasy savant. We all know that McGee, although fun to root for, is not the future for the Lakers. That is likely Anthony Davis. Rumors aside, even if the Brow comes to LA, Zubac could be the perfect fit for this team. Over the last three games since joining the starting lineup, Zubac had his career highs in minutes per game averaging 32 per. He has shot 79% from the field over this stretch averaging 17.6 points, 8.6 rebounds, and 2.6 blocks per game. The idea that the now 21-year-old Zubac is breaking out is not farfetched.
For the sole purpose of chance, I think Zubac needs to be owned in all leagues. Luke Walton even came out and said he has earned a role in the rotation. Run, don't walk. The Lakers with LeBron are a contender, and having a big man who can play more than McGee's 23 minutes per game is a huge advantage. The idea of him catching lobs from Lonzo Ball, Rajon Rondo, and most importantly, LeBron, is something we can daydream about and smile. Catch a co-worker smiling for no reason at his desk and it's probably the thought of Zubac finishing an alley-oop or blocking a shot into the fourth row. Bill Russel may not like that, but in fantasy we don't care where the blocked shot lands, as long as it shows up in the box score. The hype has been whispers in the community for some time. Now is the time to throw your hands up and shout.