At this point in your fantasy season, you should be beginning to see how your team stacks up against the rest of your league. If you are in my position (the middle of the pack), you should (and everyone really should) be scouring the waiver wire for value, and also trying to make trades to shape the identity of your team. No matter the circumstances, I have continued to analyze the fantasy landscape for improvements and breakout performances. Here is another list of five players who should sustain their booming production for the rest of the season.
Myles Turner (PF/C, Indiana Pacers)
Stats: 32.7 MPG, 50.7 FG%, 74.5 FT%, 1.5 3's, 14.5 PPG, 7 RPG, 1.1 AST, 1.4 ST, 4.1(!) BLK, 1.6 TO
While Brogdon and Sabonis carry the offense for the Pacers, Turner has been a defensive menace. He has a league-leading 62 blocks already and nobody is currently close to catching him (second-most is Rudy Gobert at 43). Myles can solo carry you to wins in blocks and to this point, he has destroyed his ADP and sits as a top 10 player in 9 cat leagues and top 15 in 8 cat leagues. Even more noteworthy is that in his post-game interviews, he seems intent on getting the DPOY award this season. He's finally found a role for the Pacers and might even be an All-Star this go-around.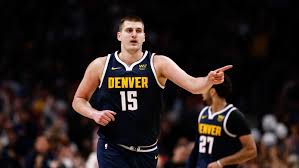 Nikola Jokic (PF/C, Denver Nuggets)
Stats: 35.6 MPG, 56.3 FG%, 84 FT%, 1.1 3's, 25.4 PPG, 11.9 RPG, 9.3 AST, 1.9 ST, 0.5 BLK, 4.2 TO
This is an overdue inclusion to my lists, but Slim Jokic is indeed a breakout player. He entered this season in his skinny form that he usually saves for the playoffs, and he's been playing as if that were the occasion. Averaging career highs in points, rebounds, assists, and steals (and turnovers sadly) with no catastrophic changes to the roster just shows that he is taking his game to a new level at age 25! He's the number 1 player in 8/9 cat leagues and could very well be our first MVP from the center position since Shaquille O'Neal in 2000.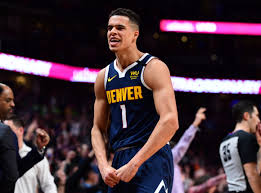 Michael Porter Jr. (SF/PF, Denver Nuggets)
Stats: 28.4 MPG, 55.2 FG%, 85.7 FT%, 3 3's, 18.4 PPG, 7.4 RPG, 1.3 AST, 1.1 ST, 1 BLK, 3 TO
Now that Jerami Grant has moved on, MPJ has all the opportunity to show off his talent. When healthy, he's been a first-round stud and plays a big role for the Nuggets with his scoring and rebounding abilities. He caught Covid for the second time, which has kept him in quarantine but the Nuggets need his production to contend. Within a few more games, his restrictions will be lifted and hopefully, he can avoid any setbacks and stay on the court.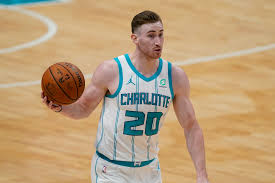 Gordon Hayward (SG/SF, Charlotte Hornets)
Stats: 35.9 MPG, 50.3 FG%, 85.6 FT%, 2.3 3's, 23 PPG, 5.3 RPG, 6.3 AST, 3.6 ST, 0.6 BLK, 2.2 TO
Last offseason, Gordon Hayward opted out of his contract with the Celtics and was fortunate to receive a four-year/$120 million contract with the Hornets. The contract so far looks good because Hayward is back in his all-star form. Nothing about his game, in particular, has improved, but the increased usage and scoring has made him worth more his 5th round ADP. He was a bargain and appears on a lot of the top teams in Yahoo leagues.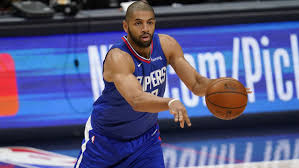 Nicolas Batum (SF/PF, Los Angeles Clippers)
Stats: 29.1 MPG, 48.6 FG%, 87 FT%, 1.3 3's, 9.8 PPG, 4.8 RPG, 2.6 AST, 1.2 ST, 0.3 BLK, 0.7 TO
For the Hornets to sign the guy above, they had to buy out Batum's contract, and he joined the Clippers on a minimum deal shortly after. He plays an important role as a facilitator and provides across the board value in fantasy. He won't be flashy, but he does the little things for the Clippers and will give you efficiency, stocks, and sneaky value. He's still available in over 50% of leagues and if you need depth, his role will remain consistent throughout the rest of the season. Is this a comeback or a breakout? Let me know in the comments below.