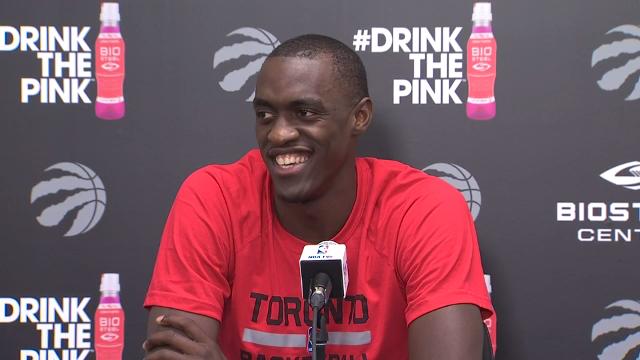 So here we are, heading towards the start of the season and what a difference a few weeks makes. If you have been following the rookie rankings (remember these rankings are just from the 2016 NBA draft, and thus exclude draft and stash candidates), then you know that we are at the home stretch, bringing you numbers 41-60.
For those of you that have not quite caught up to speed, and only just starting to get your research together, then here is the previously stated top 40:
Man what a difference a few weeks makes! Evidence that rankings change all the time and that player values are constantly fluid. Already reflecting on my own ranks, there are quite a few changes that I would already make, and we haven't yet seen any meaningful ball (outside of pre-season).
So to some of the movers and shakers, before the final deep dive for the deepest of man-cave leagues. We are familiar now with the Ben Simmons injury, but I remain firm in my judgement that he is still the first rookie to be taken off the board in any form of keeper/dynasty leagues. In Simmons you have such a unique skill set and opportunity that once he does take to the court, he remains the safest play to be truly special from the draft class.
Marquese Chriss had himself quite the night last week, going 16/8 with a block and steal in 25 minutes off the bench giving the Suns faithful hope that maybe Chriss is more ready than advertised. Most encouragingly was that it came against one of the more mobile units in the NBA. This performance was coming off the back of fouling out in the previous game, but Chriss has shown enough to switch places with Dragan Bender for me in the rankings.
My aggressive ranking of Wade Baldwin has thus far seem justified, amply filling in for the missing Mike Conley during pre-season and not looking out matched in the slightest. The most encouraging point in his performances have been the improved protection of the ball, and if Conley is to miss more time this year (something which is happening with regularity each season) Baldwin should see ample opportunity to showcase his talents, or even with the possibility of occasionally seeing floor time at the 2 in certain game situations.
For those of you that don't follow European basketball you might have missed the phenomenal performance of Ante Zizic a few days ago, putting up 37 points and 20 rebounds. Now it did come in 46 minutes but it is important to remember that the Adriatic league is highly competitive and boasts some of the best young talent in Europe (especally in the big men department). Through 4 games Zizic is averaging 24.3 points and 10 rebounds per game at an astonishing FG% of 70%. Zizic may be spending the year in Europe, but Celtics fans have to be delighted by the early returns from one the fastest emerging players internationally of the last 18 months.
Talking of strong performances from Celtics draft and stash players, Yabusele had himself quite the night for Shanghai in a preseason opener against the Rockets, with the dancing bear putting up 24 points (9-18 shooting) with 12 rebounds. I stated in a previous I love the potential and unique physique for this talent, and Celtic fans should be too.
I thought the Bulls nabbed themselves a bargain when they grabbed Paul Zipser off the board at 48, but after being buried at the back end of the bench in pre-season (considering he was one of the more NBA ready types) it could be a long two years for the former Bayern Munich star. Zipser falls dramatically in the rankings.
Props to the reader (David M) who called out the low rank on Pascal Siakam. Coming off the bench Siakam has looked more ready than anticipated and has impressed in his limited time thus far. Dwayne Casey has also stated that he thinks he has the tools to play the 3 which would also help on court opportunities moving forward. Siakam gets a dramatic bump up into the top 20.
Naturally there are way more movers and shakers than this, but naturally you are tuning in to find the back end talent of the draft and the wait for Mr Irrelevant then the wait is over.
NBA Draft 2016 Rookie Rankings 41-60:
| | | |
| --- | --- | --- |
| Player | Team | Position |
|  41. Joel Bolomboy |  Utah Jazz |  PF/C |
|  42. Kay Felder |  Cleveland Cavaliers |  PG |
|  43. Rade Zagorac |  Memphis Grizzlies |  SF |
|  44. Diamond Stone |  LA Clippers |  C |
| 45. Isaiah Whitehead |  Brooklyn Nets |  PG/SG |
| 46. Zhou Qi |  Houston Rockets |  C |
| 47. Demetrius Jackson |  Boston Celtics |  PG |
| 48. Michael Gbinijie |  Detroit Pistons |  SG/SF |
| 49. AJ Hammons | Dallas Mavericks | C |
| 50. David Michineau | LA Clippers | PG |
| 51. Stephen Zimmerman | Orlando Magic | PF/C |
| 52. Abdel Nader | Boston Celtics | SF |
| 53. Isaia Cordinier | Atlanta Hawks | SG |
| 54. Damian Jones | Golden State Warriors | C |
| 55. Marcus Paige | Utah Jazz | PG |
| 56. Daniel Hamilton | Oklahoma City Thunder | PG |
| 57. Petr Cornelie | Denver Nuggets | PF |
| 58. Wang Zehlin | Memphis Grizzlies | C |
| 59. Tyron Wallace | Utah Jazz | PG |
|  60. Jake Layman |  Portland Trailblazers |  SF |
Getting into waters this deep you might be in need of a snorkel, but we must not forget that nearly every year someone comes out from the depths to surprise us all. My personal candidates for these honors are as follow:
Kay Felder, PG, Cleveland Cavaliers: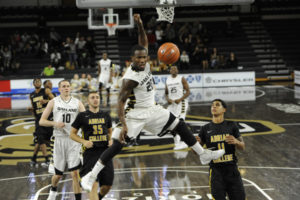 Kyrie Irving might be in town, but let us remember that Mathew Dellevodova has found a new home in Milwaukee, potentially freeing up some minutes along the way for Kay Felder. A personal favorite of Lebron James, Felder is a good ball handler who is aggressive in the lane, getting to the line 8 times per game last season. The one drawback though is his size given the fact he is not the quickest. Still if opportunity comes via injury then Felder is a player with offensive skill worth monitoring.
Isaiah Whitehead, PG/SG, Brooklyn Nets: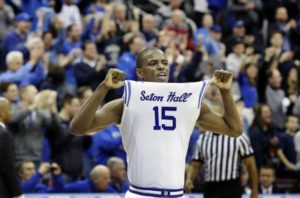 Whitehead who is a player whom I really like, and in Brooklyn should get a long term shot at solid playing time. A quick player who plays transition basketball well, Isaiah could well be a good fit for the Nets as an aggressive player who isn't afraid of contact when driving the lane. Only thing limiting a higher ranking is poor shot selection and question marks about his ball handling capabilities at the next level. Still, as fliers go Whitehead is as good a bet as anyone in this range.
Demetrius Jackson, PG, Boston Celtics: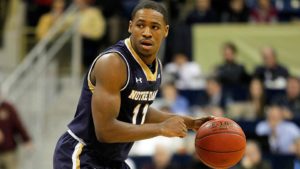 Would rank higher if drafted by someone other than Celtics. Although only 6'1, Jackson has outstanding athleticism that is comfortable both shooting and distributing the ball. If Jackson can eventually improve his defensive capabilities to compete at the NBA level then this is a pick that could well be one of the steals of the draft. The downside of course is the amount of depth that the Celtics have currently, and would likely need a trade at some point in the future to really carve out fantasy value.
You can find me on Twitter @storytelling41