I hope you all enjoyed your New Year festivities. For those of you who braved it out in NYC, there is not an ounce of me that feels bad for you and how cold it was. Being from NY, I just never felt the need to go out early on New Years day, park myself in the streets of Time Square wearing 13 layers of clothing, to see a crystal ball drop and maybe catch a glimpse of a Pitbull concert. Think about it, the odds are you are peeing and don't even feel it. When you get home at 3:00AM of a work night, and you wonder why your underwear is frozen. Well, it's likely a layer of ice piss. You probably went through at least five security checks, where they took away all of your means for sustenance. Water bottles? Too risky. Any type of bag? Hell no. That sandwich wedged between layer nine and 10 of undershirts, maybe you could sneak that one in, unless it's wrapped in tin foil. Not to mention the yearly concern of terror threats. What could be more fun!?!  The whole scene seems to suck, and I am sorry if I'm offending anyone who "braved" the elements for this joyous event, but I just don't get it. Simple as that.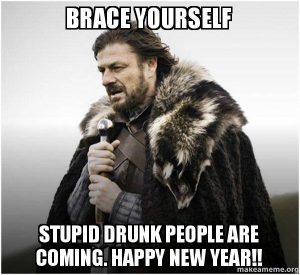 Want the best tools and projections to help dominate your league? Check out the Stocktonator, the byproduct of Rudy and machine making love. Click HERE for a FREE 3-day trial.
What did I do on New Years? I took a nap, went to the mall, bought some slacks, and binge-watched some Game of Thrones. Now this may not seem like normal behavior for me, considering almost all of my posts are humor based or geared towards Will Ferrell, but there is a darker side of me, one that enjoys the violent entertainment of Game of Thrones. So maybe 2018 will introduce a new side of me, to you my precious readers, because as you may know, winter is here, but not until summer 2019. Make some sense outta that one.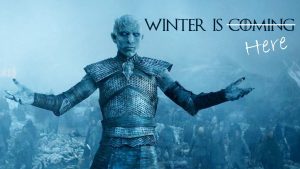 Major theme of Game of Thrones, for those of you who don't have the courage to watch the greatest show on turf, dead people. Someone who has been dead to many for weeks now is Dewayne Dedmon. That same Dedmon is coming back to life very very soon. A big man who can shoot the rock, hit his free throws and not turn it over? Yes please. Dedmon was averaging 11 points, 7.8 rebounds, 0.9 blocks and 0.7 3PM on the season before he went down with a stress reaction in his left tibia, but before you know it, six weeks come and go, and we may have more Dedmon in our lives. If you need a big man who gets minutes on a weak Hawks teams and puts up stats that count without hurting you, Dewayne can be your guy. Did I mention he shoots 60% from the field and 71% from the line? Now I did. Dedmon will be walking soon. Winter. Is. Here. Don't miss out.