Remember back in the day when you played Oregon Trail every waking moment?  I only sorta remember because I kept getting dysentery…  But I imagine an update should have the mythical creature of LaMarcus Aldridge as some sort of omnipotent deity that you hope comes to your aid.  "Your wagon is stuck in quick sand, use 1 of 3 remaining LaMarcus Aldridge summons?"  Hells yea!  And then I need him to save my oxen.  Huge game from LA last night putting up a career-high points and a sick 44/13/5/0/2 line including 14-17 FT while the crowd chanted "M-V-P" all 4th quarter.  Scored the last 15 points, went 8-8 at the stripe in the last 70 seconds, all in a 5-point win.  The Nuggets just had nothing for him inside when he was crashing the glass, and LA was boarding like a beast.  I know he's had a lot of Goromotaros, but almost all the boards he got in this one were in traffic.  And the Nuggets were fouling him extremely hard all 4th quarter.  Gonna need an ice bath!  All he has to do is come to the east coast and jump in a lake.  One of my worst calls of the year was my poor Aldridge ranking, but if you can't get it right, join em!  Or something like that… Traded for him in REL and in another league.  I don't know why owners were pulling a Kurt Russell and trying to Escape From L.A., but enjoy your huge stats and the first-round value you're accruing.  Here's what else I saw last night in NBA news and action:
Damian Lillard – I'm sure owners are dismayed by the 11/2/3/0/2 line (with no treys), but in case you missed it, this dunk should cheer you up.  I know there have been some other flashier ones, but that's one of my personal favorites thus far this year.  It's no Blake Griffin's "the Kardashian", but hey, it's pretty effing nice.
C.J. McCollum – Looks like an NBA player.  On a ton of other NBA teams he could be killing it as a starting 1 or smaller 2.  7 Pts with two treys, and I think if Wesley Matthews ever got hurt (knock on wood), McCollum might leapfrog Mo Williams to start at the 2.
Nicolas Batum – Tough to score when LA is putting up 44!  Whoa, sounded like a sick lyric there… 6/7/10 in a very productive night.
Robin Lopez – Not that I mean to be arguing for Lopez, but helter-skelter tips around the bucket maybe shouldn't count as FGA… 5-14 and I remember him taking like 3 shots.  12/9/2/0/2 is fine, I guess, but in the last 6 has 3 duds and 3 marginally useful games.  Meh.
Anthony Randolph – You know, looked pretty good out there…  Wanna hear something crazy?  11.6/6.5/1.3/0.8/1.5 was his line in 22:41 a game in 2009-10!  Just seems so long ago that he was going to be the next multi-cat big back on the Warriors…  4-5 last night (2-3 3PTM 2-2 FT) 12/3/1/1/1 in a solid game.  I don't really like him that much, he's looked awful at times when given minutes earlier in the year, but this was the best I've seen him in 13-14.
Evan Fournier – Only 14 minutes for a saddening 4/2 line.  The Nuggets played big most of this game, but was disappointing to see…  "Give me minutes or Viva la Revolution!"
Wilson Chandler – Battling through injuries, but this drive late in the game has me thinking he loosens up pretty well!  Loose enough to stretch out that horrific looking baby on his neck/chest.  The line wasn't overly fantasy gracious at 18/3/0/1/1 with 4 TOs, but shot 7-11 and hit a three.  Still am a Willllsssooonnnnnn! fan.
Dwayne Wade – Sat yet again for four in a row.  I was trying to think of how I would write about how he's a buy low, and every stream of logic shattered like a Top Secret Nazi falling off a castle.  Obscure Top Secret reference times deux!  Hold and hope he works out.
Chris Bosh – Brontosaurus alert!  31/6/0/0/1 shooting 15-22 and a trey.  A little unilateral, but very Bronotsaurus-y.
Mario Chalmers – 11/3/3/1/0 shooting a very efficient 5-6 and 1-1 downtown.  Still like Chalmers as a decent last PG for ya.
Nick Young – Still isn't very good.  Is officially my starting 2/3 wing man on my most-hated NBA team.  My lineup would be PG Nate Robinson, SG Nick Young, SF J.R. Smith, PF Carlos Boozer, but center is tough.  It'll be between Andrea Bargnani or Alex Len.  I think I'll go Bargnani because he thinks he can fly!  That video might be the best clip, nay, the best thing ever.  Thanks to Shaft for sharing that with us.  And share your most-hated NBA line-ups in the comments!
Andrea Bargnani – While we're on the subject, out indefinitely tearing his elbow ligament on that fall.  That recoil on his arm looked nasty.  Droppable in all leagues, obviously.  Except the all-JB's most-hated league!
Kendall Marshall – Went back to his dispensary ways, dropping off a dimebag with 11 assists.  6/3/11 and still a primo-source of some dank assists.  
Ryan Kelly – Was off last night.  26 minutes for 7/5/2/1/0 shooting only 3-10 and inexplicably going 0-2 at the stripe after going 26 for his last 26.  I figured out why I hate him so much.  It's not only that he's a Dookie, it's because he looks like a Who!  You would think they would teach him to hit his shots in the Whoville gym!  After the game, he blamed the Grinch for stealing his FT ability…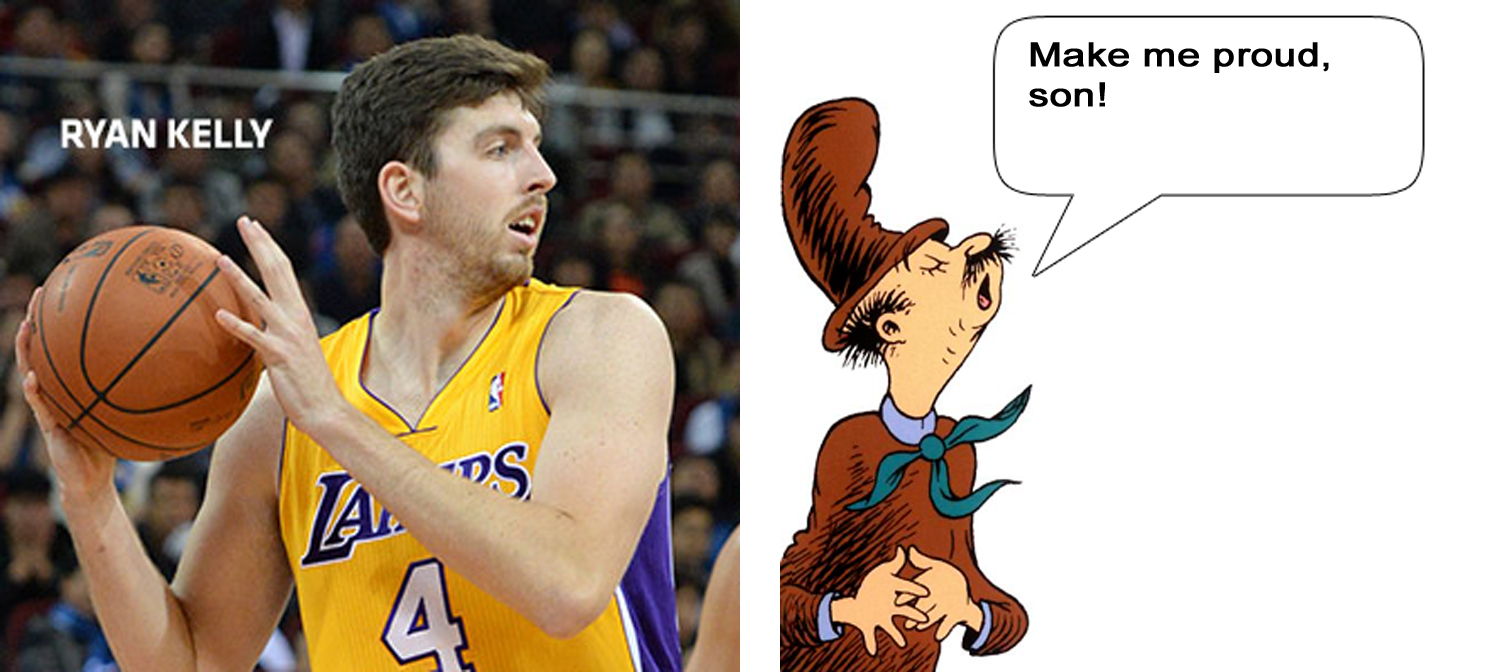 Jodie Meeks – Is a boss.  22/0/1/2/0 didn't stuff the stat sheet, but four threes and shot 7-13.  A few more good games, then it's sell-high time if Kobe Bryant indeed sounds like he'll be back.  Charles Barkley was sure adamant on advising Kobe to sit out the whole year…
Wesley Johnson – Hit a three, but other than that, I didn't notice him.  Jordan Hill had a much better presence.  It's been a whole season we've been mentioning Hill should have more minutes… Even if he does have pigtails…
Pero Antic – I mention his strong play and he has a fractured ankle… Whoops.  Be interesting to see when he's back if he can still be a decent C that hits threes.  He'll be out there everywhere.
Rudy Gay – MRI came back "negative" on his Achilles but he's still gonna be in Das Boot for at least 3-5 days.  Doesn't sound fun at all.  At least it wasn't a tear of any sort!
DeMarcus Cousins – We knew X-Rays were negative, but is also in Das Boot.  Sacramento Orthopedists are going nuts right now!  Might only be a week.
I hope everyone is killin' it so far this week in their matchups, and have a great weekend Razzball Nation!