I always loved when timeouts had an open mic from the broadcast so you could get a taste of the discussions and tactics that happen during a team huddle. Systems are being drawn up, players get their mind and body ready for the restart of the game, promises of ass-whooping are thrown around…wait what ??
I think this is a candidate for one of my favorite basketball-related videos this year. You can almost cut the tension in the air with a butter knife and Haslem's look is certainly a testament that he means business. Some important takeaways from the video are:
Spoeltra was really really mad as well and it was Markieff Morris, of all people, who tried to calm him down. The irony is apparent here.
Kyle Lowry was out of there the moment the words "ass" and "ass-whopping" were mentioned. Draw your own conclusions on this one.
Omer Yurtseven looks as awkward as humanly possible with the whole situation and is unsure of where to stand.
10/10 video and would watch it again. I am also sure the Heat will be just fine, as those things can happen in a heated moment in a competitive team.
Regarding last week's suggestions, the inclusion of Tyus Jones stands out as he had a tremendous week and tilted many fantasy matchups with his assists alone, so hopefully you capitalized. The same can be said for Kris Dunn and his steals, as he had 7 in four games, rewarding fantasy owners who trusted him. Unfortunately, the same cannot be said for Jaxson Hayes, who was underwhelming and has an awful schedule, so he is a clear drop. Bones Hyland was mediocre at best. What can I say, you win some, you lose some, but Jones and Dunn were big wins indeed.
Buy
OKC players with a pulse: For another season we have come to the point when Oklahoma just blatantly wants to lose as many games as possible and rests most of their roster on most nights. They almost found their equal on Monday at Portland, as the Blazers also employed the same tactic, resulting in the following injury report.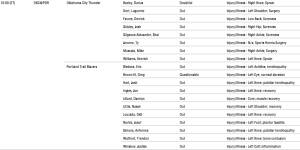 I don't think you need me to comment on this, but it is obvious that this is not good for the NBA as a product. I applaud the fans that willingly went to that game. Back to fantasyland though, this situation has provided ample opportunity specifically to Aleksei Pokusevski, Isaiah Roby, and Theo Maledon to produce. None of them are well-rounded contributors but you can decide if their strong categories fit your team and act accordingly. Opportunity is everything after all… (42%, 36% 20% owned respectively).
Isaiah Hartenstein: Hartenstein has teased us with fantasy goodness for most of the season but he always seemed to follow up a great game with a 10-minute stinker in the next one. However, he has seemingly gained coach Lue's trust and has closed out the last four games, while averaging 24.5 minutes. Hartenstein can be a passing big man and he does a bit of everything (except triples), so he looks like a great addition to any contending roster at the moment. His superior mobility over Ivica Zubac should also continue to guarantee him closing minutes as the Clippers make a push for better placement in the Western Conference (34% owned).
Goga Bitadze: Another big man for our list, Goga does not always pass the eye test, as he can look lost with the pace of the game around him at times, but we can't deny his fantasy performance during the last month. He has been a top 60 player for that span and can be a great source of blocks and fg% from the wire. Just make sure his foot is good to go before you add him, as the Pacers throw the questionable tag around the roster quite lightheartedly recently (27% owned).
Sell
Bobby Portis: Crazy Eyes Portis had a very productive season with Brook Lopez sidelined and is inside the top 60 in per game value for the year. However, Lopez's return has been a devastation for his playing time and he is the kind of player that needs minutes to produce the counting stats that make his value. With Lopez back in the lineup, Portis has been outside the top 200 and is a clear drop with fantasy playoffs underway (76% owned).
Devonte' Graham: He had a nice stretch without Brandon Ingram, but his return, combined with the awful schedule the Pelicans have make him a clear drop in my book. His triples can be replaced easily from the wire with players with more games this week (65% owned)