Another season is here and your weekly Buy/Sell column is here to help you decide which players to buy low or add from the wire and which players to sell high or flat out drop to improve your chances for fantasy gold. I'm very excited for the start of the season as we already have a few great performances to discuss and some not so great.
And speaking of not great, here is a clip that came to mind
Many European coaches would have a hard time convincing themselves to play Westbrook in the next game. The legendary Željko Obradović would have his famous red look and would have a hard time not suffering from a heart attack. And if you have no idea about the Obradović special, here is visual proof.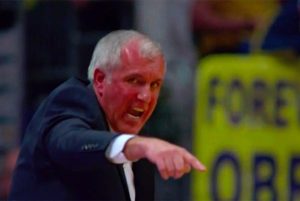 There are unconfirmed reports that players have retired after being on the wrong end of his yelling. Back to the Lakers, what's more alarming is that LeBron seems on the brink of giving up, Anthony Davis is shooting a league worst 33.1% on jump shots and their season is off to a not-so-fun start.
Buy
Kelly Olynyk: Have you seen a slower/weirder/more unathletic game winner than the one Kelly Olynyk had against the Pelicans in OT ?
As a fan of his, what I see is pure finesse from Kelly who has won the starting position in Utah and is producing great out-of-position stats from a center. His 61% fg is bound to decrease but so are his 3.3 turnovers, and there is no reason to leave him on the wire, even in the shallowest of leagues (60% owned).
Jaylen Nowell: A deeper league suggestion that can also work for standard leagues is Nowell, who has benefitted from the minutes opened up by Kyle Anderson's injury and has carved a steady role off the bench for Minnesota. Triples, steals, and some points are what you can expect, but those can be valuable from a player who is readily available (18% owned).
Jamal Murray: I know his start to the season has been extremely slow. I know his percentages are hurting right now. However, I am very optimistic that in two months Murray will look a lot more like the player he used to be rather than this current version of himself, so this seems like the perfect opportunity to get him on a huge discount, if his owner is starting to feel impatient.
Sell
Andrew Wiggins: If we were discussing top 15 fantasy players, one name that would not come up is Andrew Wiggins. However, his start to the season has been nothing but spectacular and he is currently ranked exactly 15th in per-game value. You don't need an expert to tell you that this is bound to decrease as his 2 steals and 0.3 turnovers per game are not sustainable, so exploring his trade market is a good option.
Brandon Clarke I must admit I was wrong on him as I expected a good season for as long as Jaren Jackson is out, but instead Santi Aldama took his role and starting position and he is limited to backup minutes only at center. You can do much better with his roster spot, despite being hard to drop a player you maybe drafted relatively high (61% owned).