Officiating in the NBA has been a contentious topic throughout the years but lately it seems like the quality has decreased substantially in this regard, with many voices expressing their displeasure over this. One very loud voice this past week was Fred VanVleet, who had a lot of things to say after a loss in Denver.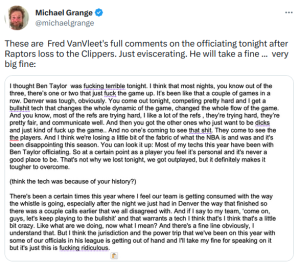 That rant cost him $30K  but I'm sure he thinks it was worth it, and the part about getting the majority of techs and bad calls from a small subgroup of referees is certainly very interesting, quickly getting support from other players, like Marcus Smart, who did not directly comment on the situation but still supported VanVleet's comments.

Hopefully, the NBA sees this as a good opportunity to take a deep look in this issue, as playoffs are just around the corner and bad refereeing decisions will start to matter even more.
Regarding last week's suggestions, Tyus Jones has predictably been excellent and with the return of Ja Morant nowhere in sight, he can continue to be a game-changer in fantasy playoffs. Tari Eason has also been good if you exclude a disappointing start for Alperen Sengun and will still have good value for the rest of the season, while Kris Dunn has certainly been useful but with Utah playing only on Saturday he can be safely dropped to increase your team's played games. Finally in the "Sell" front, my bold suggestion to drop John Collins seems to be paying off, as he has not produced to standard league levels since Quin Snyder took over in Atlanta.
Buy
Austin Reaves: Reaves is having a good, albeit under-the-radar season and, with Lebron James sdielined, has assumed more playmaking duties. During the last month he has increased his assists to 4.6 compared to his season average of 2.7 and is a reliable 3-point shooter with 1.3 per game. If those categories, along with good percentages, sound appealing to your team you can do a lot worse than Reaves as a streamer, as he plays three more games this week (40% owned).
Josh Green: When either Luka Doncic or Kyrie Irving are sidelined, Josh Green is always a good streaming option. But in the last two games the situation was even more lucrative for his, as both stars sat out and he produced two excellent lines that had everything except for stocks. Luka will remain out for today's game and Kyrie is questionable so that makes Green a priority add, if you had not already got him (12% owned). Jaden Hardy (6% owned), who also got a lot of minutes in the last two games, can also be an option but if Kyrie plays, I fear his minutes will be much more impacted compared to Green's.
Patrick Beverley: Despite not wowing with his performances, Patrick Beverley has done enough after his trade to Chicago to maintain standard league value and, more importantly, has three games remaining this week. If you exclude points and FT%, he is a positive contributor in all the other categories, so he can definitely fit a lot of teams as a streamer for the remainder for this week (10% owned).
Sell
Bobby Portis: After John Collins last week, another high profile name finds himself in the "Sell" and more specifically as a drop suggestion. Bobby Portis had a good start to the season with the Bucks undermanned, but the return of multiple players lately has squeezed his playing time. He is averaging 22 minutes during the last month and producing outside the top 200, so as we are in the heart of the fantasy playoffs, you need to make bold decisions and maximize the impact of your fantasy players. You can do this by dropping Portis and streaming his spot, as his best games currently come when either Giannis or Brook Lopez sit and you can't bet on it happening night in and night out (82% owned).