Those of you who have been with me for the last four years know of my love for Nikola Jokic. I was rooting for him from the moment he entered the league because I had been watching him from his days playing for Mega Basket in the Adriatic League and his steady rise to superstardom has been a pleasure to behold. Centers were pretty dominant earlier in basketball but the super teams during the last decade in Miami (Lebron, Wade, Bosh) and Golden State pushed the sport toward small-ball lineups, evident by the fact that Shaq was the last center to win the MVP award in 2000. Jokic looks like the only center from his generation that can be as effective in his team's play and a candidate to win that award again for centers. But I'm personally in love with his passing and court awareness.
That's what basketball should be all about and we often forget it amid the awesome dunks and high-flying blocks we see every day in the NBA.
Taking a quick look at last week's suggestions, I am very happy with all of them, as all the "Buy" candidates (Kelly Oubre Jr, Luguentz Dort, Keldon Johnson, Tyus Jones) have improved their play and hopefully are now a part of your fantasy teams. I am also happy with the "Sell" suggestions, as both Hassan Whiteside and Jeff Teague failed to contribute meaningfully in fantasy this last week.
Buy
Robert Williams: The only player inside the top 70 to average less than 17 minutes per game, Williams has arguably been the best center in Boston this year, outperforming both Daniel Theis and Tristan Thompson. With 1.1 steals and 1.6 blocks in just those minutes, a potential increase in playing time can further improve his ranking, and he is only rostered in 16% of Yahoo leagues. Go get him while you still have the chance.
Patty Mills: More of a deeper league suggestion here, but Patty Mills just refuses to grow old and has started the season pretty well, averaging 14.4 points and 3.3 triples on 51% shooting. I even had him as a "Buy" candidate before his 8-triples explosion against the Clippers, but that certainly helps. Granted, this percentage will drop eventually but he is a top 80 player right now and major backcourt help from the waiver wire. (10% owned)
Brandon Clarke: A popular target in the middle rounds of the draft, Brandon Clarke has started the season painfully slow. After 6 games, he is shooting 43.8% from the field and 44.4% from the line, while he shot 62% and 76% respectively last year. The emergence of Kyle Anderson has put a cap on his minutes, even without Jaren Jackson Jr, but he can only improve and is a great buy low now that his value is at the absolute minimum it will be all year.
Justin Holiday: Someone has to absorb the minutes that open as a result of TJ Warren's injury in Indiana and that could very well be Justin Holiday. Doug McDermott should get some extra minutes as well but Justin is a proven fantasy contributor, when given minutes, with minimal turnovers and strong contributions in steals and triples. He is definitely worth a look at least until Warren is back, which doesn't seem soon right now (13% owned).
Sell
Marvin Bagley: Marvin Bagley was drafted ahead of Luka Doncic and Trae Young. Take a few moments to let that sink in and contemplate on it. Take a few extra moments to realize how much Sacramento messed this one up.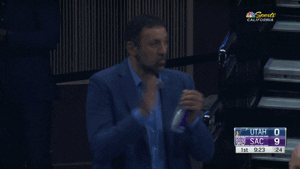 For fantasy purposes, Bagley is currently ranked 378th (!!!) in average value, between future Hall of Famers Cassius Stanley and Paul Watson. No disrespect to both guys (they are in the NBA and I'm typing on my keyboard) but it seems safe to say that he has been pretty underwhelming and frankly he doesn't pass the eye test. I avoided him in all drafts but if you have him on your team try finding a more optimistic owner to take advantage of his name value.
Ricky Rubio: It is true that historically Ricky Rubio got it going on the second half of the season and thus is a popular buy low target for the first half. However, I am here to argue that this year is different, and the main reason is his minutes. He is only playing 22.9 per game and in fact, is shooting at a career-high 42.9% with only 1.4 turnovers. Minnesota has a very crowded backcourt and D'Angelo Russell is struggling without the ball in his hands, so I think trying to trade Rubio now is the best bet.
DeAndre Jordan: Things were bad when DeAndre was starting for the Nets but they will get even uglier if Jarrett Allen moves into the starting lineup, as was the case in their latest game against Utah. Allen exploded against the always difficult matchup of Rudy Gobert and I think the Nets will continue to start him for the time being. Regardless, Jordan is ranked 219th in average value and should be treated as just a rebound and blocks streamer for punt-ft% builds and definitely shouldn't be owned in 56% of Yahoo leagues.