The play-in tournament has been a hotly debated topic for the NBA community since its introduction last year. Metrics and revenue suggest that it is a great addition to the excitement building up to the playoffs but many players have voiced their displeasure, most notably Lebron James and Luka Doncic.
The strong counterargument is that most voices surfaced when their respective teams began to get affected by the said tournament. The Lakers for example are currently struggling and are in real danger of falling into the playing positions of the West. From a fantasy standpoint, I think it is slightly beneficial, as more teams are in the hunt for playoff qualification and so the effects of the usual silly season are less obvious with less random rest days and flat-out tanking from teams positioned 10th -12th.
Regarding last week's suggestions, Oshae Brissett is showing no signs of slowing down with excellent performances in his last games and even averaged 33 minutes in the two games Domantas Sabonis returned. He has been a real difference-maker in fantasy playoffs this year. Kentavious Caldwell-Pope was serviceable and while Matisse Thybulle was clutch for those streaming him for stocks, as he accumulated six steals and five blocks in the three games he played last week. Finally, Terrence Ross predictably didn't play at all and has no reason to be in any fantasy roster.
Buy
Kent Bazemore: Kelly Oubre is dealing with a torn ligament in his left wrist that has cost him the last four games and the next man up has been Kent Bazemore. Always known for his defense, Baze has taken it to a whole new level in his last five games with 2.8 steals and 1.4 blocks. Combine these with 2 triples and 7.8 rebs and you have a top 10 player for the last two weeks. Granted, the defensive stats are bound to drop but he is still a must add in my book (19% owned).
R. J. Hampton: The Magic are getting nowhere, as usual, so it's all about player development at this point of the season. Hampton is getting major minutes in the last two games and has delivered two excellent back-to-back fantasy performances. He is a decent streamer for those in need of guard stats and should have plenty of opportunities in the remaining games of the season (9% owned).
Mo Bamba: Speaking of Orlando, Wendell Carter Jr. is managing to lose minutes even in their rotation, so that spells an opportunity for Mo Bamba. He has been a steady source of blocks but has lately improved his rebounding and 3-point shooting so he is worth a grab with three games remaining during this week. Plus, he looks like a genuinely likable fellow with those shy dance moves (39% owned).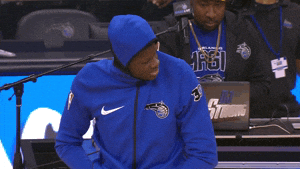 Frank Jackson: Frank Jackson does not have the most fantasy-friendly game, mainly due to his shooting percentages, but he can provide a unique combination of high scoring with low turnovers, which is rare to find from the waiver wire. Throw in a couple of triples per game and you have yourself a solid streamer that will play a lot for the tanking Pistons (20% owned).
Sell
Miles Bridges: What an awesome second half of the season he was having, but alas he will be sidelined for the next 10-14 days due to COVID restrictions. With the worst timing possible this is an easy decision to cut him but I will be aggressively drafting him next year as I think his excellent across-the-board contributions can easily fit every fantasy build. (75% owned).
Aaron Gordon: Even after Jamal Murray's injury, Gordon has not stepped up for the Nuggets and is unfortunately not a viable fantasy option. He is ranked outside the top 230 during the last two weeks and since the fantasy playoff season has no room for complacency Gordon's place at this point is the waiver wire (73% owned).
Let me know in the comments below about all your fantasy playoff-related questions in your quest for fantasy glory this season!