The long wait is finally over. The meaningless preseason games are already behind us and you have drafted your teams that will guide you to fantasy glory. And we here at Razzball are your personal compass to help you get to that glorious destination. Every Wednesday, this article is dedicated to the players that you should consider buying, either straight from the waiver wire or from a frustrated owner, or selling for a profit or outright dropping them for a hot free agent. The first week of the season always provides many players that fit the afforementioned criteria so let's dive straight in…
Buy
Draymond Green: He is currently the 139th player in fantasy, averaging 6.3 points on 34.6 fg% and fga 6.5. Is there any chance he continues like that?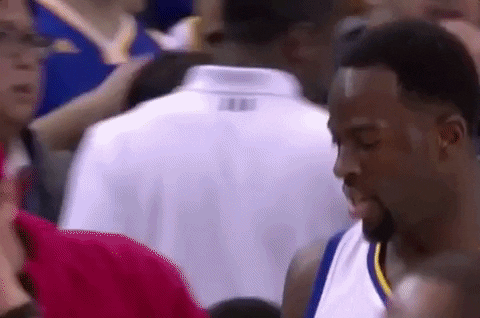 You heard (saw) the man. He has been consistently a top 25 player and is the glue that keeps the beautiful Warriors sculpture together. Now is the perfect time to float some offers to that frustrated Green owner and land him at a discount.
Danny Green: Is 2014-15 Danny Green back? Did he make a rift in the timeline to reclaim the form that had him the 23rd best fantasy player? Will I ever stop myself from eating the whole ice cream box, irrelevant of the size of it? All questions that will remain unanswered… The only one I can answer is: Should I take a flier on Danny and get him from the waiver wire to help my team with triples, low turnovers. and out of position blocks? Yes, yes you should ! (52% owned)
Bryn Forbes: Someone cursed the PG position of the Spurs and, after the season ending injury to Dejounte Murray, his backup, Derrick White, injured his heel and will be sidelined for approximately 4 weeks. And although Patty Mills is always useful in real life, the main beneficiary seems to be Bryn Forbes who is starting and averaging 14.7/3.3/2.7/2/1/0/1. Granted, the triples are unsustainable, but Forbes can be a nice short term boost for those in need of guard stats. (12% owned)
Klay Thompson: See Green, Draymond. He is also off to a very slow start and is battling a mild ankle sprain, but Klay is a top 40 player through and through and will start playing closer to his usual levels sooner rather than later.
Sell
Blake Griffin: Blake was on fire last night, finishing with 50 points and carrying the Pistons to the win and a 3-0 start to the season. He is currently the 9th best fantasy player and there is no better time to sell him high than right now. He has had his fair share of injuries during his career but, more importantly, the 53,5 fg% and the 0.7 turnovers are completely unsustainable. I think Griffin is more of a top 40-50 player and trading him now for a proven contributor seems like a smart move.
Danilo Gallinari: The Rooster is a proven per game contributor, but a quick look to the number of games he has played during the last seasons is reason for pessimism. 21, 63, 53, and 59 games and he has a long injury history behind him. The Clippers system suits him quite well, but the injury risk will always be there so maybe you can capitalize on his strong start and flip him for a more durable player. Again, with Gallo it's not about performance, it's all about durability, and that can make all the difference in fantasy.
Jordan Bell – Jakob Poeltl: I'm sure a great portion of you reading this has drafted either one of those guys. I know because I am definitely a victim of their preseason hype as well. But I think it's time we see the facts and throw our optimism out of the window. Both are not getting enough minutes to warrant a spot in your team. Their potential is undeniable and given enough minutes both can be more than useful, but until that happens they can both be safely dropped for a hot pickup.
So there you have it folks. As always, I am eager to read your thoughts about other players you think are Buy/Sell worthy in the comments below, as well as all your fantasy related questions! See you next week with new suggestions.