Welcome to the Kawhi Leonard-return waiting room. We hope you enjoy your stay. Leonard is getting close to returning to action and it can happen as soon as this week. But as the gods of basketball always seek to keep balance, the gods both giveth and taketh away. Unfortunately, both Stephen Curry and Devin Booker went down with injuries that could likely keep them out for an extended period of time. Even my boy Tim Hardaway Jr and his $70 million contract caught the injury bug and will be reevaluated in two weeks. Maybe this is a good opportunity to buy kinda low on these guys, if you feel comfortable you can make the playoffs by giving some immediate production for them. As for last week's calls, Rudy Gobert was eased back into action but the fact he beat his initial 4-6 weeks timetable by a week is a great sign. Pascal Siakam pulled a Houdini and disappeared, while Wesley Johnson is bringing great defensive stats with awesome consistency (nine straight games with at least a block and a steal), but his shooting is off. The attempts are there so be patient and he will eventually start making them. Moving to the sell candidates from last week, Justin Holiday's window of opportunity to sell high will remain open for a little longer as Zach LaVine's return got pushed back to January. Kentavious Caldwell-Pope came back to Earth, averaging a more realistic 12.3 attempts from the field and Rajon Rondo has actually benefited from Anthony Davis' absence and his usage warrants a pickup. Before the prologue gets into the "too long didn't read" category, let's get to this week's Buy/Sell suggestions…
Want the best tools and projections to help dominate your league? Check out the Stocktonator, the byproduct of Rudy and machine making love. Click HERE for a FREE 7-day trial.
Buy
Zach Randolph: If you've been following my work here at Razzball, you are already familiar with my love for Nikola Jokic and players that depend on basketball IQ and technique rather than athleticism. Randolph is the epitome of this mold, especially during the later stages of his career. He is an excellent finisher around the basket and counters his lack of quickness with great positioning and court awareness. The Kings' rotation is as unpredictable as they come, but Z-Bo is one of the few steady contributors and has been excellent during the last two weeks with averages of 17.8/0.5/7.5/3.0/0.8/0.3/1.2 on 57.1%/88.9% shooting. Those numbers make him the 28th player in fantasy during that span and worth a pickup if he is available (65% owned at Yahoo).
Courtney Lee: Although primarily known for his defense, Lee is enjoying a great season on the offensive side as well. Both his shooting percentages of 49% and 92.5% are career highs and when they are combined with 12.7/1.6/3.7/2.9/1.4/0.1/1.3 averages the result is a top 50 player for the year. He is available in 40% of Yahoo leagues, so check your wire and bring that percentage down. I thought about including him in the sell column as his percentages will eventually take a hit but his actual value is far greater than his name value. With that said, if you are in a competitive league where owners can correctly judge player values, you can try and sell him at the peak of his production.
Ricky Rubio: I know he has been a complete disaster during the last month and has not lived up to the preseason hype, but I really believed he could average close to 10.0 assists this season with the opportunity to run the Utah offense with a great P&R big man like Gobert. Alas, with hair like that he was destined to fail.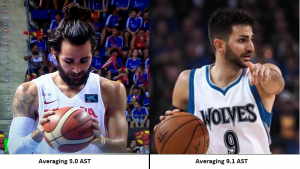 While having this man bun, the assists dropped by more than four and his fg% by 0.2%. Coincidence?? I don't think so…
He wasn't that great with Gobert on the court but he has been absolutely horrendous without him. His fg% has dipped to 35.7% and his playing time is at a career low 25.9 minutes during this month. So why on Earth is he a buy candidate? Because Gobert is back. Because Rubio can only improve. Because he will eventually get a haircut. And, because his owner will probably give him up for a box of Greek feta cheese at this point. The risk is minimal and the reward can be great if you try and trade for him at this low point.
Jonathon Simmons: With Terrence Ross expected to miss "a significant amount of time" with a right knee injury, Simmons is starting for the Magic and playing huge minutes. He has been scoring the ball efficiently for a wing at 47% and contributes with a steal per game and decent rebounding (4.0). Give him a look if these numbers appeal to you, as he is available in 56% of Yahoo leagues.
Sell
Tyreke Evans: Four weeks ago Tyreke Evans was in the buy column, as he was just beginning his breakout year. Times have changed and he is now an established top 50 player on the year with ownership close to 90%. In fact, times have changed so much that he is now in the sell column. I'm not so worried about the usage he will lose with the return of Mike Conley as much as I am not convinced he can stay healthy for the full 82 games season. He played 40 and 25 games the past two years and his knee has been a constant red flag during his career. I like trying to trade him for a more durable player now during his peak performances.
Brandon Ingram: The second round pick of the 2016 draft has been enjoying a great week in the scoring department and is a great candidate to try and sell high. The effect of his below average ft% is amplified due to the large number of free throws he takes and his lack of threes have him ranked at number 191 per game. Frankly, his name value is far greater than his fantasy one so try and take advantage of a Lakers fanboy or a guy who tunnel visions on points in your league.
As always, comment below with your thoughts and suggestions about players I have not included and, of course, all your fantasy related questions!