Your left eyebrow is connected to the…  right eyebrow!
Damn, teams who took the plunge and drafted Anthony Davis are getting rewarded for their brazenness, that's for sure!  My only RCL team left standing is my Brow squad, and I actually somehow think it's the first time I've ever owned Brow…  Maybe I had a share or two his rookie year, but despite always championing him, never got him anywhere with early picks.  Anywho, monster 36/17/3/3/3 line for a 1.5 rainbow, giving him 3 straight 30/15 games.  Who wants a unibrow ride?!  They should totally make a "Unibrow Ride, $0.25" shirt.  Screw that, I'm gonna!  Razzball store, it's time for me to make some new products!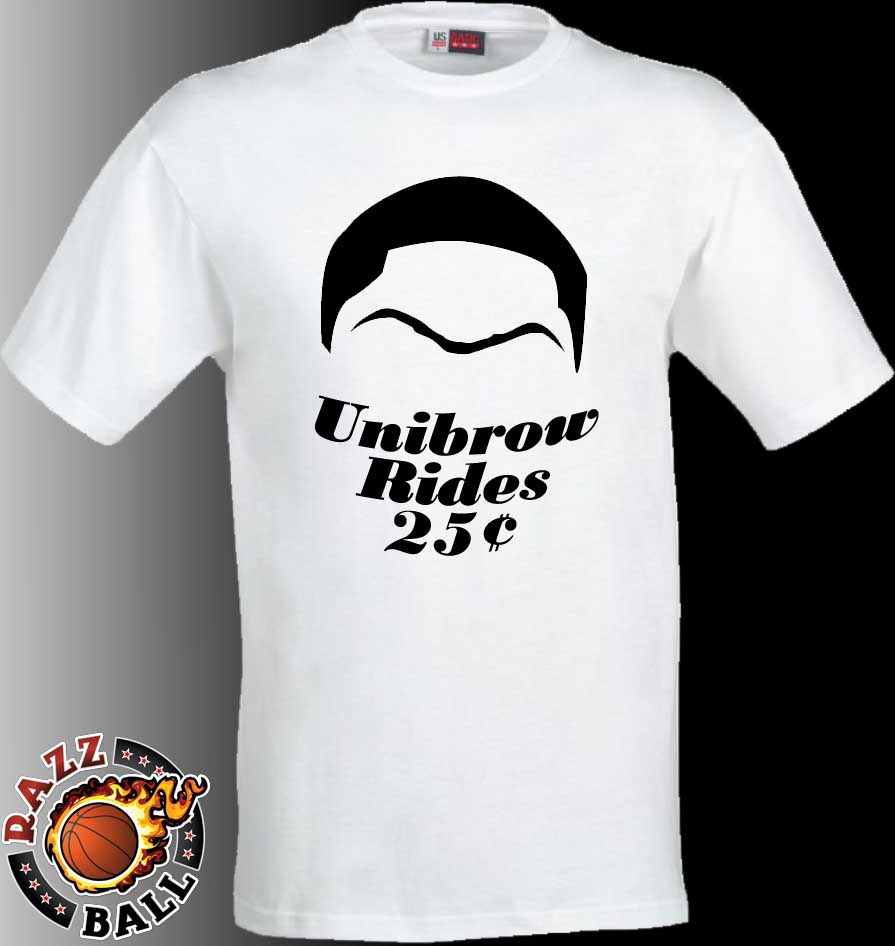 Who's with me and wants to buy those?!  Let's launch a kickstrarter!  Here's what else went down last night in fantasy basketball action:
Reggie Jackson – His knee ain't ish!  Sat last night with a sore knee, and StanVan said they might shut him down.  Then the Pistons lose to the Poppycockers, and move to 34-40.  Wave the white flag!  And also be sure Ish Smith is owned in your league – at 24% owned in Yahoo, it's more than possible.  15/6/5/1/0 with 2 treys and only 1 TO in 35 minutes last night.
Carmelo Anthony – "Just when they think I'm out, they pull me right back in!"  Returned from his sore knee issue to play 35 minutes, and go 21/3/5/3/0 with 3 treys.  So much for a Mind Game Coozie Mints stream!  Mindaugas Kuzminskas only got 22 minutes off the bench and didn't do much.
Kristaps Porzingis – The Goose goin' rainbow!  25/8/3/2/3 with a trey and 10-16 shooting.  I want a Golden Goose!  "Well, you got one, you prissy little twit!"
Elfrid Payton – Only 1 rebound?!  What's that about?!  Well, the Raptors did put up 131 on the Magic last night, so they weren't missing much!  22/1/9/1/1 from The Shelfrid in a nice outing.
DeMar DeRozan – No D from the Magic, as DD went 36/2/3 on 13-21 shooting.  Well, there goes my shot at FG% in the league I'm against him…
Cory Joseph – My opp also has Joseph, and isn't it fun when your opponent gets career-high games from their players in the Finals?!  15 points, 6 boards, and a career best 13 dimes.  It shouldn't count as an assist if DeRozan just makes an easy jumper!
Cleveland Cavaliers – Oh lord, what happened here?!  Lost 103-74 to the Spurs in San Antonio, and weren't even resting anyone!  Kyrie Irving goes 8/3/2/0/0 with 3 TO on 4-13 shooting and 0-1 FT to start your week.  Might have been better if he was just DNP-rested!
Dewayne Dedmon – Back-to-back 13 rebound games.  Hey, rebounds are a cat too, you fantasy category elitist!
Russell Westbrook – Absolutely took over last night, with the Thunder ending on an obscene 14-0 run with Westbrook dropping 12 of those, including the game winner.
37/13/10/2/0 with 2 treys on 15-30 shooting.  Why couldn't the semi-finals in REL last one more day!
Nerlens Noel – Captain N with the near rainbow!  For the love of D stats!  15/8/1/4/2 in the starting 5 in 28 minutes.  With an older Dirk Nowitzki and a team without a post future, he's going to be mad high on my draft boards for 2017-18.
J.J. Barea – I pushed him kinda hard and he had a blah weekend, but picked it back up for 10/1/8 last night.  That said, the Mavs are struggling again and fell to 31-42.  They might be waving their own white flag fairly soon, and just let Yogi Ferrell handle all the USG he can…  well, handle…
Zach Randolph – T Bone couldn't make a jumper (5-18 FG), but still managed a nice line of 17/15/2/0/1 in 32 minutes as the starting C.  Marc Gasol sat yet again with a foot strain, which is muy mal!  He came in doubtful, so might be time to make contingencies for Marcy Marc in the Finals.
Darren Collison – Hopefully you stayed true with Colly despite multiple bumps, as he kicked off the Finals week with a 23/4/7 line.  How the Kings won this game, I'll never know…  I guess without Marcy Marc, the Grizz aren't the same!
Buddy Hield – Why he's a ThrAGNOF!  Only 14/4/0/0/0 with 1 TO on 5-12 shooting.  Steph Jr.?!  More like Steph Jr. Jr. Jr. Jr. Jr…
Jordan Crawford – With DeMarcus Cousins again sitting with a kankle, the Pels desperately needing scoring and got 30 minutes off the bench from Crawford.  The scoring part…  Eh, notsamuch!  5-16 from the field for 14/1/2/0/1, but we know he can shoot!  If we know DMC sits another game, Crawf might be worth a stream.
Joe Ingles – Got the start for Gordon Hayward (quad), going 19/4/4/1/0, including 5-5 from deep.  How can you shoot 5-5 from deep, but only 2-8 from inside the arc?!  Just camp out there, you Aussie, you!
Rodney Hood – Likely available in several leagues, Hood took a nice step forward in the offense with no Hayward to go 20/6/3 with 4 treys.  If Hayward misses more time, both Ingles and Hood might be worth some looksies.
Rudy Gobert – And we end yet again on a monster game from Monsieur Elbow, who is just crushing it right now down the stretch.  20/19/1/1/5 in a near Goromotaro on 8-11 shooting, although he did only make 4 of his 8 freebies.  We'll give you a pass, Mr. Stifle, we love all that you do!
I hope everyone is off to a great start in their Finals matchup this week, and good luck in the final 6 days!  Let me know how things are going, and let's get some titles Razzball Nation!