I'm making a petition, right here, right now! But let my digress for a second. William Henry Parker. Sounds like he may have been an old war hero or 1904 Presidential candidate who you learned about in 8th grade history class. Well, that's not the case here. William Henry Parker was an NBA player best known for his nickname and his hair from NBA 2K11, which looks like cornrows from one angle and an Afro from another angle. I'm talking about Smush Parker, the enigmatic point guard who played for six teams in merely five seasons in the NBA. The best two coming with the Los Angeles Lakers when he played 82 games in each season. What does this have to do with anything? My point is that nicknames like that don't happen overnight. Nicknames are earned and stick for numerous reasons. Today, I am proposing a nickname for Tyrone Wallace.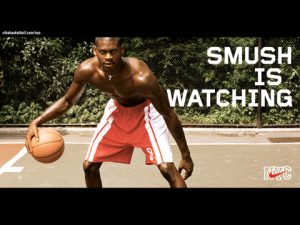 Want the best tools and projections to help dominate your league? Check out the Stocktonator, the byproduct of Rudy and machine making love. Click HERE for a FREE 3-day trial.
Key and Peele spent five years making people across America laugh and cry, usually. More often than not, people were left pondering, should I be laughing or should I be crying? But the key is, they had some excellent, impressionable, and magnificent skits that will be remembered for years to come. (No, I am not referring to Get Out or Keanu, the cat movie.) One of them is the East/West College Bowl game, where the players all introduce themselves like they do in the pros, only this time, the names are ridiculous. Ridiculously funny, that is. Now I don't mean to offend anyone who shares the names of some of these fictitious players, but rather, use one of these names for the sake of today's piece. At the 42 second mark in the video below, Tyroil Smoochie-Wallace takes the stage, proudly announcing his name and the team he "plays" for, the University of Miami. We all know that Tyroil never stepped foot on the field for The U, but the name has been ringing in my ears for a few weeks now. Then it hit me. Tyrone Wallace, of the Los Angeles Clippers, now has a new nickname, Smoochie. It's perfect. The names are almost identical and I can see someone calling the real Wallace, Tyrone Smoochie-Wallace. It just flows so nicely. So today, I would like to anoint Tyrone with a new nickname. Here's hoping it sticks like the snow on a freezing cold, bomb-cyclone type of night.
As for Tyrone, you should check out what he's done on the court recently. He's been starting for the Clippers of LA and has been putting together some pretty, pretty, pretty useful stat-lines. Yes, when Gallo comes back, Wallace may be out of a job or at least out on some minutes, but that's not for certain. When you think you've caught lightning in a bottle, sometimes you let it run its course and see how far it takes you. After playing 22 games for the Clippers G-League affiliate, scoring 22 PPG and 5.4 assists, Wallace was called up to the bigs, where the parent team continues to be ravaged by injuries. Wallace has averaged 31 minutes per with a line of  13/3.2/2.0/1.7 on 51% shooting from the field and 76% shooting from the stripe over six games. Wallace has impressed and should continue to get a chance to shine. If you need help at the guard position, take a flier on Smoochie Wallace.