Back when I was a youngun and not lazy as hell, I used to play in a pickup basketball game, mostly of men 10+ years older than me. There was an older guy, Lou, who came to play in full gear. Wrist bands, knee braces, slicked back silver hair. He would bring up the ball, run the point, fake passes that fooled nobody, wave his finger around like he was running a play, the whole kit and caboodle. The only thing he lacked were rec-specs. He even hit the occasional flat footer from the top of the key. When Lou scored, the whole place sighed, making the defender feel like shit. At the end of the game, Lou would take off his shirt, wipe down his sweat, make you feel like you're in a public pool locker room, zip up his nylon jacket, and wish everyone a good evening. He also cursed like a trucker and set the most illegal picks known to man.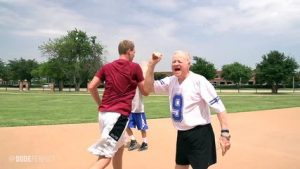 Something about Lou Williams reminds me of good ol' Lou. When Williams comes off the bench, you know he's shooting, but you can't stop it. He takes some shots that make you close your eyes, yet, he's draining them. He plays every game like it's a revenge game, and his stat line somehow never disappoints. Williams is 17 points, 2.8 rebounds, 3.4 assists, and 2.2 3PM per game, shooting 45% from the field and over 90% from the line. Those are useful numbers. It makes no sense to me whatsoever that he's available in leagues across America. We're talking about a guy with multi-positional eligibility, who's been unconscious from all over the floor, especially the last week or so, and he's not virtually owned. Now, maybe, just maybe, the only reason why I have him as my man pots and pans this week is because I wanted to write about my boy Lou from back in the day, but, please, go out and pick up Lou Will asap, because dude is going Jon H-A-M every, single, night.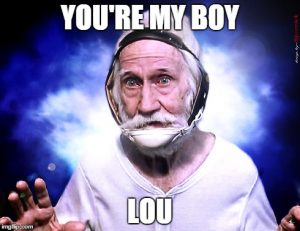 Want the best tools and projections to help dominate your league? Check out the Stocktonator, the byproduct of Rudy and machine making love. Click HERE for a FREE 7-day trial.
The player I wanted to talk about that fits more in the "beyond" category of the title, Beyond the Glory, is a guy who spends most of his time getting wrongfully accused of crimes in NYC. When he isn't allegedly committing crimes, he's playing ball in Utah. He's not your average superhero movie villain, he is quite simply, Thabo Sefolosha. Remember when Thabo was swiper-no-swiping his way onto fantasy rosters? An absurd, I don't even know, three steals per game maybe. Should I look that stat up? Yes. Will I? Most probably not. We all remember when he was the D-&-3 specialist for OKC and Atlanta. All he did was steal and hit treys. All I do is win, no matter what. That's why I'm sitting here writing and Thabo is now starting for the Utah Jazz (pronounced Yazz, it's a soft "J"). Ruby Gobert, step-brother of Stephen Colbert (see a theme?) is out for 4-6 weeks with a bruised ego (again, can not confirm this is accurate) and Thabo stepped right into the small-ball universe to start at power forward. Yes, Derrick Favors gets a massive bump, Donovan Mitchell's usage is about to go through the roof, but if you need a guy who will get minutes, hit some treys, pilfer a few (shout out to Son) and help your percentages, Thabo is your man for the short term.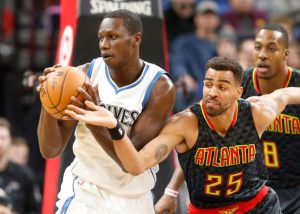 This marks article #8 of my shiny new Razzball career. I think it's time to go beyond the bed bath and see how my boys have done to date.
Josh Richardson – My. Man. He has not been everything I asked for last Christmas, but he has been productive. Hovering just under 10 points per, with 1.5 3PM, 3.5 REB, 2.3 AST, and 1.5 STL. His achilles has been his FG% so if that rises so will his stats, obviously. He is playing north of 33 minutes which is wonderful. Time is money.
Taurean Prince– Having the season I almost exactly predicted. As a reminder my predicted line was, 13.3/6.5/1.9/1.7/0.9/1.5. Prince so far is sporting a 12.9/5.1/ 2.3/1.5/ 0.6/1.6 line. I'm going to take a moment to pat myself on the back. Enjoy the ride.
Bogdan Bogdanovic – Not what I would have liked to see, but getting starter's minutes, the team loves him, and I expect the numbers to rise.
Brandon Ingram/ Julius Randle – I'm actually really upset about these guys. Randle seems on the outs in LA, which I don't quite understand. I guess he needs the ball in his hands, and this is Lonzo's team. Ingram is not hitting shots, not hitting threes, He's chipping in here and there in the counting stats, but leaving a lot to be desired. My bad all around.
Mike James– Starting PG for the rebuilding Suns. Bledsoe is gone and it's only James and Ulis. I expect big things for the new Mike James.
Terry Rozier – A major factor when any Boston guard is sitting, otherwise isn't doing enough to warrant universal ownership. Still love his motor and think he does a lot this year.
Tyreke Evans – Cash. Money.
Bojan Bogdanovic – Continues his consistent play. Leaves a little to be desired but getting a ton of run.
Kyle Anderson – Continues to impress with Kawhi out. Keep him within arm's reach, if you're elastic man.